Does This Picture Show the 'Youngest Parents in the World'?
Claim
A photograph shows "the youngest parents in the world," aged 12 and 13.
Like this fact check?

Reporting
On February 26 2019, a Facebook user shared the following post (archived here), purportedly showing the world's youngest parents: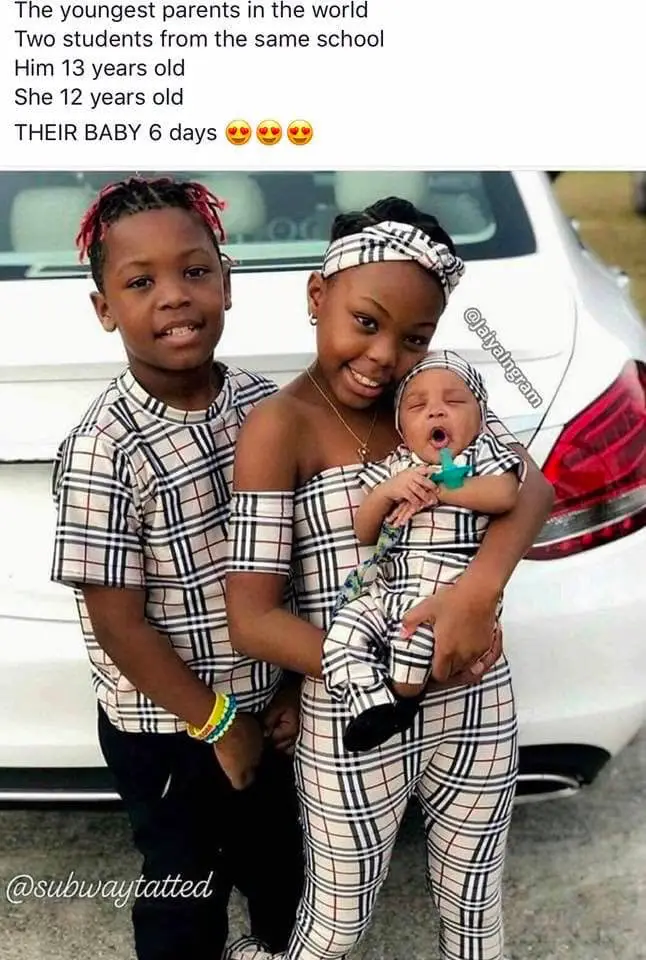 Aside from a caption ("Man Wtf🤔"), no included information explained how the original poster had divined this information from a single photograph. Nevertheless, the image accrued tens of thousands of shares.
Commenters on the image were skeptical, however, with many saying that the depicted children were brother and sister, not "the world's youngest parents." The first commenter remarked:
They siblings they reached hard AF with this..
The image bore two watermark handles, one was @jaiyaingram and the other @subwaytatted. The latter user shared the image on their Instagram in late 2017 or early 2018. In the caption, they identified the children in the photograph as relatives (and the matching outfits as an original creation):
Custom Designer Burberry Set made for my cuzins Bell Jack👗🔥✂️👶🏾🍼💦 made by me; @stitchbyshameka Hat, Shirt and Joggers, T-shirt, Croptop Bell Bottom Romper/ w Headband to match
The first iteration of the image (among similar posts from the same Instagram account) did not claim that the children were the "world's youngest parents," and the same children appeared to model other designs by the same creator, who said they were family members. Someone clearly repurposed the image with a salacious backstory, but the inclusion of a source Instagram handle immediately revealed that the Facebook caption had been fabricated.