Does Trump Have an OnlyFans Account?
Claim
U.S. President Donald Trump has opened an account on the subscriber-based site OnlyFans.
Like this fact check?

Reporting
As outgoing United States President Donald Trump and his supporters were locked out of some digital platforms, social media users asked — sometimes derisively — if Trump would open an account on the subscription-based service OnlyFans.
Two days after Trump incited a seditious riot against the U.S. Capitol which left at least five people dead, there was one account on the platform bearing his name: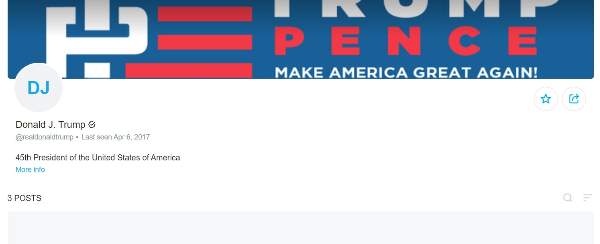 However, that account was not legitimate. A spokesperson for the site told us, "Donald Trump does not have an OnlyFans account. Any impersonation profiles have been removed."
Despite the statement, at least one other user calling themselves "realpresidentdonaldtrump" is active on the site: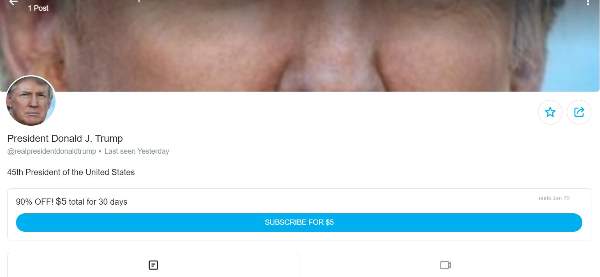 Twitter banned Trump on January 8 2021, after finding that his remarks following the attack — which, as mentioned, has been connected to at least five deaths — violated its terms of service. According to the platform:
Due to the ongoing tensions in the United States, and an uptick in the global conversation in regards to the people who violently stormed the Capitol on January 6, 2021, these two Tweets must be read in the context of broader events in the country and the ways in which the President's statements can be mobilized by different audiences, including to incite violence, as well as in the context of the pattern of behavior from this account in recent weeks.
After his @realdonaldtrump account was shut down, Trump attempted to use the official presidential account, @POTUS, with a post complaining that the platform had "coordinated with the Democrats and the Radical Left." That post was also removed.
The account for Gary Coby, digital director for Trump's unsuccessful re-election campaign, was also kicked off the site after reportedly offering it to Trump for him to use. The @POTUS account remains active, but Twitter has already announced that it will work to hand it over to President-Elect Joe Biden once he takes office.
However, Trump's accounts on both Facebook and YouTube are still up. Facebook's chief executive officer Mark Zuckerberg has said that his company would block Trump from using the platform until he leaves office — a decision that chief operating officer Sheryl Sandberg reiterated on January 11 2021 — but it remains visible and accessible via the site's search engine.
Facebook has also allowed Trump's unsuccessful re-election campaign to keep its page on its platform, unlike Twitter.
A YouTube spokesperson told us in a statement:
Over the last month, we've removed thousands of videos which spread misinformation claiming widespread voter fraud changed the result of the 2020 election, including videos that President Trump posted to his channel. Our three-strikes system clearly outlines the penalty for violating our policies, from temporary restrictions on uploading or live-streaming to account termination for channels that receive three strikes in the same 90-day period. We consistently apply these regardless of who owns the channel.
According to the company, it did remove one video from Trump's channel for violating its terms of service on promoting debunked claims of voter fraud concerning the 2020 presidential election. But otherwise, most of recent Trump's YouTube content has been uploads of segments from news networks.
However, YouTube would later change course, announcing on January 12 2021 that it removed new content on the channel and prohibited any new posts on it for seven days.
"Given the ongoing concerns about violence, we will also be indefinitely disabling comments on President Trump's channel, as we've done to other channels where there are safety concerns found in the comments section," the site said.
For its part, Facebook referred us to a statement in which it claimed to be removing content related to "Stop the Steal," a title used for several events and groups supporting Trump as they amplified his rotundly debunked claims of voter fraud. The activist group the Real Facebook Oversight Board noted that at least one group bearing that name with 14,000 members was still active. That group has since been removed. Trump's account, the site said, remains "suspended."
Updated January 11 2021, 4:01 p.m. PST: Updated with comments from YouTube.
Updated January 11 2021, 5:13 p.m. PST: Updated with response from Facebook.
Updated January 13 2021, 8:23 a.m. PST: Updated with note on YouTube suspending posts on Trump's channel on the site.