Twitter Finally Shuts Down Donald Trump's Account
Two days after he incited an attack by his supporters on the U.S. Capitol and just over two months after he decisively lost the 2020 election to Democratic Party candidate Joe Biden, outgoing United States President Donald Trump was ousted again — this time from Twitter.
"After close review of recent Tweets from the @realDonaldTrump account and the context around them we have permanently suspended the account due to the risk of further incitement of violence," the company announced via its @TwitterSafety account. "In the context of horrific events this week, we made it clear on Wednesday that additional violations of the Twitter Rules would potentially result in this very course of action."
After close review of recent Tweets from the @realDonaldTrump account and the context around them we have permanently suspended the account due to the risk of further incitement of violence.https://t.co/CBpE1I6j8Y

— Twitter Safety (@TwitterSafety) January 8, 2021
"Our public interest framework exists to enable the public to hear from elected officials and world leaders directly," the social media platform went on to say. "It is built on a principle that the people have a right to hold power to account in the open. However, we made it clear going back years that these accounts are not above our rules and cannot use Twitter to incite violence. We will continue to be transparent around our policies and their enforcement."
The social media platform elaborated more in a blog post:
On January 8, 2021, President Donald J. Trump tweeted:

"The 75,000,000 great American Patriots who voted for me, AMERICA FIRST, and MAKE AMERICA GREAT AGAIN, will have a GIANT VOICE long into the future. They will not be disrespected or treated unfairly in any way, shape or form!!!"

Shortly thereafter, the President tweeted:

"To all of those who have asked, I will not be going to the Inauguration on January 20th."

Due to the ongoing tensions in the United States, and an uptick in the global conversation in regards to the people who violently stormed the Capitol on January 6, 2021, these two Tweets must be read in the context of broader events in the country and the ways in which the President's statements can be mobilized by different audiences, including to incite violence, as well as in the context of the pattern of behavior from this account in recent weeks. After assessing the language in these Tweets against our Glorification of Violence policy, we have determined that these Tweets are in violation of the Glorification of Violence Policy and the user @realDonaldTrump should be immediately permanently suspended from the service.
At least five people were killed in the violent pro-Trump attack, which was incited by several weeks of right-wing public figures and elected officials baselessly claiming that the election was "stolen" in favor of Joe Biden, advancing dozens of frivolous lawsuits and pushing weaponized conspiracy theories that culminated in violence and destruction inside and around the United States Capitol building.
While the @realDonaldTrump account is gone, however, the official @WhiteHouse and @POTUS Twitter accounts remain active. NBC News reported that Twitter will also "take action to limit the use" of those accounts.
"These accounts will be transitioned to the new administration in due course and will not be suspended by Twitter unless absolutely necessary to alleviate real-world harm," the company said in a statement.
Trump subsequently tried to tweet from the @POTUS account, but his post complaining that Twitter "has gone further and further in banning free speech" was quickly removed: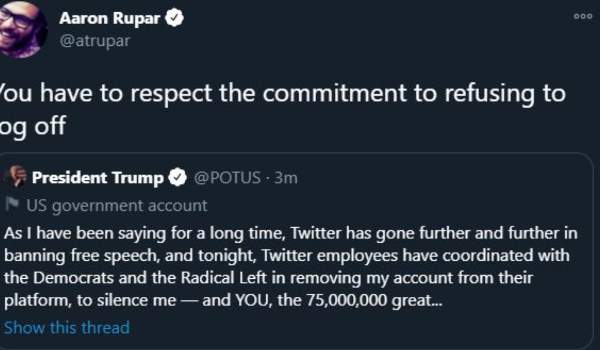 Trump's YouTube account, which allegedly has 2.5 million subscribers, remains active. We emailed Google, that platform's parent company, to ask if it would take similar action against him. However, Media Matters reported that YouTube did suspend the account of white nationalist Trump enabler Steve Bannon, who called for violence against government officials as recently as November 2020.
Update 5:01 p.m. PST: Updated with comments from Twitter.