A pair of people on social media managed to create some online confusion around music producer Lukasz Sebastian Gottwald, a.k.a. "Dr. Luke," on October 4 2020 — apparently independently of one another.
The posts both claimed, falsely, that Gottwald died after contracting COVID-19. In one post, the user altered their Twitter account to resemble the celebrity tabloid blog TMZ and posted a fake bulletin:
BREAKING: Disgraced producer, Dr. Luke, has died at the age of 47 due to complications of COVID-19 and kidney failure.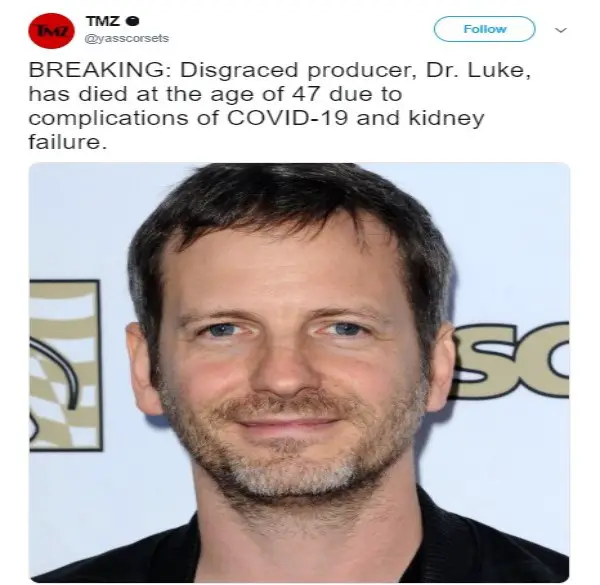 The other false claim was disseminated via Instagram as a fake post made to look like it came from Gottwald's wife, actress Jessica James:
Hey guys. It's Lukasz's wife Jessica. I am heartbroken to say that my husband passed away Wednesday night. He was a good man and people tried to make it seem like he was a bad guy even though he wasn't. He was a very talented man and created amazing music for so many artists. Our close friends are heartbroken by this announcement. He passed away due to coronavirus as he has been dealing with it since April. He had a successful comeback this year and went #1 again and I was so happy of him. [sic] Lukasz will deeply be missed. Thank you for reading.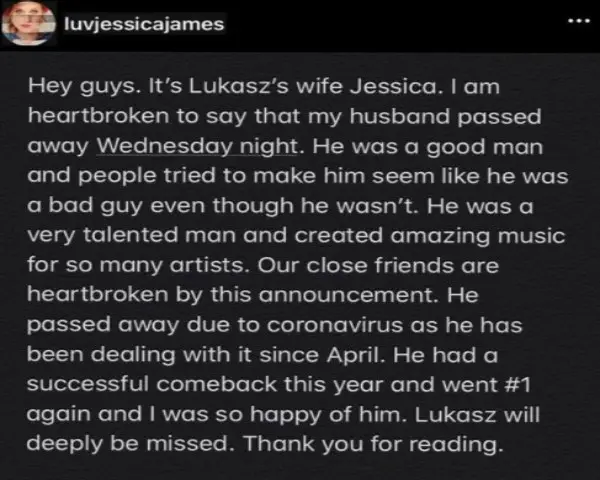 Another Twitter user claiming to be behind the fake Instagram post claimed that they initially published it "about two months ago" only to see it trending in October.
People magazine's Tomás Mier reported that Gottwald had not, in fact, died. "It is not true," Gottwald's manager reportedly told Mier. "Account was hacked."
The fake Instagram post's claim that "people tried to make it seem like [Gottwald] was a bad guy" was an apparent reference to the legal battle between him and singer Kesha Rose Sebert, (generally known just as Kesha), who Gottwald signed to a recording contract in 2005.
Sebert sued Gottwald in April 2014, seeking to dissolve the contract claiming that he had raped her and caused her "severe depression, post-traumatic stress, social isolation, and panic attacks" through ongoing emotional abuse. Gottwald counter-sued for defamation for both that allegation, and also a claim that Sebert separately made in a text message to another artist, Lady Gaga, that Gottwald had raped singer Katy Perry as well. (Perry denied being assaulted by Gottwald.)
Judge Shirley Kornreich dismissed Sebert's claim of sexual assault in an April 2016 ruling. In February 2020, New York Supreme Court Judge Jennifer G. Schechter ruled that Sebert had defamed Gottwald by claiming that he raped Perry. Sebert has continued to record music without Gottwald's involvement. Sebert's own claims of being raped were not covered in Schecter's ruling.
"Kesha and Gottwald have very different accounts about what happened on the night at issue," the judge wrote in her decision. "This court cannot decide, as a matter of law on papers and without any assessment of credibility, who should be believed."