Claim
A waitress in Pennsylvania flipped a sign promoting Mehmet "Dr. Oz" Oz so that it read "NO."
Like this fact check?

Reporting
After being ridiculed by a political opponent, television personality turned right-wing candidate Mehmet Oz was the butt of a joke yet again, this time thanks to a well-placed photo alteration.
On August 12 2022, Oz posted two photographs of himself at a diner in Harrisburg, Pennsylvania; the retired surgeon is running to represent the state in the U.S. Senate against Democratic Lt. Gov. John Fetterman. In one of the photographs, a worker at the diner can be seen holding a sign reading "Dr. Oz U.S. Senate."
"From the dinner table to the Capitol Diner here in Harrisburg, Pennsylvanians are ready for new leadership," the retired surgeon and television personality wrote. "I'll fight for PA small businesses in the U.S. Senate."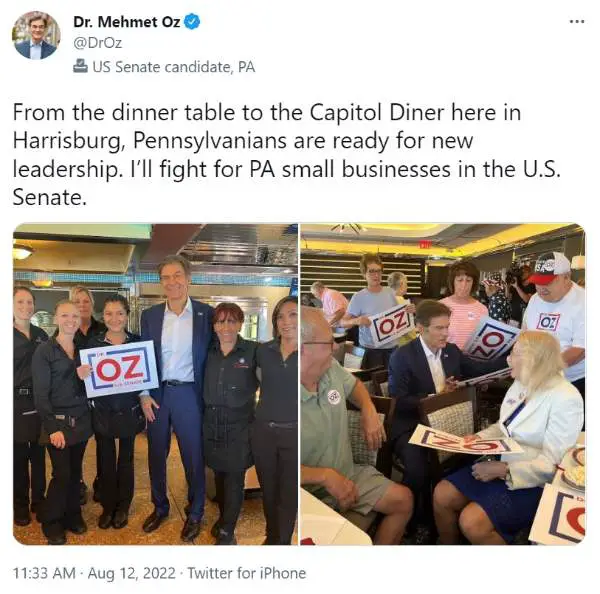 Fifteen days later, however, that photograh resurfaced online with the sign flipped to read "NO." At least one variation of the altered photo has been shared thousands of times on Twitter:
Brilliant. pic.twitter.com/Sov0YK7F9H

— Harvey Freedenberg (@HarvF) August 28, 2022
Within a day other users — some of them with high profiles — picked up on the photo:
👍🏻👍🏻👍🏻 pic.twitter.com/QogNkvy3Ua

— Richard Marx (@richardmarx) August 29, 2022
Meanwhile, other photgraphs surfaced of the "OZ" signs being repurposed against him organically:
"hello, dr. oz campaign? i'd like THREE yard signs."

"wow ☺️ authentic grassroots support at last!" pic.twitter.com/DEgUy9xFrt

— Clare Cons (@macrotargeting) August 28, 2022
Even before the altered sign went viral, Oz was reportedly trailing Fetterman by double digits in the polls; Fetterman, a Democrat, had scored attention online by highlighting the fact that Oz had actually lived in New Jersey for more than three decades before moving to Pennsylvania just before running for office.
As the Washington Post reported earlier in August 2022, Fetterman also mocked Oz by announcing that he was launching a petition to have Oz inducted into the New Jersey Hall of Fame:
The lieutenant governor released an ad Wednesday featuring musician Steven Van Zandt, a guitarist in the famed Bruce Springsteen's E Street Band and the character Silvio Dante in HBO's award-winning, New Jersey-based series "The Sopranos." In the ad, Van Zandt warns Oz that he does not want to mess around with Fetterman and should come back to his home state.

"Whaddaya doing in Pennsylvania?" he asks. "Everybody knows you live in New Jersey. And you're just using your in-law's address over there."
Prior to running for office, Oz — a supporter of former United States President Donald Trump and frequent guest on right-wing talk shows — had also drawn attention to himself for his history of pushing medical disinformation.
Like other right-wing figures, Oz also promoted the anti-malarial drug hydroxychloroquine as a treatment for COVID-19 — despite no credible evidence it could work against the virus. A House subcommittee report released in August 2022 stated that in March 2020, Oz emailed Trump's son-in-law and advisor Jared Kushner calling on him to ask Trump to "push academic centers to move more expeditiously" in recommending the drug.