Dr. Seuss 'Foreign Children' Comic
Claim
Dr. Seuss drew a comic illustrating American indifference to the torture and deaths of "foreign children."
Like this fact check?

Reporting
In June 2019, the following meme featuring a quote by a Fox News personality and a purported comic by Dr. Seuss on "foreign children" circulated on social media: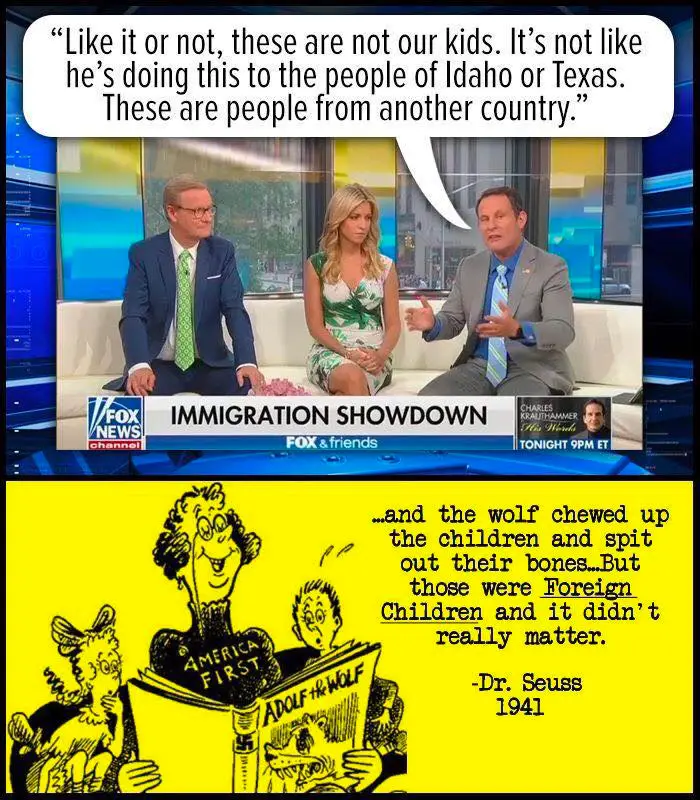 At the top of the meme was a screenshot of Fox News' Fox & Friends, and a June 2018 quote from Brian Kilmeade during the show. Kilmeade said in part:
Like it or not, these aren't our kids … show them compassion, but it's not like he's doing this to the people of Idaho or Texas. These are people from another country.
A clip of Kilmeade's comments also circulated:
At the bottom of the meme was a comic drawn in a Seuss-like style. It featured a smug woman in a top with the words "America first" on it, reading to two frightened children from a book called Adolf the Wolf:
… and the wolf chewed up the children and spit out their bones … But those were Foreign Children and it really didn't matter.

-Dr. Seuss
1941
Modern mention of political cartoons by children's author Theodor Seuss Geisel (popularly known as "Dr. Seuss") was made in a 2013 article in The Atlantic, "When Dr. Seuss Took On Adolf Hitler." The piece provides some background to Dr. Seuss' political works, in part with an anecdote about a different satirical work created by Geisel:
Years before he wrote The Cat in the Hat or Green Eggs and Ham, Dr. Seuss drew a sketch of a man hanging on a hook over a steaming typewriter. It was 1940, and the typist in the picture was Virginio Gayda, the leading press agent in fascist Italy. Benito Mussolini appeared above him, a naked cherub directing his propagandist's every move. Dr. Seuss passed the sketch along to the left-wing magazine PM with this letter:

Dear Editor: If you were to ask me, which you haven't, whom I consider the world's most outstanding writer of fantasy, I would, of course, answer: "I am." My second choice, however, is Virginio Gayda. The only difference is that the writings of Mr. Gayda give me a pain in the neck. This morning, the pain became too acute, and I had to do something about it.
The Atlantic spoke to Judith Morgan, author of Dr. Seuss & Mr. Geisel, about the content and motivation behind Seuss' political efforts:
Between 1941 and 1943, Geisel's swoopy trees and whimsical creatures appeared in more than 400 political cartoons for PM. One of them, published six weeks before America entered the war, shows a GOP elephant and an "Isolationist Ostrich" gazing at their offspring: a preposterous creature with a long trunk and useless wings. "He's a noisy little so-and-so," the elephant says proudly, "but, sweetheart, he's all ours."

"I think he just got mad," said Judith Morgan, coauthor of the book Dr. Seuss and Mr. Geisel. "He saw the growing threat in Europe and thought the Americans were not paying attention."

His outrage may have had something to do with his background. German was spoken in his childhood home, and between the two wars he traveled and studied in Europe. His intimate knowledge of the continent, combined with his left-leaning politics, made Nazism especially horrifying to him. "I think he was also teased for his German heritage as a child," Morgan said. "So he may have wanted to prove how strongly he felt about America."

In Geisel's political cartoons, Hitler showed up as a villain in many forms: a mad scientist amputating limbs, a bureaucrat giving orders to the devil, a trophy hunter trying to add a Russian bear to his taxidermy collection. In contrast, Mussolini was depicted as a bumbling idiot. In one of Geisel's cartoons, the Italian dictator furiously pedals a motorbike with tank treads. "Yoo hoo, Adolf!" he calls out in the direction of Russia. "Lookee! I'm attacking 'em, too!" But his bike is tied to a post.
The article describes "Adolf the Wolf" as one of Geisel's favorites. That cartoon is part of a larger collection held by the library at the University of California, San Diego. Entitled "Dr. Seuss Political Cartoons," an introduction explains:
Dr. Seuss (Theodor Seuss Geisel, 1904-1991) was a life-long cartoonist: in high school in Springfield, Massachusetts; in college at Dartmouth (Class of 1925); as an adman in New York City before World War II; in his many children's books, beginning with To Think That I Saw it on Mulberry Street (1937). Because of the fame of his children's books (and because we often misunderstand these books) and because his political cartoons have remained largely unknown, we do not think of Dr. Seuss as a political cartoonist. But for two years, 1941-1943, he was the chief editorial cartoonist for the New York newspaper PM (1940-1948), and for that journal he drew over 400 editorial cartoons.

The Dr. Seuss Collection in the Mandeville Special Collections Library at the University of California, San Diego, contains the original drawings and/or newspaper clippings of all of these cartoons. This website makes these cartoons available to all internet users. The cartoons have been scanned from the original newspaper clippings in the UCSD collection.
A Wikipedia page devoted to that subset of Geisel's work, "Political messages of Dr. Seuss," was first published in 2012.  Geisel's political satire did not first spread virally in 2019; articles published in 2017 revisited those works through the lens of then-current political debates in the United States.
Each time Dr. Seuss' "Adolf the Wolf" comic spread on social media, users queried whether the comics were authentic. But Seuss' works as a political commentator were well-documented if not widely known, and that particular comic seemed to repeatedly strike a chord throughout the latter half of the 2010s.