How One Tennessee County Shows the Relationship Between Early Voting and Turnout
An activist's thread about early voting activity in Tennessee illustrated how lack of access can negatively affect turnout going into the November 2022 U.S. midterm elections.
Lisa Quigley, director of the group Solving Hunger, first drew attention on Twitter to early voting in Davidson County in Tennessee, noting that in 2022 (as opposed to 2018 and 2020), only one early voting location was open during the first five days of early voting prior to October 25.
"Does that make a big difference? YES," she wrote. "By the end of Day 4 of EV in '18, over 44k had voted. In '20, it was 66k. Right now, we are at 5,300."
The statement from Quigley, a former chief of staff to Democratic Party Rep. Jim Cooper, is accurate; according to data from Tennessee Secretary of State Tre Hargett's office, 49,572 votes were cast in the first four days of the county's 2018 early period, compared to 5,356 in the same period in 2022.
According to the 2022 Cost of Voting Index — a study published by the legal publication the Election Law Journal — Tennessee is among the American states where it is most difficult to vote, ranking 38th out of 50: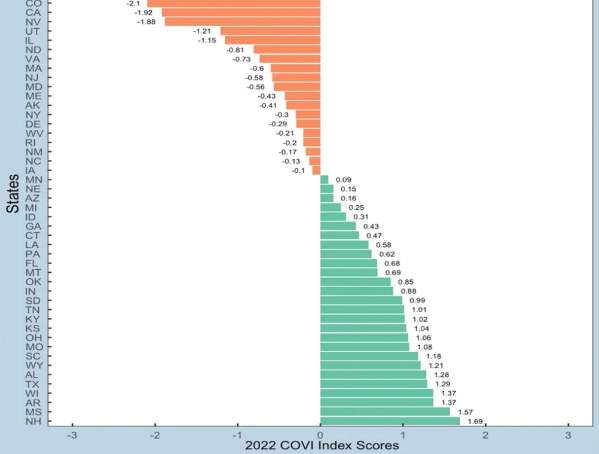 The researchers behind the 2022 iteration of the study — Scot Schraufnagel, Michael J. Pomante, and Quan Li — said that it was necessary to account for the passage of at least 33 new laws in 19 more states making voting more difficult; by comparison, 25 states passed 62 laws making it easier.
According to the researchers:
Many of the new laws are unnecessary, lack substance, and create confusion. Many county election officials are scrambling to keep up with the changes. In one-party dominant states, passing election law changes is often much easier than administering those laws effectively. The various legislative efforts are placing additional burdens on local election officials, especially when the changes come in the form of unfunded mandates. That is, states often fail to provide funds to administer the changes. Additionally, many of the changes will perplex voters and possibly discourage voter turnout.
Michael Pomante, the study's co-editor, told The Hill that states led by right-wing lawmakers imposed these types of restrictions thinking that early voting hurts their cause.
"If states want to increase voter participation, they need to work at removing those barriers, making it easier for citizens to vote," he said.
The Tennessean reported in August 2022 that less than 20 percent of voters took part in that month's primary election, noting:
Despite several legislative seats up for grabs in the Nashville area and a highly competitive Republican congressional primary, Davidson County recorded under 15 percent voter turnout, among the bottom 15 counties in Tennessee. Just 69,629 of 484,316 registered voters cast a ballot.
We contacted Hargett's office seeking comment on the Cost of Voting Index study's low ranking of his state, but we did not hear back.