Authorities in Samoa have arrested a disinformation-peddling anti-vaccine "activist" local time amid a measles outbreak that has killed 62 people that experts said was spurred in part by social media.
Samoa Observer identified Edwin Tamasese as the person described in a Samoan government press release revealing the December 6 2019 arrest. "The allegation is that the individual, publicly stated with reference to the current vaccination drive 'I'll be here to mop up your mess. Enjoy your killing spree,'" the release said.
Tamasese confirmed the arrest on his Facebook page, which remains active, with a photo seemingly taken from the back of a police car: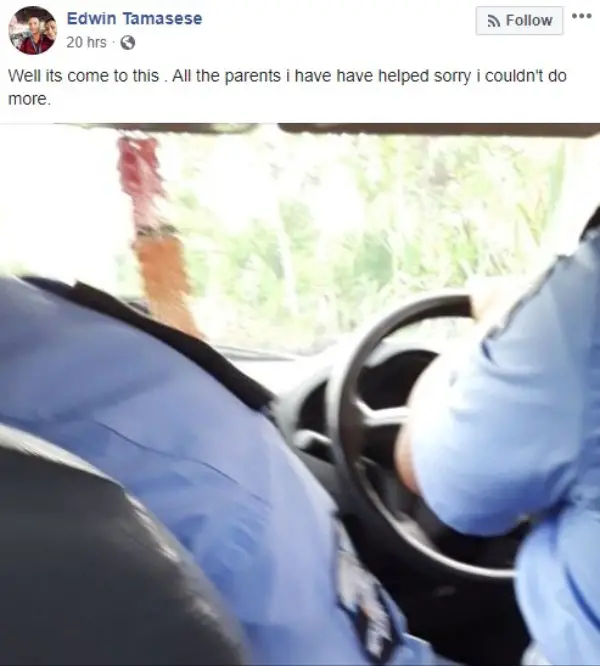 Police said Tamasese had yet to be charged, but he continued to shill his unsupported "cure" for measles — having children take vitamin C — in another post.
"Save our kids. Nobody should have died. This is the greatest crime against our people by our own people," he wrote. "God Bless Samoa. Please stop this madness."
More than 4,000 people have been infected in the epidemic, prompting the Samoan government to begin a mass-vaccination campaign on November 20, 2019. Authorities said that 65,000 people have been vaccinated since the beginning of the campaign.
According to the Australian news outlet Hack, Tamasese —who has no medical training — became the point of contact for anti-vaccine believers from outside Samoa. On his Facebook page, he boasted about receiving vitamin packages from the United States: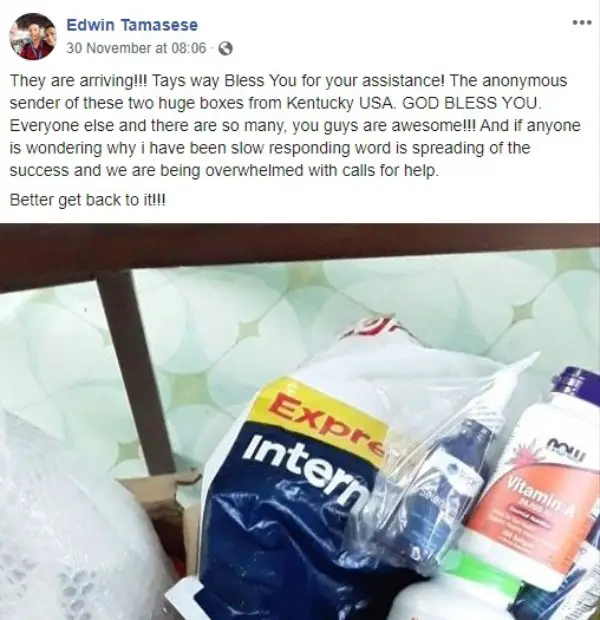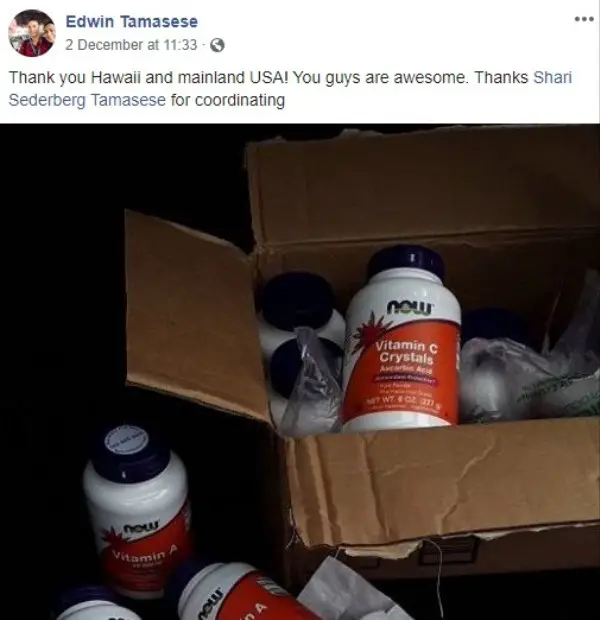 Tamasese has said that he has received between 50 and 60 such packages.
He was also endorsed by Taylor Winterstein, an Australian online "influencer" whose Instagram page is littered with anti-vaccine propaganda, including photographs of children she and Tamasese claim were cured through his alleged treatment and a photograph of herself with Robert Kennedy Jr.
"I am deeply honoured to have been in the presence of a man I believe is, can and will change the course of history," she wrote at the time: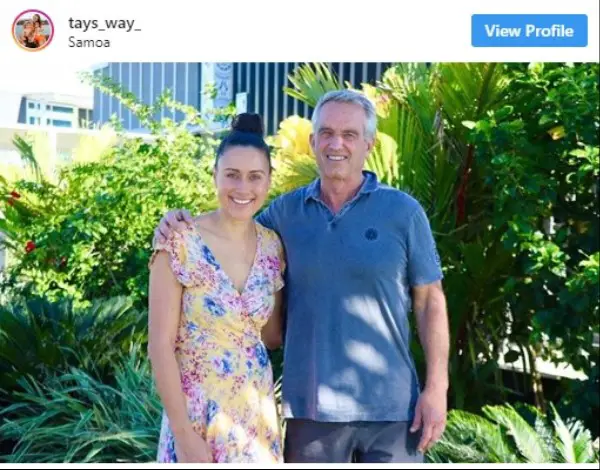 A report released in November 2019 found that Kennedy's group, "The World Mercury Project," and another anti-vaccine organization, "Stop Mandatory Vaccination," accounted for a combined 54 percent of ad buys on Facebook spreading their discredited arguments against vaccines.
Earlier in the year, Facebook announced it would crack down on ads spreading anti-vaccine messaging. But an analysis by The Daily Beast found that ads by anti-vaccine groups continued to spread on the platform, while advertisements from legitimate medical practitioners like the Minnesota Hospital Association (MHA) were taken down.
"It's a moving mark what's going to make it up and what's going to get flagged," said an MHA spokesperson, Emily Lowther. "The systems they have in place are constantly changing. We often expect we'll have to reupload ads."
In his most recent Facebook post, Tamasese claimed that "1000mg vit C sodium ascorbate taken dissolved in 1/4 cup water every 3 hours" will cure measles cases.
Ian Mackay, a virologist and associate professor at the University of Queensland in New Zealand, said Tamasese's plan represented an "utter absence of understanding of virology, pharmacology and biochemistry."
"These people shouldn't be operating without input from medical professionals in Samoa," he added.
A combination of misinformation and low vaccine rates left Samoa succeptible to a contagious outbreak. According to several news outlets, only 31 percent of infants had received the MMR vaccine in 2018 — a 59 percent decrease from five years earlier, and far below the 95 percent vaccination rate necessary for a population to achieve "herd immunity."
Distrust among the local population was also fueled by the deaths of two children in July 2018 as a result of improperly-prepared vaccines. ABC News reported that the MMR vaccine was not administered between the time of the childrens' death and April 2019 while the government investigated the case.
"It's a small place. Word spreads fast," said Nicola Hawley an assistant professor of epidemiology at the School of Public Health at Yale University. "The government messaging is getting out pretty quickly. But that anti-vaccine conversation can spread equally quickly. Everybody talks."
The spread of disinformation spurred two New Zealand-based doctors, Canaan Aumua and Sanjeev Krishna, to develop and release Mitara, a chatbot desgined to answer measles-related questions for users on the platform. Radio New Zealand reported that Mitara had received more than 30,000 interactions since it launched in November 2019.
"The bot was originally designed for New Zealand and now that it has transitioned to users mostly in the Pacific, the questions have drastically changed from 'How do we prevent this?' to 'How do we go about treating this?,'" Annua said. "Now, we're receiving messages direct from parents who are sending pictures of their sick children with measles, asking for help. So for Sanjeev and I, this is a real obvious way to see the sheer desperation that is in Samoa at the moment that these families are feeling."