Is Elon Musk 'Giving Away Bitcoins and Etherium' on Twitter?
Claim
Tesla founder Elon Musk is hosting an online giveaway of Bitcoin.
Like this fact check?

Reporting
On April 8 2020, an unidentified hacker used both real and illegitimate accounts to pelt Twitter with posts and bogus screengrabs made up to resemble tech magnate Elon Musk's account.
First brought to light by reporter Mason Pelt, the apparent phishing scam — a way to steal online users' personal information — used tweets from the account of another journalist, Dave Robson of the British news site Teesside Live, to reply to high-profile accounts with a photograph of the fake Musk post which read, "We here at Tesla have decided to throw a crypto party of sorts," and promoting a giveaway of Bitcoin and "Etherium." While both are related to cryptocurrency, Etherium is actually a platform for a separate type of online currency known as Ether.
A phishing scam seems to be using hacked @verified @Twitter accounts and fake screenshots of @elonmusk Tweets replying to @foxandfriends, @realDonaldTrump & @BernieSanders. pic.twitter.com/TdKNZgBDhx

— Mason Pelt (@masonpelt) April 8, 2020
We contacted Robson and his publication to see if they were aware that he had been hacked, but have not yet received a response. The scam, which used multiple other accounts, contained made-up screengrabs directing users to websites like "teslafund.info," "muskfund.info," or "spacexbonus.com."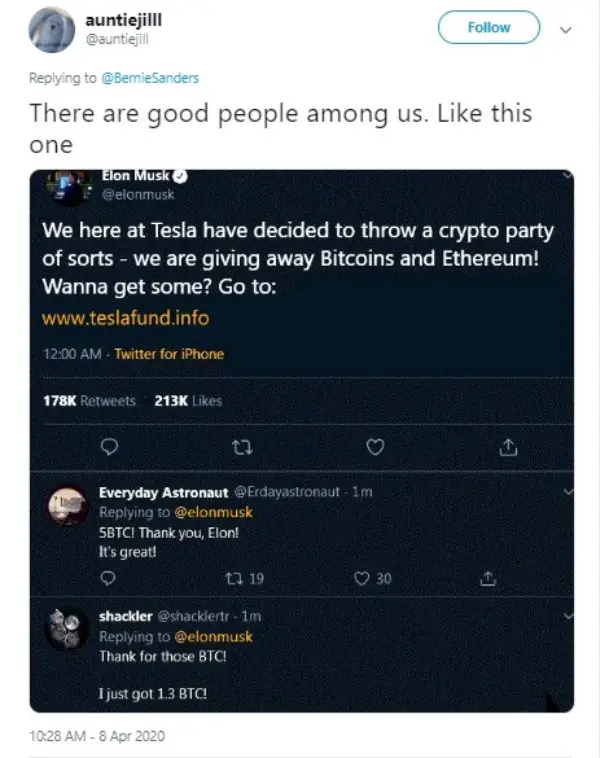 Pelt also posted a photograph of the donation screen used to "verify" donors' addresses:
Are people who guy bitcoin, really the people who fall for this? pic.twitter.com/gABdRMiR4h

— Mason Pelt (@masonpelt) April 8, 2020
We contacted Robson and his publication to see if they were aware that he had been hacked. We also contacted Twitter to see if the company had taken action on the scam, but we have not yet heard back.
A separate hack reported on July 15, 2020 caused not only Musk, but other verified Twitter accounts like Democratic Party presidential nominee Joe Biden, former President Barack Obama, and billionaire tech moguls like Bill Gates and Jeff Bezos, to post a separate false message saying they would be "doubling all payments" sent to a Bitcoin account: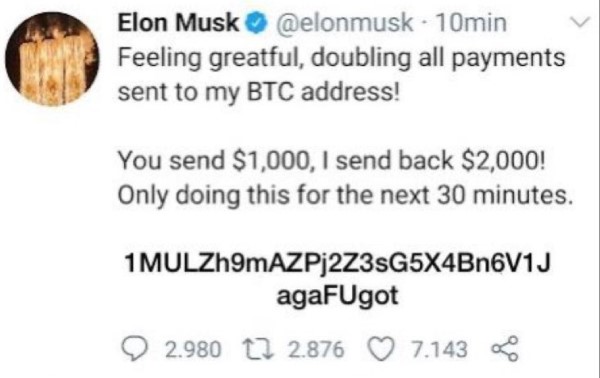 "We are investigating and taking steps to fix it," the platform said on its own @TwitterSupport account. "We will update everyone shortly."
Update, 4:05 p.m. PST: Updated the story to better reflect the definition of Ethereum.
Updated July 15, 2020 3:07 p.m. PST: Updated with report of a separate hack falsely linking Musk to a Bitcoin account.