Were Elon Musk and Donald Trump Both Complaining About 'Activists'?
Claim
Elon Musk's November 2022 tweet about "activist groups" resembled a 2018 tweet from Donald Trump about "the radical left."
Like this fact check?

Reporting
As criticism mounted surrounding Elon Musk's takeover of Twitter, a comedy writer gained attention on the platform with a post that had other users comparing Musk to right-wing former United States President Donald Trump.
On November 4 2022, Musk complained about the social media platform losing money:
Twitter has had a massive drop in revenue, due to activist groups pressuring advertisers, even though nothing has changed with content moderation and we did everything we could to appease the activists.

Extremely messed up! They're trying to destroy free speech in America.
That same day, Toby Morton juxtaposed Musk's tweet with a photograph of a mocked-up tweet from Trump dated June 8 2018, reading:
America has had a massive dump in the economy, due to the radical left pressuring local leaders for higher pay, even though nothing has changed under your favorite President doing everything he can to make these radicals happy.

Bigly messed up! They're trying to destroy America!
Where have I seen this rhetoric before… pic.twitter.com/M914gCOqlN

— Toby Morton (@tobymorton) November 4, 2022
That same day, one of the platform's "context notes" was added to Morton's tweet clarifying that Trump had never actually tweeted a similar complaint. And indeed, the American Presidency Project record of Trump's tweets from that day show that to be the case.
A photograph also surfaced of a note debunking Musk's tweet — but which was allegedly quietly removed — stating, "Reporting shows advertisers suspending or canceling ad buys over concerns with Twitter platform direction, especially as related to content moderation."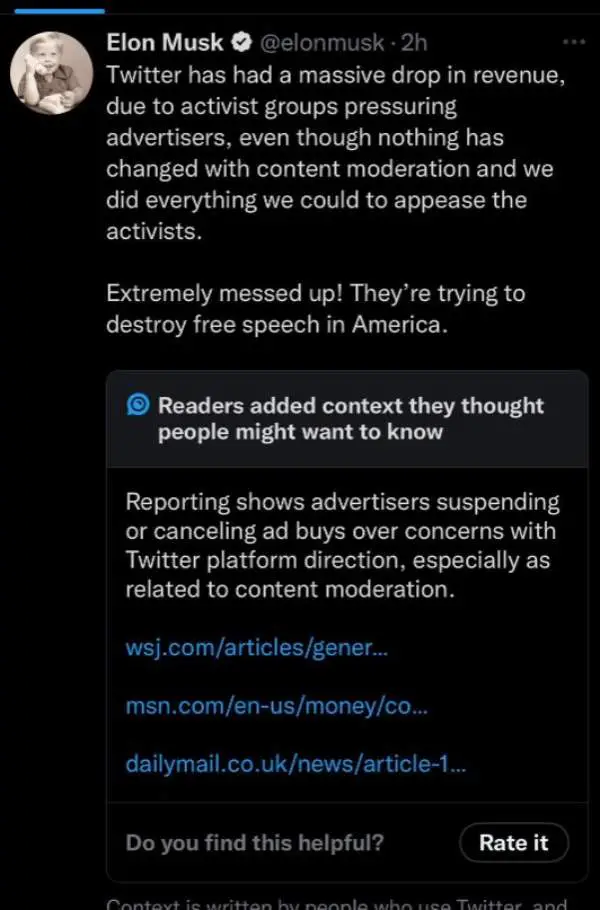 We contacted Twitter seeking to verify the existence of the note, but we have yet to hear back.
The photograph included a link to a report from Business Insider saying that, indeed, companies ranging from General Motors to General Mills had decided to suspend advertising on the platform, as well as the prominent ad agency Interpublic Group:
Interpublic Group wrote in an email on Monday reviewed by The Wall Street Journal: "The current situation is unpredictable and chaotic, and bad actors and unsafe behaviors can thrive in such an environment."

"At this moment, we cannot confidently state that Twitter is a safe place for brands."

Advertising agencies Havas and IPG have also advised clients to pause spending on Twitter.
The "unpredictable" atmosphere was fueled by a reported rise in antisemitic, racist, misogynistic, and otherwise vile content on the platform after Musk (who claims to be a "free speech absolutist") took over the platform on October 27 2022. Musk himself inflamed the situation by choosing to promote a conspiracy theory smearing Paul Pelosi, husband of House Speaker Nancy Pelosi, after Paul Pelosi was attacked in the couple's home:
Yoel Roth, the platform's head of safety and integrity, claimed that Twitter's stance against slurs has not changed.
"Hateful conduct has no place here. And we're taking steps to put a stop to an organized effort to make people think we have," he wrote in a thread, adding, "Over the last 48 hours, we've seen a small number of accounts post a ton of Tweets that include slurs and other derogatory terms. To give you a sense of scale: More than 50,000 Tweets repeatedly using a particular slur came from just 300 accounts."
Two days before Morton's tweet juxtaposing Musk and Trump, the Twitter owner — who had immediately dissolved the company's board upon taking power — claimed in a meeting with civil rights groups that he would not restore any banned accounts (which would include Trump's) until a formal review process was instituted; that would likely mean that Trump could not return to the platform prior to the November 2022 elections.
"I thought the conversation was respectful. It was not contentious," Color of Change's chief executive officer Rashad Robinson told the Washington Post after his group and others met with Musk. "We stressed what was important; he stressed his vision."
The statement further debunked other fake posts claiming that Trump had been allowed to return to Twitter: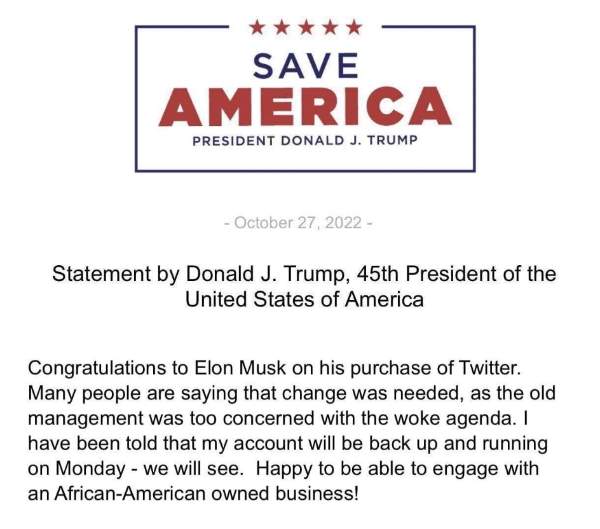 "If I had a dollar for every time someone asked me if Trump is coming back on this platform, Twitter would be minting money!" Musk wrote on October 31 2022.
Musk and Twitter also face a legal threat after a group of former employees filed a lawsuit accusing him of breaking both federal and California law by engaging in mass layoffs via email without providing workers with 60 days' notice. The New York Times reported that around 3,700 jobs were cut, including nearly all of the platform's communications team.
Update 11/4/2022, 1:48 p.m. PST: Updated with more information on layoffs at Twitter in November 2022. — ag