Did the Cambridge Analytica Scandal Make Facebook Users Eligible to Receive $17,500?
Claim
The revelation that personal data for 87 million Facebook users was leaked made them eligible for $17,500 in damages.
Like this fact check?

Reporting
As news began surfacing of the mishandling of Facebook users' personal information in 2018, speculation over potential damages quickly turned to online disinformation.
The possibility of a class-action lawsuit against Facebook increased following the revelation that the data of almost 90 million users had been wrongfully collected by the research firm Cambridge Analytica, which was founded by right-wing megadonors Robert and Rebekah Mercer at the urging of self-professed white nationalist Steve Bannon, an ally of then-presidential candidate Donald Trump. As Vox recounted:
Bannon became vice president of Cambridge Analytica, and during the 2016 election, he reached out to the Trump campaign to introduce the two sides.

Bannon, of course, eventually became a senior adviser to Trump before he was fired in August 2017.
As the story unfolded, remarks by Dr. Maureen Mapp, a legal professor at the University of Birmingham Law School, quickly circulated online:
This could cost Facebook £625 billion [pounds], which is double the £317b it is worth, law professor Maureen Mapp argued.

"There are about 50 million users whose data was harvested," she told the Sun.

"Assuming each one of them brought a claim for compensation for distress caused by the data breach…each individual may be awarded £12,500 as damages."
However, most of these accounts ignored a second opinion:
But a more likely outcome is that users would receive a maximum of £500 each, according data protection lawyer David Barda, who works for Slater and Gordon.
Nontheless as so often happens Mapp's initial guess was distorted and amplified online: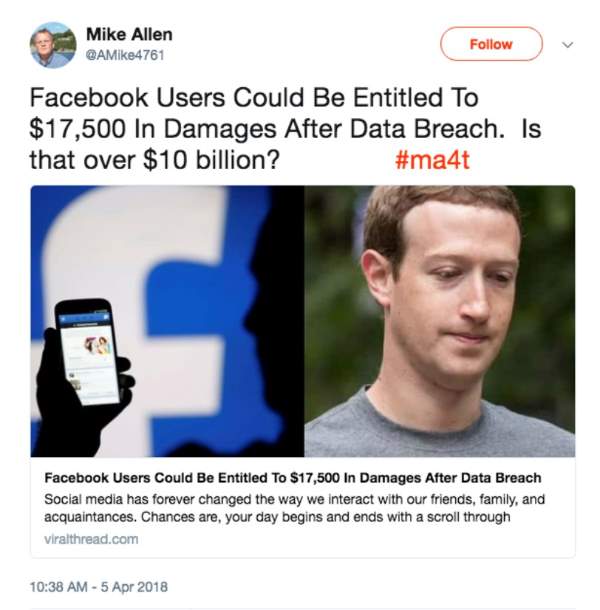 While Cambridge Analytica filed for bankruptcy in 2018, the scandal did indeed lead to a class-action suit against Facebook as well as other sanctions against its parent company Meta. As NPR reported:
Facebook CEO Mark Zuckerberg gave high-profile testimonies in 2020 before Congress and as part of the Federal Trade Commission's privacy case for which Facebook also agreed to a $5 billion fine. The tech giant also agreed to pay $100 million to resolve U.S. Securities and Exchange Commission claims that Facebook misled investors about the risks of user data misuse.
But several years later, in December 2022, Meta did agree to pay $725 million to settle the class-action suit over the Cambridge Analytica data leaks, which prosecutors said affected between 250 million and 280 million people. How much money went to each user, however, would depend on how many of them were able to certify that their information had been mishandled. According to NPR, the settlement is expected to be approved by a federal judge on March 2 2023.
The Irish broadcast outlet Raidió Teilifís Éireann reported in January 2023 that Facebook and another Meta platform, Instagram, were also fined a collective €390 million Euros by the country's Data Protection Commission for their use of personal data; Meta has been fined €1.2 billion by the commission going back to 2021.
Update 1/4/2023, 2:40 p.m. PST: This article has been revamped and updated. You can review the original here. — ag