No, You're Not Being Told to Avoid 'Unprotected Sex with Farm Animals' Over the Coronavirus
Claim
The World Health Organization advised social media users against "unprotected sex" with farm animals in response to a coronavirus outbreak that appears to have originated in China.
Like this fact check?

Reporting
As the World Health Organization (WHO) tried to disseminate health advisories amid a growing coronavirus outbreak, at least one "jokey" graphic blunting that message was spotted online in January 2020.
The WHO's original graphic, posted on January 27, 2020, recommended that social media users "avoid unprotected contact with live, wild or farm animals":
In outbreaks of other #coronaviruses (MERS & SARS), person-to-person transmission occurred through droplets, contact and fomites, suggesting that the transmission mode of the 2019-nCoV can be similar

WHO Situation Report 27 January 2020 https://t.co/l1vODXEyD3 pic.twitter.com/vuNl64gZnm

— World Health Organization (WHO) (@WHO) January 27, 2020
Perhaps predictably given the intended audience, the hoax graphic twists that line into "avoid unprotected sex with live, wild or farm animals":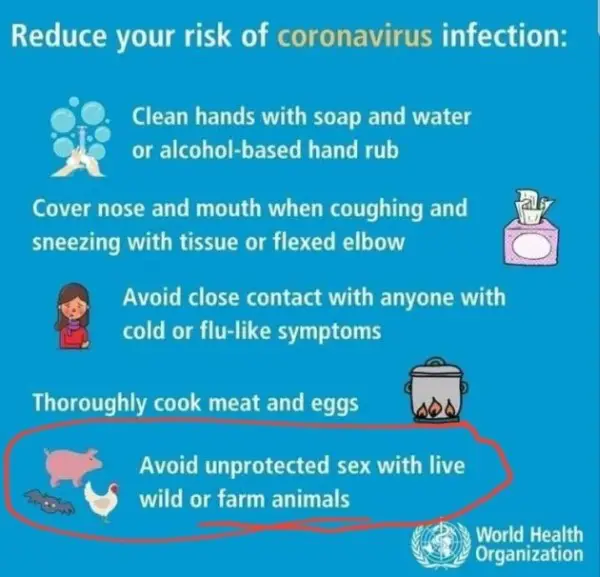 While social media users were going for the easy laugh, the virus has reportedly killed more than 100 people in China, where the outbreak is believed to have started. On January 28 2020, the country's National Health Commission said that it had confirmed 4,515 cases — up from 2,835 the day before. Another five cases of the virus have reported in the United States, none of them fatal; infections also have been so far confirmed in Cambodia, Canada, France, Japan, Nepal, Singapore, South Korea, Thailand, Taiwan, and Vietnam.
However, the WHO also had a reassuring notice for social media users who own pets.
"At present, there is no evidence that companion animals/pets such as dogs, cats can be infected with the virus," the group said. "However, it is always a good idea to wash your hands with soap and water after contact with pets."