The Florida Mail Bombs Are Not 'False Flags'
Claim
The Florida man suspected of sending bombs is a political operative working as part of a larger effort to con the public.
Like this fact check?

Reporting
In the final days of October 2018, after a series of glass-packed pipe bombs were delivered to high-profile critics of United States President Donald Trump, rumors ran wild about who the suspect was and what he wanted.
Few of these theories were organic, and instead appeared to have originated from the usual suspects — throwaway social media accounts and paid trolls who work to muddy the waters and direct the national conversation and the useful idiots who disseminate them.
One such cluster of theories coalesced around a photograph of Florida bombing suspect Cesar Sayoc, Jr. standing next to soccer coach Izzy Hernandez: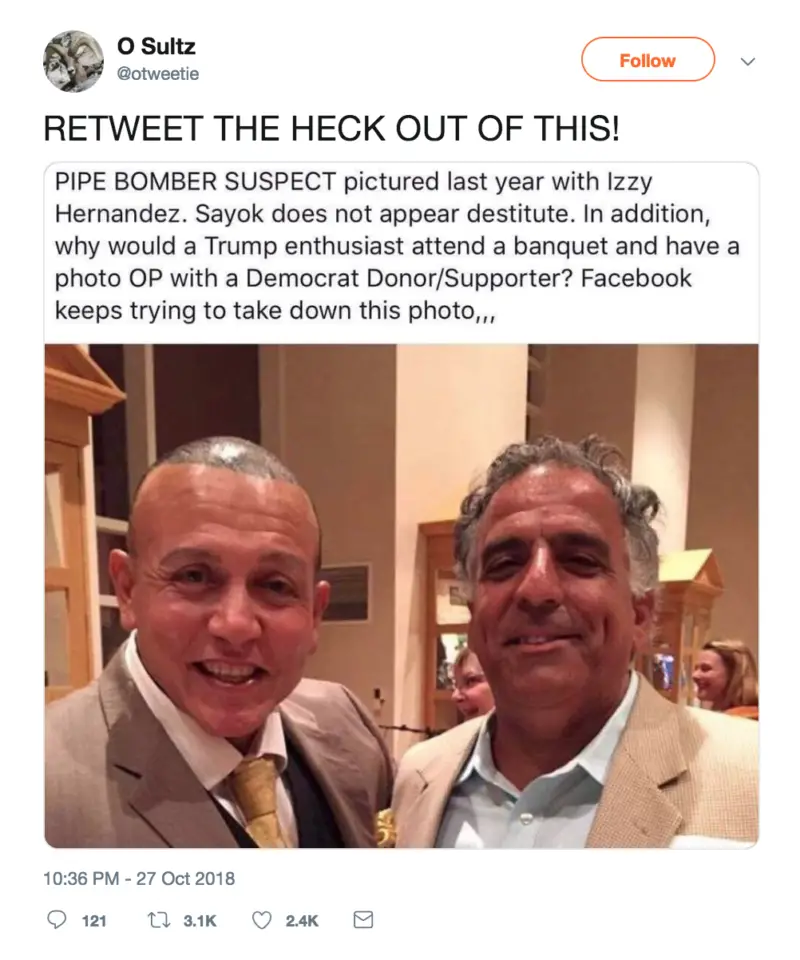 The caption says:
The #LiberalBomber suspect is pictured here with Izzy Hernandez just last year. He doesn't appear to be destitute. Why would an alleged @realDonaldTrump enthusiast attend a banquet and take pictures in a photo OP with a known Democrat? Facebook has been taking this picture down.
This is part of a larger attempt to falsely cast the bombings — an act of politically motivated domestic terrorism — as a left-wing "false flag" event. An entire ecosystem of conspiracy theories has sprung up around these efforts.
This truly is a photograph of Sayoc with Israel "Izzy" Hernandez. However, this is not proof of anything except for one salient fact: Sayoc knew Hernandez from his days playing at Brevard College in North Carolina:
Pictures of Sayoc's van that circulated around the web Friday morning depicted a number of bizarre references to the soccer world. One banner on the van's side mentioned "Top Youth Soccer Recruits for Trump" and appeared to feature a picture of a youth soccer team as well as pictures of a dozen unidentified soccer players in action. The rear windows of the van included a U.S. Soccer sticker and a testimonial to Carolinas schools, including Brevard, UNC-Chapel Hill, UNC-Greensboro, Duke, Wake Forest and Clemson, as well as where those schools ranked in the NCAA in the last two seasons.

[…]

Sayoc's apparent connection to the soccer world stems from his own intercollegiate soccer career. He played first in 1980 at Brevard College in Brevard, N.C., which was then a junior college program. A photograph in the 1981 school yearbook shows Sayoc sitting in the front row in the team photo; another picture shows him kicking a ball in a game.
You can check the Brevard College yearbook from 1981 yourself here.
That a former soccer player took a photograph with a soccer coach is not proof of anything but the fact that he remained interested in the sport and took a photograph with someone he had known for many years. It is not known whether Sayoc and Hernandez discussed politics, there is no proof that Facebook keeps removing the photograph, and even if social media networks have this image blacklisted (which remains uncertain) there is no proof whatsoever that it was done to cover up any salient political information.
Another attempt to prove a point about Sayoc's political leanings came from conspiracy theorist Laura Loomer: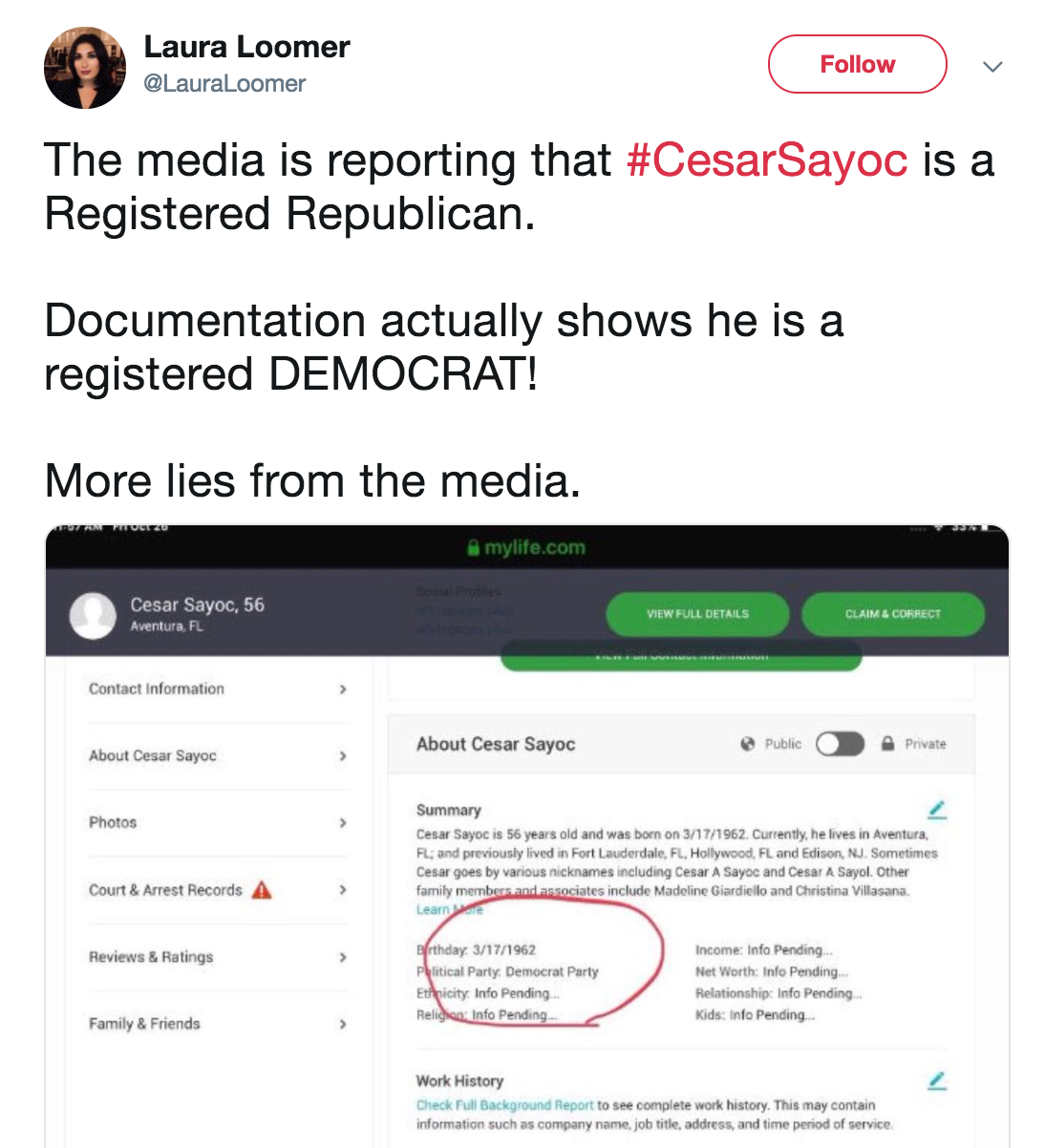 The caption says:
The media is reporting that #CesarSayoc is a Registered Republican.

Documentation actually shows he is a registered DEMOCRAT!

More lies from the media.
Voter registration and political leanings are not always in line with one another, as personal and party politics are in constant flux. But that is irrelevant here, because Loomer's source was MyLife.com, an aggregation site that displays information that can be changed by anyone, as later versions of the same profile clearly indicate: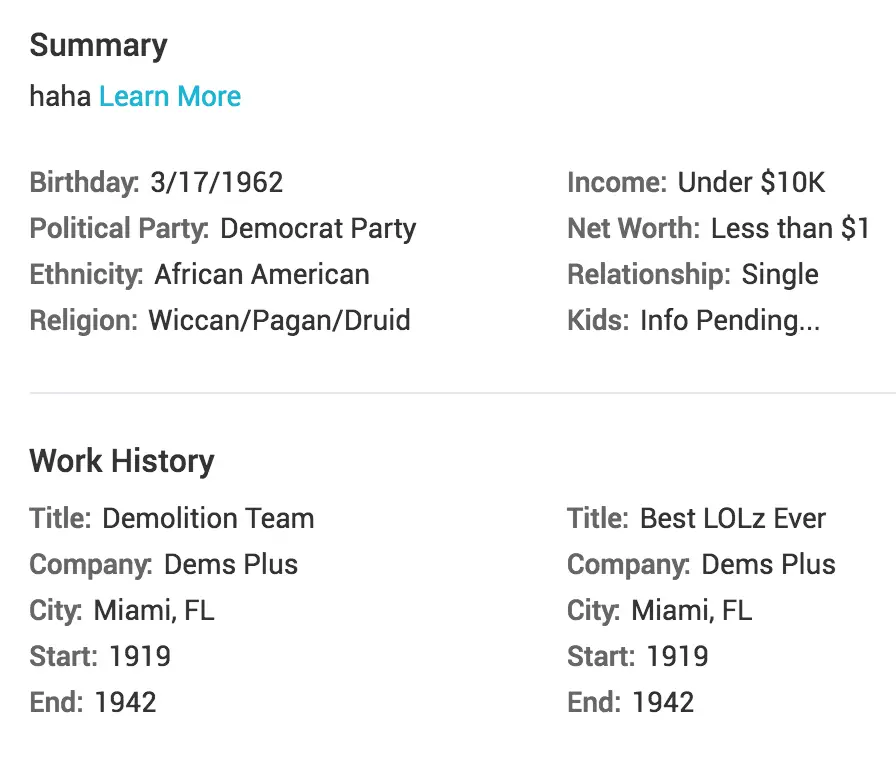 Given that the investigation is ongoing, it is safe to say that any conclusion based on still-unverified claims has very little chance of being accurate.