A series of tweets in November 2019 pushed the claim that Fox News had been made unavailable for United States military service members.
The claim came after the right-wing network's treatment of Lt. Col. Alexander Vindman following his testimony in the impeachment inquiry against President Donald Trump, questioning Vindman's loyalty and appearing to smear him as a spy.
The original tweet, posted on November 20, 2019, read "Good. Screw @FoxNews The Department Of Defense has cancelled Fox News from the Armed Forces Radio after the attacks Lieutenant Colonel Vindman."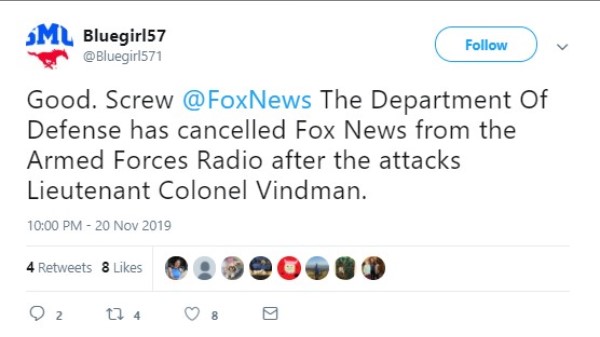 Founded in 1942 as the the Armed Forces Radio Service, "Armed Forces Radio" is known today as AFN360, part of the American Forces Network (AFN). But within a day, several other accounts reprinted the claim verbatim, with one amassing thousands of retweets: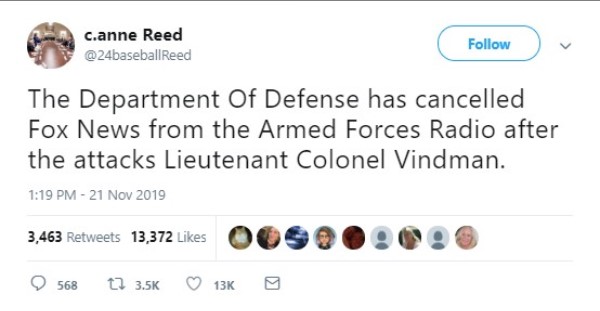 But the claim is false. A Pentagon spokesperson, Capt. Bill Speaks, told us "We have not cancelled Fox News from American Forces Network programming, either on our radio or TV services."
The AFN Europe page still lists Fox News on its online radio offerings as part of the channel The Voice:
The Voice is your source for news, talk and information. You can get Rush Limbaugh, The Osgood File, Sean Hannity, Doug Stephan, Stephanie Miller, Dave Ramsey, Thom Hartmann and so much more. The Voice is your single source for AP news, ABC news, Fox news, and military news.
Fox News also continues to appear on the AFN television schedule, which airs shows from that network alongside shows from CNN and MSNBC.
It is true, however, that some hosts on the network have attacked Vindman. His attorney, David Pressman, demanded that Fox issue a retractment for an October 28, 2019 segment involving host Laura Ingraham and her guest John Yoo, a former official in the Office of Legal Counsel of the U.S. Department of Justice.
Ingraham said:
He's a decorated colonel, by the way, in the Iraq War. But because Colonel Vindman emigrated from Ukraine along with his family when he was a child and is fluent in Ukrainian and Russian, Ukrainian officials sought advice from him about how to deal with Mr. Giuliani, though they typically communicated in English. Now, wait a second, John. Here we have a U.S. national security official who is advising Ukraine, while working inside the White House, apparently against the president's interest, and usually, they spoke in English. Isn't that kind of an interesting angle on this story?
Yoo called it "astounding" before adding, "You know, some people might call that espionage."
Similarly, Ingraham's Fox News colleague Tucker Carlson said that Vindman had "strongly-held views on Ukrainian politics — views that may or may not align with U.S. policy on the subject" after Vindman testified that he had been offered the post of Ukrainian defense minister three times, and declined each opportunity.
Pressman called the allegations about his client "false and defamatory."
"It is causing great pain," he said. "We ask you to retract the coverage, correct the record, and publish the truth."