Gabby Petito Lodi Truck Stop Sighting Rumor
Claim
A post in a Facebook group shows Gabby Petito, whose disappearance became national news in September 2021.
Like this fact check?

Reporting
Late on September 16 2021, a Facebook user shared a screenshot which referenced missing woman Gabby Petito at a truck stop in Lodi, California: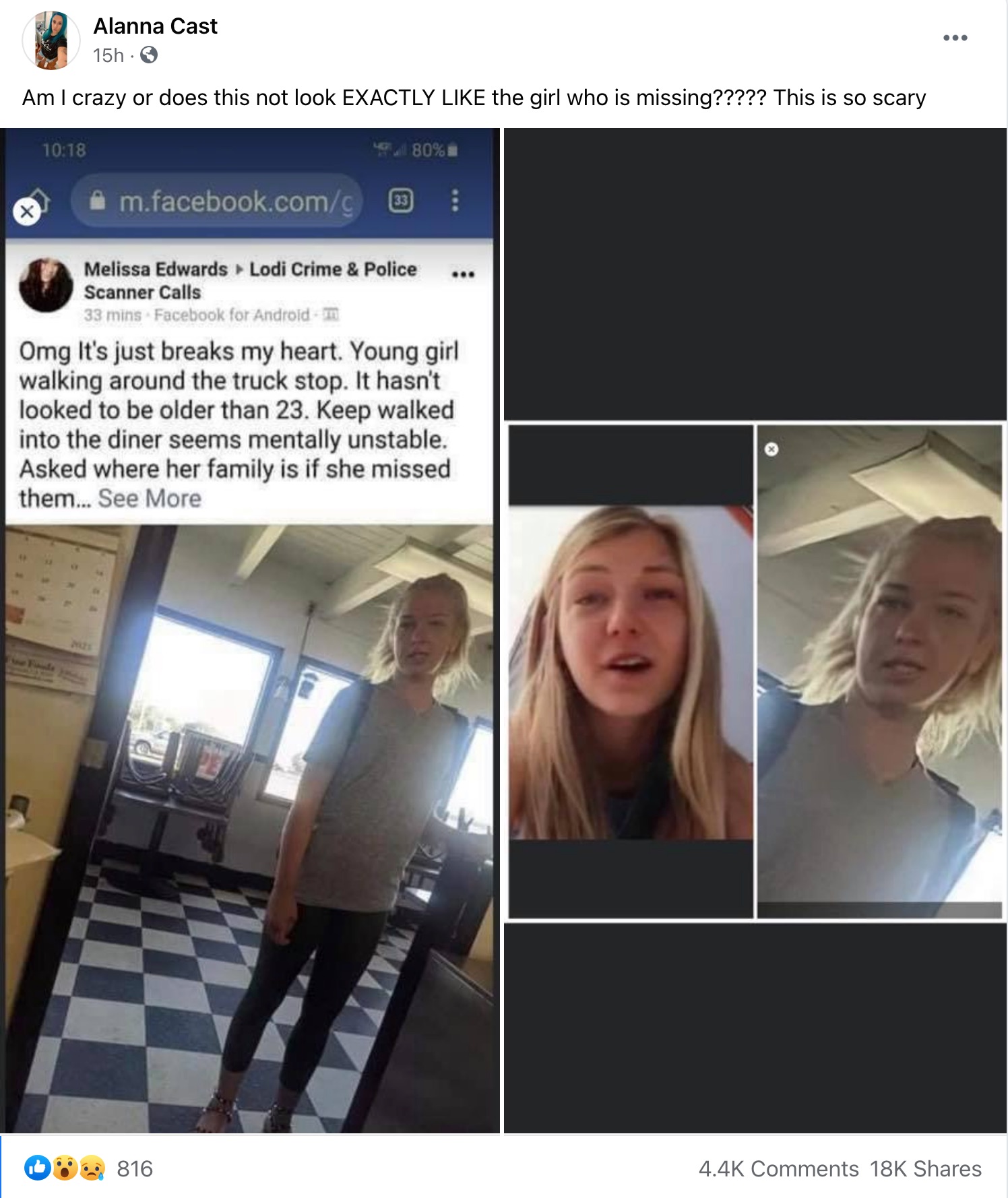 As of midday on September 17 2021, the post was rapidly spreading and circulating on Facebook. It appeared to consist of a screenshot of a post to the private group "Lodi Crime & Police Scanner calls," and it read:
Omg it's just breaks my heart. Young girl walking around the truck stop. It hasn't looked to be older than 23. Keep walked into the diner seems mentally unstable Asked where her family is if she missed them … See More
On the right side of the image, missing woman Gabby Petito was shown and contrasted with a close-up of the woman at the truck stop. In addition to its popularity on Facebook, the post was shared at least twice to the subreddit r/GabbyPetito:
ALLEGED SIGHTING: Just saw this on Facebook… Could it be Gabby Petito? from GabbyPetito
In the above post, a commenter shared a purported screenshot showing a comment that was, per Reddit users, originally addressing the disappearance of a different person:
That comment appeared to be two weeks old when it was captured:
I called and talked to the sheriff's after they had her for a while it's not her unfortunately but they did take her to get mental health so she's getting the help she needs
In any event, the police clearly had not taken Petito into custody in early September 2021.
The screenshots were also apparently shared repeatedly to the Facebook page of the missing woman's father, Joseph Petito. Commenters responded to the many iterations of the rumor with a screenshot of Joseph Petito stating the woman at the Lodi truck stop was not his daughter Gabby: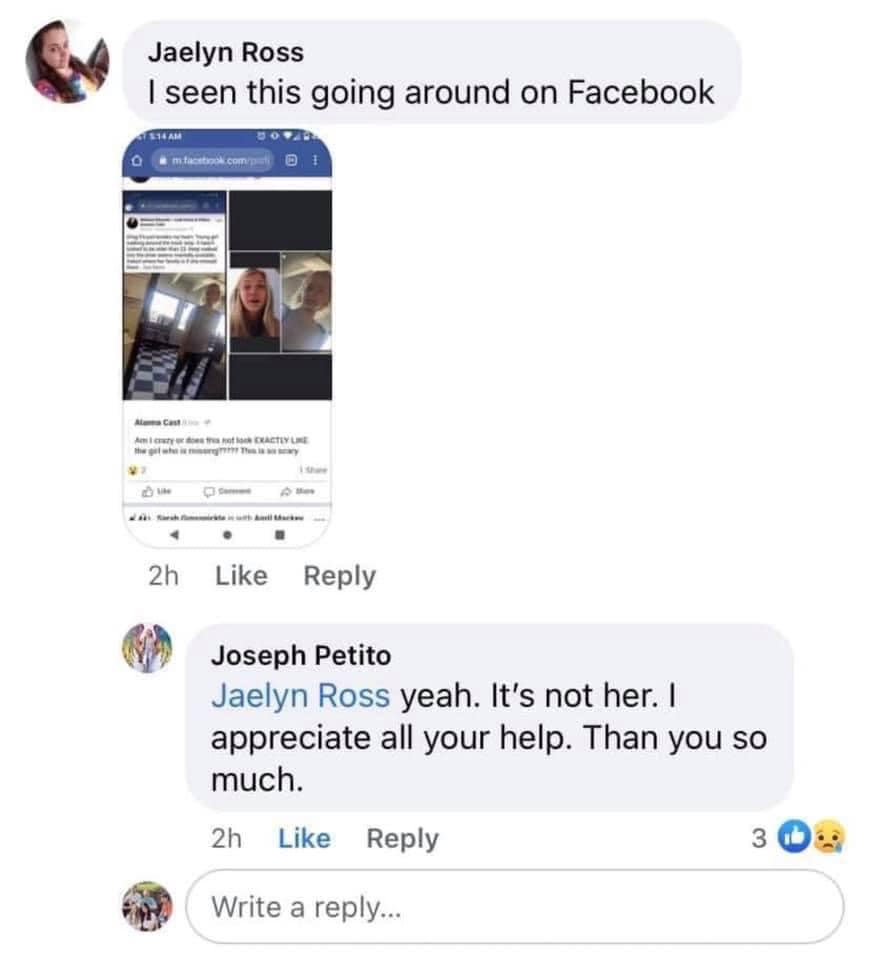 Petito's comments were awash in screenshots of the post. In response to one, he wrote:
[Jaelyn Ross] yeah. It's not her. I appreciate all your help. Than[k] you so much.
The disappearance of Gabby Petito led to the viral spread of a woman at a truck stop in Lodi, California, presumed by many Facebook sleuths to be Petito. However, Joseph Petito confirmed that the woman in that post was not his daughter, and he thanked commenters for their help. Widespread interest in finding Petito drove shares of the image, but its viral spread combined with its confirmed irrelevance could potentially drown out legitimate information.
Update, 9/21/2021: On September 20 2021, the remains of a woman believed to be Gabby Petito were found in Teton County, Wyoming.