On September 17 2021, the Facebook page "These memes kill fascists" shared a post about Manchester United striker Eric Cantona kicking a Nazi:
Kicking a Nazi cost Manchester United striker Eric Cantona a 9 month penalty, an €18000 fine, and 2 weeks of community service.

When asked about it he says it was the best moment of his career: "It's not every day your get to kick a fascist"
An image appeared with the post: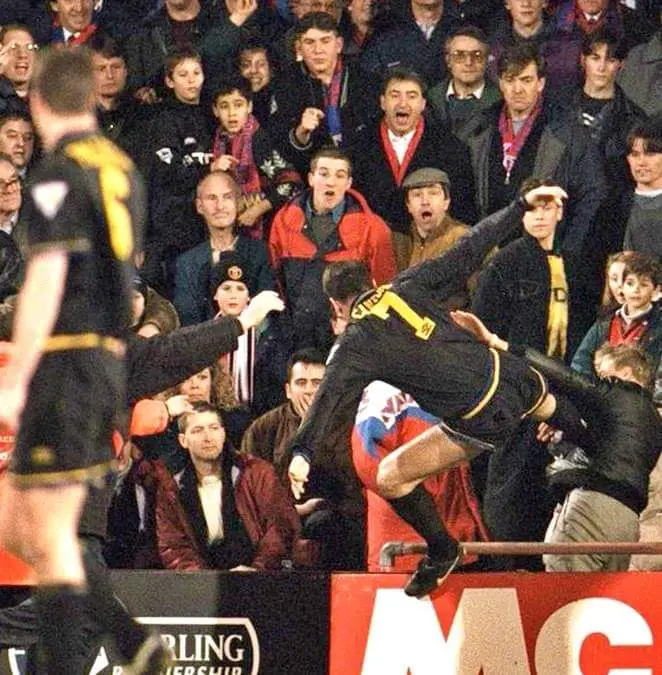 On Facebook, the post racked up thousands of shares in the days after it was originally posted.
Eric Cantona was indeed a former professional football player who played for Manchester United in the 1990s and retired in 1997, a full 24 years prior to the post's publication on Facebook. A reverse image search indicated that the oldest crawled versions of the image were first published in early 2008. On Google, "Eric Cantona hooligan kick" was suggested as a possible related search.
Overall, search results tended to mark the "anniversary" of Cantona kicking a spectator across the years — on YouTube, on Reddit, and in the news: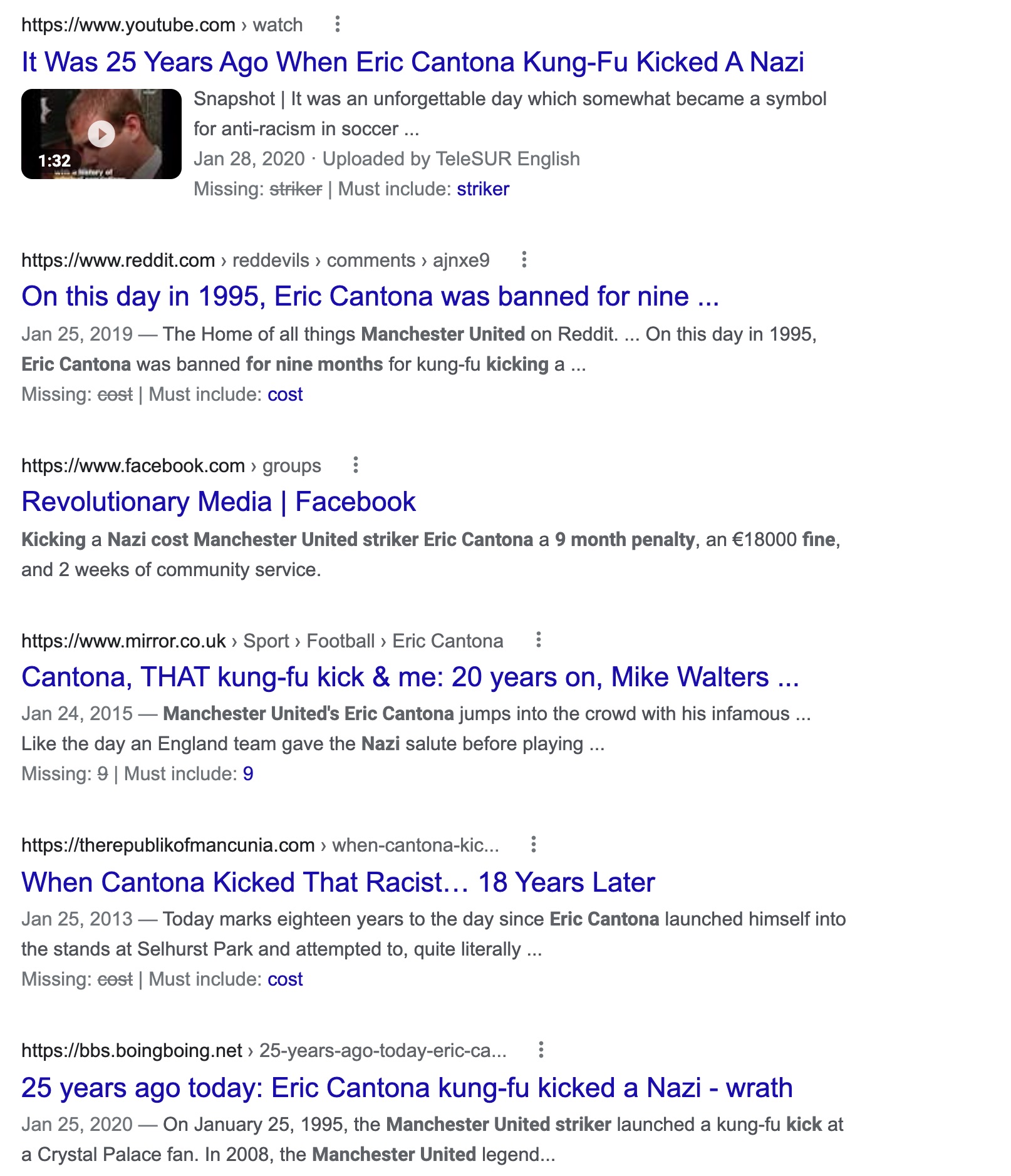 A January 25 2020 article in The Guardian, "Eric Cantona and 'the hooligan': the impact of the kung-fu kick 25 years on," didn't initially describe the other party as either an overt fascist or a Nazi:
Eric Cantona scored 82 goals for Manchester United. He won four league titles and two Doubles, and was a catalyst for the most successful period in the club's history. None of that will keep him warmest in his dotage. "My best moment? I have a lot of good moments but the one I prefer is when I kicked the hooligan."

Cantona always refers to Matthew Simmons, with a delightful, absent-minded contempt, as "the hooligan". It's a neat way of dehumanising the gobby fan he dealt with when he tried to kick racism out of football on 25 January 1995. Twenty-five years later, the footage and images of his kung-fu kick retain an exhilarating power. It was the definitive example of what Alex Ferguson called Cantona's "defiant charisma". His defiance that night defined his career, and also his life.

[…]

Simmons assumed he could charge down the front and shout "fuck off back to France you French motherfucker" with impunity. Cantona's re-education programme – a flying kick before a seriously underrated roundhouse right – disabused him of this notion. "You know, you meet thousands of people like him," said Cantona of Simmons. "If I'd met that guy on another day, things may have happened very differently even if he had said exactly the same things. Life is weird like that."
In the Facebook post, the page indicated Cantona was fined €18,000, received a nine month penalty, and was assigned two weeks of community service. The article reported:
[Former Manchester United manager Alex] Ferguson had been so busy reorganising United that he genuinely did not see the incident. He caught the tail end and thought Cantona had been dragged into the crowd as he walked past. The language used by everyone after the game, even the police, was sufficiently ambiguous that Ferguson left for Manchester none the wiser. Even when he got home and his son Jason hinted that the apocalypse was in the post, Ferguson decided to go to bed and face it in the morning. He couldn't sleep and finally watched the video around 5am.

His initial instinct was that Cantona had to be sacked and the United board agreed. But the solicitor Maurice Watkins counselled that such an act could prejudice any legal case and the club waited until the Thursday evening to discuss things further at a Manchester hotel. By then Ferguson was coming round to the idea of him staying and from that moment he offered his player unconditional protection. Cantona was banned until the end of the season and fined the maximum two weeks' wages, just £10,800.
At exchange rates current as of September 2021, £10,800 was worth roughly €12,574.02, at €1.16 euros per pound. But exchange rates were different in the late 90s, spiking as high as €1.54 to £1 in 1997.
Wikipedia's entry on Cantona included a section about the incident, encompassing different parameters with respect to Cantona's fines and community service:
On 25 January 1995, [Cantona] was involved in an incident that attracted headlines and controversy worldwide. [After being sent off the field and] walking towards the tunnel, Cantona launched a 'kung-fu' style kick into the crowd, directed at Palace supporter Matthew Simmons, who had run down 11 rows of stairs to confront and shout abuse at Cantona. Simmons was alleged to have used the words "Fuck off back to France, you French bastard". Cantona followed the kick with a series of punches. A lengthy ban from the game was regarded as inevitable, with some critics calling for Cantona to be deported and never allowed to play football in England again, while others called for him to be banned from football for life.

As well as disciplinary action from his club and The FA, Cantona was also faced with a criminal charge of assault, which he admitted to on 23 March [1995], resulting in a two-week prison sentence, although he was freed on bail pending an appeal. This was overturned in the appeal court a week later and instead he was sentenced to 120 hours of community service, which was spent coaching children at United's training ground … In accordance with The FA's wishes, United's initial action was to fine Cantona £20,000 for the assault and to confirm that he would not play for the first team for the rest of the season … The FA then increased the ban to eight months (up to and including 30 September 1995) and fined him a further £10,000 … FIFA then confirmed the suspension as worldwide, meaning that Cantona could not escape the ban by being transferred or loaned to a foreign club.
Fines and legal outcomes were somewhat inconsistently reported, but Cantona was banned for at least eight months and fined between £10,000 and £30,000. As for Simmons, The Guardian's January 25 2020 article cryptically added:
The more we discovered about Mr Simmons, the more Cantona's assault looked like the instinctive expression of a flawless moral judgement." On Fantasy Football League, Nick Hancock – usually a staunch ABU – said it was "comfortably the best thing that's happened this season – it was absolutely brilliant". Most players privately had no problem with what Cantona had done. Ian Wright later said he felt "jealous".
In October 2004, The Guardian profiled Simmons and reported in part:
In 1995, Eric Cantona was perhaps the greatest draw in British sport … Simmons, by contrast, had a dark and troubled past, which the tabloids wasted little time in revealing.

[Tabloids] discovered, for instance, that [Simmons] had attended British National Party and National Front rallies and that, in 1992, he was convicted of attempted violent robbery when he attacked an attendant in a Croydon petrol station. He assaulted Sri Lankan-born Lewis Rajanayagam with a three-foot spanner, striking him in the shoulder rather than the head only because the sales assistant took evasive action. 'I was absolutely terrified,' Rajanayagam said. 'I thought he was going to kill me. Simmons went for my head. If it had hit me there, I would probably have had a broken skull.'

'I am so ashamed of myself,' Simmons says now of the attack. 'People must have raised an eyebrow. Fair enough. But, that did not make me guilty of any wrongdoing in this [the Cantona] incident.'

Simmons was 17 when he attacked Rajanayagam. He was 20 when what he repeatedly calls 'the incident' occurred. At his subsequent trial for threatening language and behaviour, he attacked the prosecution counsel after being found guilty, leaping over a bench and executing a flying kick of his own. He was sentenced to seven days in jail, but only served 24 hours.

He sold his story to the Sun. 'That was a big mistake,' he says. 'What was happening was trial by media, so I thought I needed to have my say. But they [the Sun] asked a question and I would give an honest answer, but it did not turn out like that.'
In January 2020, The Independent's look back on the incident included information about Simmons' background and the incident. On September 17 2021, UK tabloid Express published "Eric Cantona's 'only regret' is he didn't kick Matthew Simmons more," reiterating similar details about Simmons:
The Premier League star [Cantona] was also given a two week prison sentence that was later overturned by the court of appeal.

Yet public opinion sooned [sic] turned as a court prosecuted Simmons for two charges of using threatening words and behaviour after he was found to have directed xenophobic language at the footballer and insulted his mother.

The court was told of the supporter's links with the National Front while he had also previously been convicted of an armed robbery.

As Simmons received a guilty verdict for his part in the Cantona incident he launched himself over the front bench and grabbed prosecutor Jeffrey McCann before being apprehended by court staff.

Simmons then shouted "I am innocent, I swear on the Bible" and called the press "scum".
A viral Facebook post claimed that former Manchester United player Eric Cantona "kicked a Nazi," was fined and suspended, and later expressed no regret for the incident. Although the basic post was functionally true, it was slightly out of context in terms of the outcome of the incident. But as stated, the man Cantona kicked was later identified being linked to overtly fascist and white supremacist groups, and he had directed a stream of racist language at Cantona just before the flying kick.