'George Washington Mandated Inoculation'
Claim
"George Washington mandated inoculation against smallpox."
Like this fact check?

Reporting
On September 13 2021, a Facebook account shared a screenshot of the following tweet, which claimed that George Washington mandated inoculation:
George Washington mandated inoculation against small pox.

The Supreme Court has ruled state vaccine mandates to be constitutional for more than a century.

We've had vaccine mandates, including for things like attending public schools, for generations.

Grow the hell up.

— Bradley P. Moss (@BradMossEsq) September 9, 2021
That September 9 2021 read:
George Washington mandated inoculation against small pox.

The Supreme Court has ruled state vaccine mandates to be constitutional for more than a century.

We've had vaccine mandates, including for things like attending public schools, for generations.

Grow the hell up.
Based on the date it was published, the tweet referenced an outcry over U.S. President Joe Biden's September 9 2021 announcement regarding vaccines and the Department of Labor:
Todd Starnes: 'Biden Says Even Fox News Has A Mandatory Vaccine Policy'
Biden said, in part:
My job as President is to protect all Americans.

So, tonight [September 9 2021], I'm announcing that the Department of Labor is developing an emergency rule to require all employers with 100 or more employees, that together employ over 80 million workers, to ensure their workforces are fully vaccinated or show a negative test at least once a week.

Some of the biggest companies are already requiring this: United Airlines, Disney, Tysons Food, and even Fox News.

The bottom line: We're going to protect vaccinated workers from unvaccinated co-workers. We're going to reduce the spread of COVID-19 by increasing the share of the workforce that is vaccinated in businesses all across America.
What Biden actually described was not a "vaccine mandate"; the provision allowed for proof of vaccination or demonstrating a negative test once a week among affected employees. Nevertheless, it was widely described as "mandating" vaccines.
Google Trends data demonstrated an initial spike in searches for "Washington mandated inoculation" and "George Washington mandated inoculation" at 6 PM the same day; sustained search interest continued for several days: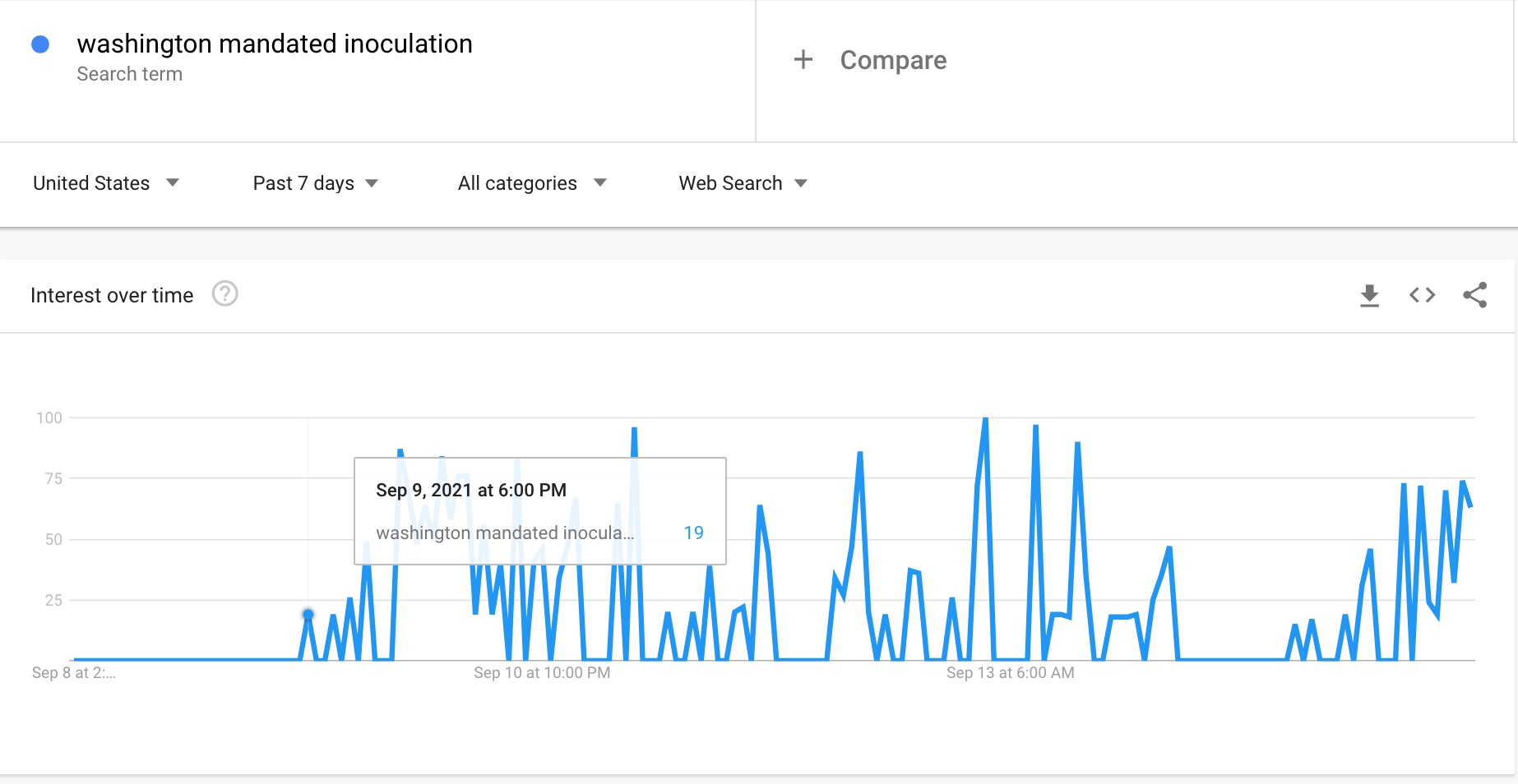 Although the claim might have seemed implausible on first glance, it was pretty well documented by official and governmental sources. On Health.mil, an August 2021 page ("Gen. George Washington Ordered Smallpox Inoculations for All Troops") and it explained:
In late 1776, as Gen. George Washington led his troops through the opening battles of the American Revolution, it was not necessarily the enemy fighters who posed the biggest risk to the fledgling U.S. Army.

An estimated 90% of deaths in the Continental Army were caused by disease, and the most vicious were variants of smallpox, according to the U.S. Library of Congress.

That's why Gen. Washington made the controversial decision to order the mass inoculation of his soldiers, an effort to combat spread of the disease that was at the time a major deterrent to enlistments and posed the risk of debilitating his army and tipping the balance of power against America's first warfighters.

According to the U.S. Library of Congress's Science, Technology, and Business Division, the smallpox inoculations began Jan. 6, 1777, for all of Washington's forces who came through the then-capital of Philadelphia, and through Morristown, New Jersey, following the Battle of Princeton … At the time, most English troops were immune to variola, and their immunity gave them an "enormous advantage against the vulnerable colonists," according to the library. By contrast, less than a quarter of the American colonial troops had ever had the virus.
A February 2009 Library of Congress (loc.gov) page, "George Washington and the First Mass Military Inoculation," addressed Washington's directive (as did an entry on MountVernon.org, the digital version of Washington's library):
George Washington's military genius is undisputed. Yet American independence must be partially attributed to a strategy for which history has given the infamous general little credit: his controversial medical actions … On the 6th of January 1777, George Washington wrote to Dr. William Shippen Jr., ordering him to inoculate all of the forces that came through Philadelphia. He explained that: "Necessity not only authorizes but seems to require the measure, for should the disorder infect the Army . . . we should have more to dread from it, than from the Sword of the Enemy." The urgency was real. Troops were scarce and encampments had turned into nomadic hospitals of festering disease, deterring further recruitment. Both Benedict Arnold and Benjamin Franklin, after surveying the havoc wreaked by Variola in the Canadian campaign, expressed fears that the virus would be the army's ultimate downfall.
PolitiFact examined the claim in early August 2021, rating it "mostly true" on the basis of the relatively primitive nature of inoculation at the time:
The shorthanded history is basically right. The smallpox vaccine didn't exist when Washington was commander in chief of the Continental Army, but the point remains: he ordered the inoculation of troops against smallpox by the means that was then available, variolation.
Discussions following Biden's announcement of a national vaccine (or negative test) policy included claims that George Washington "mandated inoculation against" smallpox. Although the smallpox vaccine as we know it didn't exist in Washington's army days (it was introduced in 1796), the claim was functionally accurate. Washington ordered Shippen to inoculate American troops in January 1777, due to the devastating effect of smallpox on his soldiers.