Are Four Networks 'Set to Announce They Will No Longer Televise Trump's Announcements'?
Claim
CNN, ABC News, CBS News, and NBC News are "set to announce" that they will stop carrying live statements from U.S. President Donald Trump.
Like this fact check?

Reporting
Those perhaps seeking relief from live coverage of United States President Donald Trump's daily briefings on COVID-19 shared a Texas man's unverified claim that some major news outlets would stop carrying them in late April 2020.
"CNN, NBC, CBS, & ABC are set to announce that they will no longer televise Trumps [sic] announcements from the White House, saying that they are not in the public interest," Gerry Perlman wrote on April 28, 2020. "They are standing firm, claiming that they are actually protecting the American public."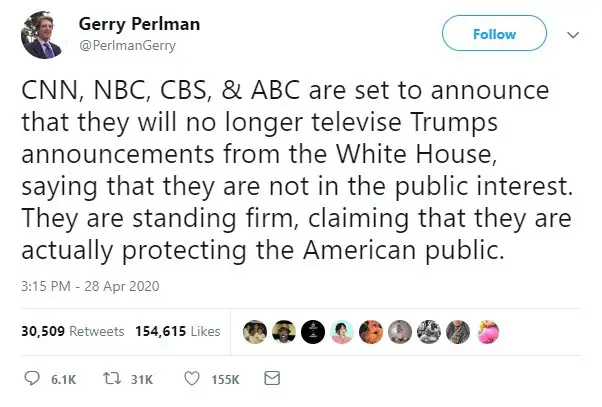 Perlman's post has been shared thousands of times on Twitter despite a lack of evidence. We asked him directly on the platform whether he had any sourcing or proof to back his claim. We also contacted each of the networks he named in his tweet for comment.
Matt Dornic, CNN's head of strategic communications, replied to our question on Perlman's original thread saying, "I'll be your source for the CNN piece of his tweet. Not true!" The other three networks Perlman identified have yet to respond.
Perman's Twitter account describes him as a "consultant, reader, writer, humanitarian." According to his LinkedIn profile, he is a senior sales manager for workplace facilities at Office Depot. His specialties are described as "start-up/turn-around sales operations, account management at both the national and local level. Increase sales and new product/market development. Strong background in implementing sales techniques though training, motivation, and effective sales meetings."
It is unclear whether Perlman was wishing aloud for news outlets to stop carrying Trump's briefings or "announcements" live, but it is true that the sentiment is not without support. Jay Rosen, a professor of journalism at New York University, sent a letter to the heads of WarnerMedia News (CNN's parent company), ABC News, CBS News, NBC News, and MSNBC asking them not to promote what they called the president's "platform for misinformation and disinformation" regarding the pandemic.
According to the letter, which was co-signed by professors at Columbia University, the University of Michigan, and the University of Pennsylvania:
While a long and established history of journalists covering presidential pronouncements and White House briefings exists, in their current form under this president, these briefings have degenerated into political rallies and forums for the president to denigrate his enemies. Journalists are not obligated to assist the president in amplifying his grievances or in misinforming the American people about the spread of the virus and what is actually being done and needs to be done to combat it.

We ask that no speech, rally, or press conference involving the president be covered live anymore. The risk of passing along bad information and harmful advice is too great. News organizations need to attend carefully to what he says and only share information that they can independently verify. By asking themselves "is what he said something we should be amplifying?" news organizations can offset the damage these briefings are producing.
At least two user-generated online petitions have also gone live asking news outlets to stop airing the briefings live, including one on MoveOn.org which has already amassed more than 320,000 signatures as of April 29 2020.
Update, April 29 2020, 3:08 p.m. PST: Updated with comment from CNN; changed our truth rating from "Unknown" to "Not True."