Medical Community Refutes Bakersfield Doctors' Attempts to Minimize COVID-19
Two California-based doctors' attempt to compare COVID-19 to the common flu has incurred criticism and debunking from not only their local colleagues, but medical professionals at the state and national level.
In a rare step, the American College of Emergency Physicians (ACEP) and the American Academy of Emergency Medicine (AAEM) released a joint statement saying they "jointly and emphatically condemn" calls by Artin Massihi and Daniel Erickson to abandon orders requiring people to remain indoors whenever possible to limit the spread of the disease. The two groups' statement read as follows:
These reckless and untested musings do not speak for medical societies and are inconsistent with current science and epidemiology regarding COVID-19. As owners of local urgent care clinics, it appears these two individuals are releasing biased, non-peer reviewed data to advance their personal financial interests without regard for the public's health.

COVID-19 misinformation is widespread and dangerous. Members of ACEP and AAEM are first-hand witnesses to the human toll that COVID-19 is taking on our communities. ACEP and AAEM strongly advise against using any statements of Drs. Erickson and Massihi as a basis for policy and decision making.
Massihi, who owns a chain of urgent care facilities with Erickson, responded on his Facebook page:
We understand that some of the major Medical societies are stating that our population of patients and our data has some "Sampling Bias" We are currently working on having a University analyze our data for accuracy and statistical relevance. We want to be a part of the solution to re-open California, not part of the problem.
Massihi and Erickson first drew attention to themselves when they claimed in a media appearance five days earlier that they had determined that COVID-19 (or SARS-CoV-2, as it is also known) was no more deadly than the flu, and that people heeding orders to remain at home were actually weakening their immune systems. Erickson said that they reached their conclusion after seeing that out of 5,000 patients they tested for the disease, 7 percent tested positive.
"We understand microbiology. We understand immunology and we want strong immune systems," Erickson claimed. "I don't want to hide in my home, develop a weak immune system and then come out and get disease."
As of April 28, 2020 the Centers for Disease Control (CDC) has confirmed 55,258 deaths — an increase of 1,336 from the day before — out of 981,246 total cases.
Erickson has also said that he did not wear a mask when going outside of his home.
"Do we need to still shelter in place? Our answer is emphatically no," he said. "Do we need businesses to be shut down? Emphatically no. Do we need to test them and get them back to work? Absolutely."
Massihi is currently certified by the Medical Board of California as a physician and surgeon. Erickson has been described in reports on their claims as a "former emergency room physician." He is currently licensed by the Osteopathic Medical Board of California.
The duo's claims were amplified and criticized along political lines; Massihi has referred to himself and Erickson online as "Trump citizens of California." They also appeared on right-wing television host Laura Ingraham's show on April 28 2020. And online reviews of Erickson on the ratings website Healthgrades.com have also recently been less about his work, and more a reaction to his claims: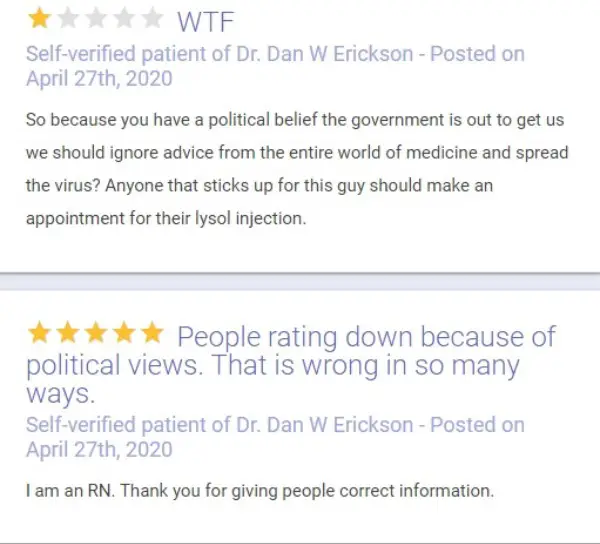 Their claims were also amplified thanks in part to social media; Tesla Motors owner Elon Musk shared a YouTube video of their remarks saying that they made "good points." (The video was later removed from the platform.)
However, medical professionals at several levels rejected their statements even prior to the joint statement by the AAEM and ACEP, starting with Erickson's claim that officials in Kern County, where several of their clinics are located, were "waiting for the powers that be" to lift stay-at-home orders but agreed with his argument.
"The doctor at Accelerated has spoken with our director," said Michelle Corson, a spokesperson for the county health office. "Our director has not concurred with the statements that were made yesterday about the need to re-open at this time."
California state Sen. Richard Pan, a pediatrician by trade and chair of the Senate Health Committee, told the non-profit outlet CalMatters that he felt Erickson and Massihi "basically hyped a bunch of data" without being transparent about their methodology.
"They really played on the fact that they're physicians," he added. "I think it's quite disingenuous of them. we have to push back on any media that promotes this information. They're really doing this as a way to fish for attention."
And Dr. Jennifer Kasten, a practicing pathologist at Cincinatti Children's Hospital who holds a master's degree in infectious disease epidemiology, further refuted Massihi and Erikson's claims in an interview with KGTV-TV, saying there was no evidence that staying indoors could put one's immune system at risk.
"I think it adds to disinformation. It adds to confusion," she said of their arguments. "It makes people feel like there are competing narratives and they aren't sure who to trust."
Update, April 29 2020, 7:46 a.m. PST: Updated to reflect Dan Erickson's current license status.