Bannon Ally Charged with Fraud Also Helped Him Spread Disinformation
The 54-year-old billionaire popularly known as "Guo Wengui" not only used other names — he was also involved in several efforts alongside former White House advisor Steve Bannon.
Federal prosecutors' announcement on March 15 2023 provided not just "Wengui's" given name but his array of aliases:
HO WAN KWOK, a/k/a "Miles Guo," a/k/a "Miles Kwok," a/k/a "Guo Wengui," a/k/a "Brother Seven," a/k/a "The Principal," and KIN MING JE, a/k/a "William Je," with various wire fraud, securities fraud, bank fraud, and money laundering charges. JE, who is KWOK's financier, is also charged with obstruction of justice.
With Bannon serving as an "advisor," Kwok was the head of a group calling itself the "New Federal State of China," which had allegedly set up a fake embassy in New York City and was most recently identified as a "partnering sponsor" for a conference hosted by the right-wing group the Conservative Political Action Conference, commonly known as CPAC: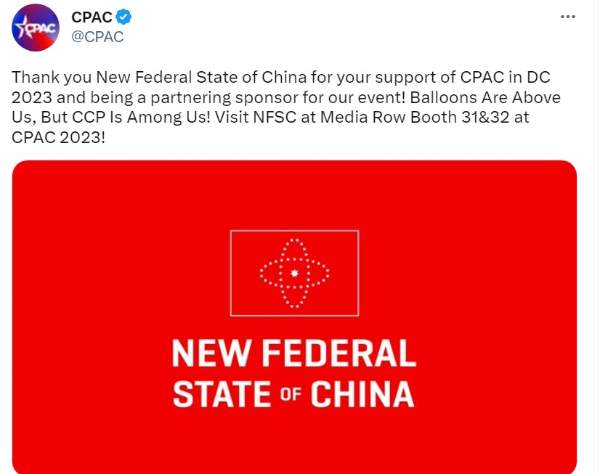 According to The Daily Beast, the building in question — owned by Argentinian mogul Eduardo Eurnekian, though Kwok had claimed to at least one U.S.-based news outlet that it was his — became a hub of disinformation:
Public records, court documents, and in-person observations reveal that Bannon and Guo have converted the building's residential floors, against code and zoning, into the offices for their network of right-wing media and nonprofits—which have recently gained attention for publishing bogus COVID-19 studies and promoting conspiracy theories about Hunter Biden.
"They're trying to imitate tactics used by QAnon," disinformation researcher Keenan Chen told Foreign Policy magazine in December 2020.
As The Guardian reported in April 2021:
From as early as January 2020, Bannon and Kwok were attempting to spread a narrative alleging that the pandemic was caused by a Chinese bioweapon, both on Bannon's radio program and on their shared media venture, G News. The Epoch Times followed that April with a documentary that repeated the bioweapon claims, and have taken further opportunities to allege, without basis, that China's government started the pandemic deliberately.
An analysis by the firm Graphika found that "foreign-born participants in Guo's online and offline operations have been promised political asylum in the United States in exchange for participation." The firm found that Guo's disinformation network was working with thousands of social media accounts on several social media platforms to peddle a steady stream of lies.
The Washington Post reported on March 26 2023 that Kwok and "money manager" William Je also wielded influence within Gettr, an online hub for supporters of disgraced former U.S. President Donald Trump — even though another Trump advisor, Jason Miller, was presented to the public as the site's chief executive officer.
A former employee, speaking on condition of anonymity, said that Miller downplayed Kwok's involvement, saying the site was "backed by an international consortium of investors." Gettr's former director of trust and safety, Ben Badejo, said Miller identified "Hamilton Investments" as the site's backer. According to the Post:
Federal agents seized more than $300 million in bank accounts marked Hamilton Opportunity Fund or Hamilton Opportunity Funds in a forfeiture proceeding. They also took another $2.7 million from an account marked Gettr USA, without saying who controlled it, court documents show.
Badejo also provided a spreadsheet showing that Gettr paid a variety of right-wing disinformation outlets to provide content; Bannon's podcast, for example, received $50,000 from the site. Companies attached to bloggers and podcasters ranging from Charlie Kirk to Jack Posobiec and Andy Ngo, among others, were also paid by Gettr.
Bannon was not identified in connection with Kwok's arrest; in August 2020, however, he was arrested on Kwok's yacht as part of a separate fraud investigation; Trump, who Bannon advised during his time in office, pardoned Bannon in January 2021, shortly before current United States President Joe Biden took office.
In September 2022, however, Bannon faced still more fraud charges in New York state connected to a fundraising effort for an illegitimate "wall" across the U.S.-Mexico border. Bannon would later encourage a coterie of right-wing operatives to "stalk" and harass people using ballot boxes prior to the November 2022 elections.
Kwok's arrest was punctuated by a fire reported at his New York City residence after his arrest; ABC News reported that no one was injured by the blaze, which is also now under federal investigation. His next court appearance is scheduled for April 4 2023.
Update 3/27/2023, 12:59 p.m. PST: Updated to reflect allegations that Kwok was a major figure within the right-wing social media site Gettr. — ag