Does Hobby Lobby Refuse to Sell Jewish Holiday Items?
Claim
The Hobby Lobby retail chain refuses to sell Jewish holiday items.
Like this fact check?

Reporting
The Hobby Lobby craft store chain faced a backlash in 2013 after a New Jersey blogger brought to light its lack of merchandise catering to Jewish shoppers.
According to the liberal blog the Daily Kos, Ken Berwitz ran into issues after looking into claims that a new store in Marlboro did not carry Hanukkah-related items; one store employee also allegedly told a shopper, "We don't cater to you people."
According to Berwitz, the shopper — one of his wife's friends — called "the home office" and was told that Hanukkah wasn't on the company's "list of holidays." He wrote:
Since I did not hear this ugly exchange with my own ears, I was not personally certain it was the case. And that's not good enough for this blog. So I just called the Marlboro hobby lobby and asked whether it would be stocking any Chanukah merchandise. I was told it would not. When I asked why, the answer – verbatim – was:

"Because Mr. [Steve] Green is the owner of the company, he's a Christian, and those are his values"
Berwitz's account garnered enough coverage online that Green reversed course and released a public apology, saying the employee's comments "do not reflect the feelings of our family or Hobby Lobby."
According to the statement:
Our family has a deep respect for the Jewish faith and those who hold its traditions dear. We're proud contributors to Yad Vashem, as well as to other museums and synagogues in Israel and the United States.

We are investigating this matter and absolutely do not tolerate discrimination at our company or our stores. We do not have any policies that discriminate; in fact, we have policies that specifically prohibit discrimination.
Hobby Lobby also announced on its Facebook page that it would begin offering Jewish holiday items in stores to "test the market" in New York and New Jersey: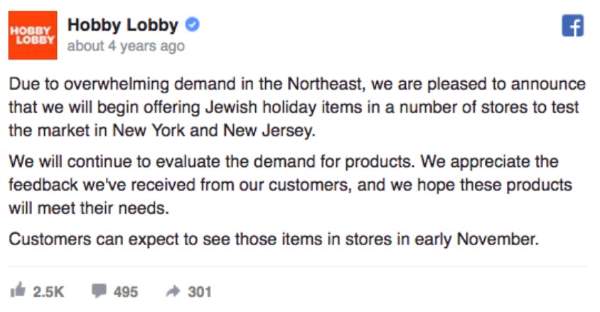 We checked the Hobby Lobby website in October 2017 and in December 2021, and we found that the company does carry more Hanukkah-related merchandise: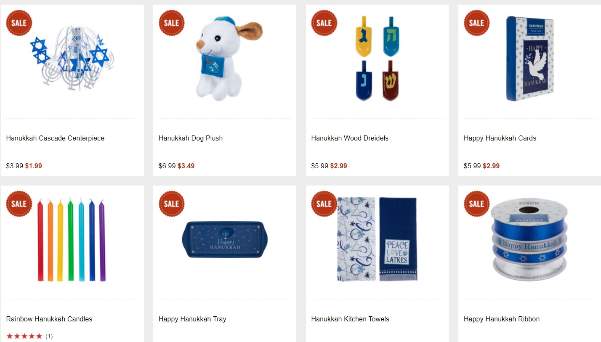 However the company has continued to highlight its right-wing "Christian" ideology; as Yahoo News reported:
In April 2020, it closed all of its stores nationwide and furloughed employees after it was caught defying coronavirus-related state lockdown and quietly reopened stores across the country.

In September [2020], shoppers called for a boycott against the company after an image showed a display of decorative letters arranged to read "USA Vote Trump," inside a store went viral.
And after years of running full-page ads in newspapers about Christmas, in July 2021 Hobby Lobby paid for an advertisement calling for the United States to be run by a Christian government.
Update 12/8/2021, 3:34pm PST: This article has been revamped and updated. You can review the original here. -ag