Does H.R. 5717 Require That Gun Owners Be Licensed by the Government?
Claim
H.R. 5717 would require that gun owners obtain federal licenses for both new gun purchases and their existing firearms.
Like this fact check?

Reporting
A graphic spreading online opposing a gun safety bill misconstrues its origin in an effort to paint it as an attempt at government overreach capitalizing on the COVID-19 pandemic.
The meme, which contains a strange spacing gap resembling a copy-and-paste effort, states:
House Bill H.R 5717 will add 30% tax on all guns and a 50% tax on all ammo and will require a fed license to purchase both, this is trying to pushed thru [sic] immediately!! Pass this on and vote NO!! Also it says you would need this federal license to own handle or shoot any guns you all ready [sic] own !!!

Please pass this on to everyone you know, sneaky sneaky they are !!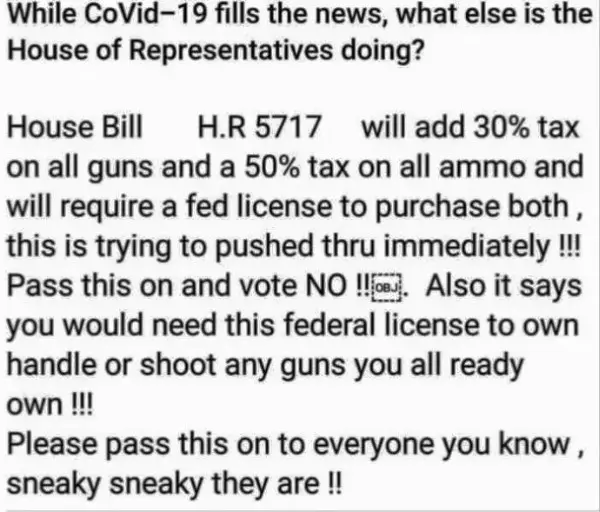 The claim that the bill is "sneaky" or that it was introduced as a response to COVID-19 is unproven. Democratic Party Rep. Hank Johnson of Georgia released a statement touting his introduction of the bill on January 30 2020; the Senate version was introduced by Sen. Elizabeth Warren of Massachusetts, nine days after the first U.S. case of the disease was confirmed in the state of Washington and the same day the World Health Organization declared it a pandemic.
"The Gun Violence Prevention and Community Safety Act will save lives and make our country safer — without infringing on any law-abiding individual's right to own firearms," Johnson said at the time:
This comprehensive bill is a compilation of the best ideas to create a workable set of laws that will strengthen life-saving background checks, protect communities with bolstered enforcement, improve mental health services and fuel research to make guns safer. It is time for Congress come together and end the epidemic of gun violence in this country once and for all.
The validity of the various haphazardly-spelled claims made in the graphic is mixed. The bill would, for instance, implement federal licensing requirements for buying or owning new firearms; to obtain a license the firearm owner would need to be at least 21 years old and much like motorists, complete both hands-on testing and a written examination while also going through a criminal background check.
However, the bill also states that residents in states with licensing requirements "substantially similar" to those at the federal level would not need to submit separate applications. Existing firearm and ammunition owners would also be exempt from having to apply for a license to own their weapons under the bill, provided that they "lawfully possessed" them beforehand.
The measure does establish a 30 percent excise tax and a 50 percent excise tax on firearms and ammunition, respectively, similar to taxes imposed on tobacco and alcohol. According to the bill, the funds raised by the tax increase would fund both more federal research into gun-related violence and a newly-created program, the Community Violence Intervention Fund, that would work to prevent such incidents.
On March 10 2020, the bill was referred to the Subcommittee on Crime, Terrorism, and Homeland Security.