"I Smell a Rat" Column on Syrian Refugees by Eli Gordon-Fiction!
Summary of eRumor:
The "I Smell a Rat" column written by a so-called Canadian historian named Eli Gordon raises questions about immigrants fleeing the Syrian civil war in what it calls "sudden vast numbers."
The Truth:
There's no trace of a Canadian historian named Eli Gordon outside of the "I Smell a Rat" column that began circulating in September 2015.
The column first appeared on Facebook on September 12, 2015. A Facebook user named Marty Skinner posted the column with a note that said an unnamed "historian who offers an accurate assessment of the root of the problems the world faces today" wrote the column: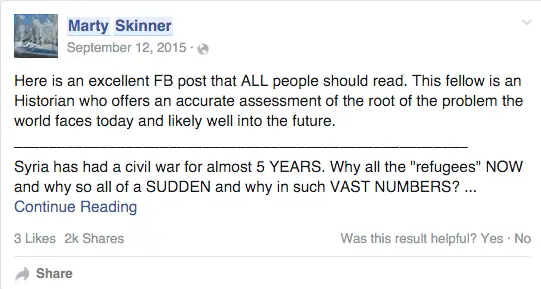 About a month later, the column appeared at IslamReview.com. The site is designed to "demonstrate that the fundamental teachings of Islam are incompatible with the Christian faith, and the American way of life." The column appeared under the headline "Muslim Guilt Trip Trojan Horse," and Marty Skinner was identified as the author.
A short time later, however, the column began appearing on discussion forums and blog sites with a so-called Canadian historian named "Eli Gordon" named as the author. We weren't able to find any trace of a historian named Eli Gordon outside of this column, which usually means that the name was invented to conceal the author's true identity.
It's not clear who exactly wrote the column, but a historian named Eli Gordon doesn't appear to exist.
The "I Smell a Rat" column argues that it's odd for so many Syrian refugees to "suddenly" emerge at the same time after five years of civil war. The column begins:
Syria has had a civil war for almost 5 YEARS. Why all the "refugees "NOW and why so all of a SUDDEN and why in such VAST NUMBERS?
With an Honors degree in History and a lifelong student of the subject, I smell a rat.  This is a highly organized, well oiled, mobilized invasion of  Muslims and Jihadists into the Western World. It's been in their plan for a long time. Momar Gadhafi predicted and explicitly stated that Muslim domination of Europe would happen without a conventional war and he said it 30 years ago. 95% of these economic "refugees" many who have cellphones are men between the fighting ages of 20 and 40. Very few women and children from everything I've seen.
However, the idea that there was a "sudden" rush of Syrian refugees five years after civil war broke out is false. The United Nations has found that the pace of refugees fleeing Syria has remained fairly steadily since January 2012.
By January 2014, 2.5 million Syrians had fled their homes since the conflict began in 2012. By January 2016, that number had grown to 4.6 million, which is a fairly consistent pace.
The idea that there was a "sudden" rush of Syrian refugees in 2015 is false. Rather, as the refugee crisis continued to grow into a larger problem in 2015, which generated more attention from the U.S. and European countries.