'Indonesian Reporting Commission' Facebook Purge Controversy
On the evening of May 15 2019, participants in popular Facebook groups and related pages became swamped by notifications that they were changing en masse from "closed" to "secret" after other groups with high membership counts were purportedly deleted (called "zucced" in Facebook group terminology, short for "Zuckerberg") for initially unknown reasons.
In announcement posts in several shitposting and tag groups, moderators and admins mentioned a faction purportedly responsible for the deleted groups — the Indonesian Reporting Commission, or IReC. According to a post on Know Your Meme ("Indonesian Reporting Commission Facebook Takedowns"), the claims began with the alleged "zuccing" of the group Crossovers Nobody Asked For (CNAF):
The Indonesian Reporting [Commission] Facebook Takedowns refers to a Facebook community controversy between the group Indonesian Reporting Committee (IReC) and a number of other Facebook pages in mid-May 2019. The IReC page is rumored to have issued various takedowns of other Facebook pages, starting with the meme page Crossovers Nobody Asked For (CNAF). In response to the takedowns, often referred to as zuccing, members of targeted pages subsequently engaged in mass reporting of the Indonesia Reporting Committee, while others either set their groups from closed to secret. Additionally, rumors began circulating that the admin of IReC was doxed in reaction to the events and assaulted, although this has yet to be confirmed.

Crossovers Nobody Asked For (CNAF) Facebook group was a page known for featuring memes commenting on a wide variety of cultural topics. Prior to its removal, it had accumulated nearly 500,000 members. On May 13th, 2019, CNAF was removed from the platform, causing a backlash among members of the group who created the page "CNAF Season 2," which was removed the following day. Former CNAF members subsequently began speculating that the IReC page was responsible for the takedowns.
A number of tag group members received notifications the following morning that groups had changed back from "secret" to "closed," causing many to infer that the mass deletions had ended. However, admins there explained that that circumstance was not due to a cessation of mass reporting, but Facebook group rules restricting changes to group privacy settings:
pages can only stay secret for 24 hours or else it is permanent for the next 28 days.
A separate rumor circulated that the purported Indonesian reporting faction was itself deleted, but that remained unconfirmed: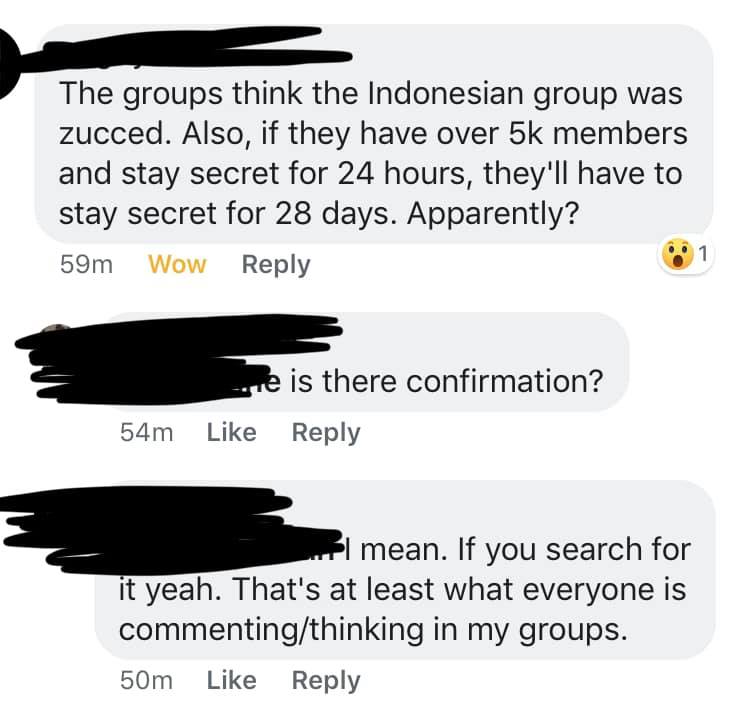 Yet another theory discounted the Indonesian connection entirely, instead speculating that a classic 4chan or 8chan raid was responsible for the banned groups:
This feels like an 8chan or 4chan troll job to me.

Once fb checks out all the reported posts. There's a good chance the groups could come back. I've seen it happen in the past.

I hope your groups make it
A rundown of the events appeared on Reddit's r/Indonesia, with a main post describing the purported ringleader of mass reporting and subsequent deletions as a "furry":
Indonesian FB Page successfully reported a bunch of memes group, drama ensues. from indonesia
And an active post on r/OutOfTheLoop discussed the controversy at length:
What's going on with many Facebook groups changing their privacy settings from public/closed to secret in the last 24 hours? from OutOfTheLoop
A top comment in that thread provided a rundown of the rumors with the most common claim:
Answer: Supposedly a man from Indonesia took down some big meme pages/groups. There have also been people saying that he's on the furry side of the internet spectrum, and I guess that makes things worse because of the stigma. Whoever the guy is, he's supposedly gotten a big following (not positive of course) and will continue targeting big groups on Facebook to take down. From what I see, nobody is really aware as to why or how he is getting these groups permanently taken down, but now everyone is in a panic to hide their groups from being found in search results.

I believe he is really only targeting BIG groups because they have more to lose compared to smaller groups, but in reality I think this has all snowballed and now everyone is setting their groups to secret regardless of size.

Edit: More info I found out from some friends. It seems the accuser will join a group and spam pornographic images and get them reported. So I believe if high profile stuff like this gets reported, it goes right past the group admin's regular reports and goes straight to Facebook. Then of course, Facebook shoots first and asks questions later and in turn groups are shutdown.

It also seems that the original person that did this "recruited" (or inspired) other to do this and now more obscure groups may be in trouble since it's not just one person.
The scope of deleted groups and whether the reporting of tag groups was ongoing or as widespread as rumored remains unclear. Some members of groups maintained that the panic itself was a hoax, while others said that several multi-thousand-member groups were deleted in the night. Social media users were no closer to finding out whether the purported raids had ended or were ongoing, or whether this was an isolated skirmish or part of ongoing information warfare.