A recurring online hoax spread even further on August 20 2019, when a wave of high-profile people posted a fake, long-debunked notice about Instagram's terms of use that eventually ended up on Secretary of Energy Rick Perry's Instagram account.
The notice — which dates back to at least 2012 — warns readers that everything they have ever posted becomes public "from today," even deleted messages and photographs. A similar "privacy notice" has also been spread by users of Instagram's parent company, Facebook, for many years.
The post falsely presents itself as a way for users to protect themselves against "litigation," which of course could not protect against thieves:
I give notice to Instagram it is strictly forbidden to disclose, copy, distribute, or take any other action against me based on this profile and/or its contents. Instagram DOES NOT HAVE MY PERMISSION TO SHARE PHOTOS OR MESSAGES.
It goes on to invoke international law:
The violation of privacy can be punished by law (UCC 1-308- 1 1 308-103 and the Rome Statute.
As a highly-ranking member of the United States government should probably know, and as we have pointed out in the past, the Rome Statute was originally set up as the legal framework for the International Criminal Court:
The jurisdiction of the Court shall be limited to the most serious crimes of concern to the international community as a whole. The Court has jurisdiction in accordance with this Statute with respect to the following crimes:

(a)     The crime of genocide;

(b)     Crimes against humanity;

(c)     War crimes;

(d)     The crime of aggression.
The online gaffes drew widespread coverage, and Perry subsequently deleted his Instagram post. However his tweet promoting it (telling followers to "feel free to repost") is still active: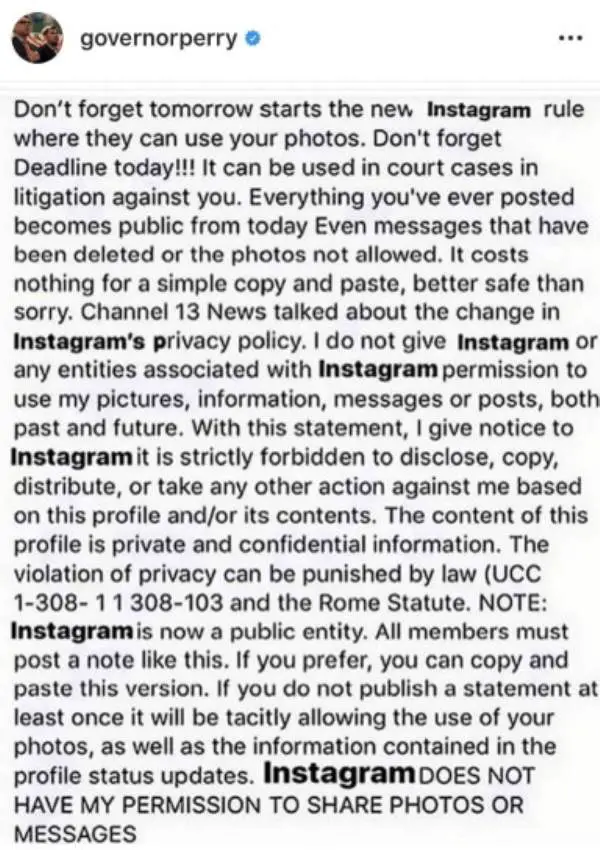 Instagram confirmed that the notice is false. Its actual terms of service state:
[When] you share, post, or upload content that is covered by intellectual-property rights (like photos or videos) on or in connection with our Service, you hereby grant to us a non-exclusive, royalty-free, transferable, sub-licensable, worldwide license to host, use, distribute, modify, run, copy, publicly perform or display, translate, and create derivative works of your content (consistent with your privacy and application settings).
Perry addressed the issue with a humorous "statement" posted to both his Instagram and Twitter accounts:
 

View this post on Instagram

 
Prior to being appointed to his current position by President Donald Trump, Perry — who was governor of Texas at the time — said during a Republican presidential candidate debate in 2011 that he would abolish the Energy Department if he were to be elected. In 2017, Perry said that he regretted making the statement "after being briefed on so many of [its] vital functions."
If you see copypasta warnings on any social media platform about privacy, be aware that for one thing, as the Cambridge Analytica scandal (and other incidents) have made extremely clear, Facebook and its subsidiaries have shown the world beyond any doubt that it believes that any and all information on its sites is there for the taking (and the selling), and nothing you post will change that.
As always, the best advice we can offer anyone is that if you do not wish to have your personal data examined, stolen, or sold, do not put it on the internet. If you wish to explore actual copyright law, the United States Copyright Office has an informative website: copyright.gov.