Is Facebook Removing Inactive Members from Groups?
Claim
Facebook is removing inactive members from groups in January 2019.
Like this fact check?

Reporting
In January 2019, various posts appeared in myriad Facebook groups urging users to provide engagement with the post to avoid a purported purge of "inactive members."
Iterations of the same warning spread across Facebook groups of all types: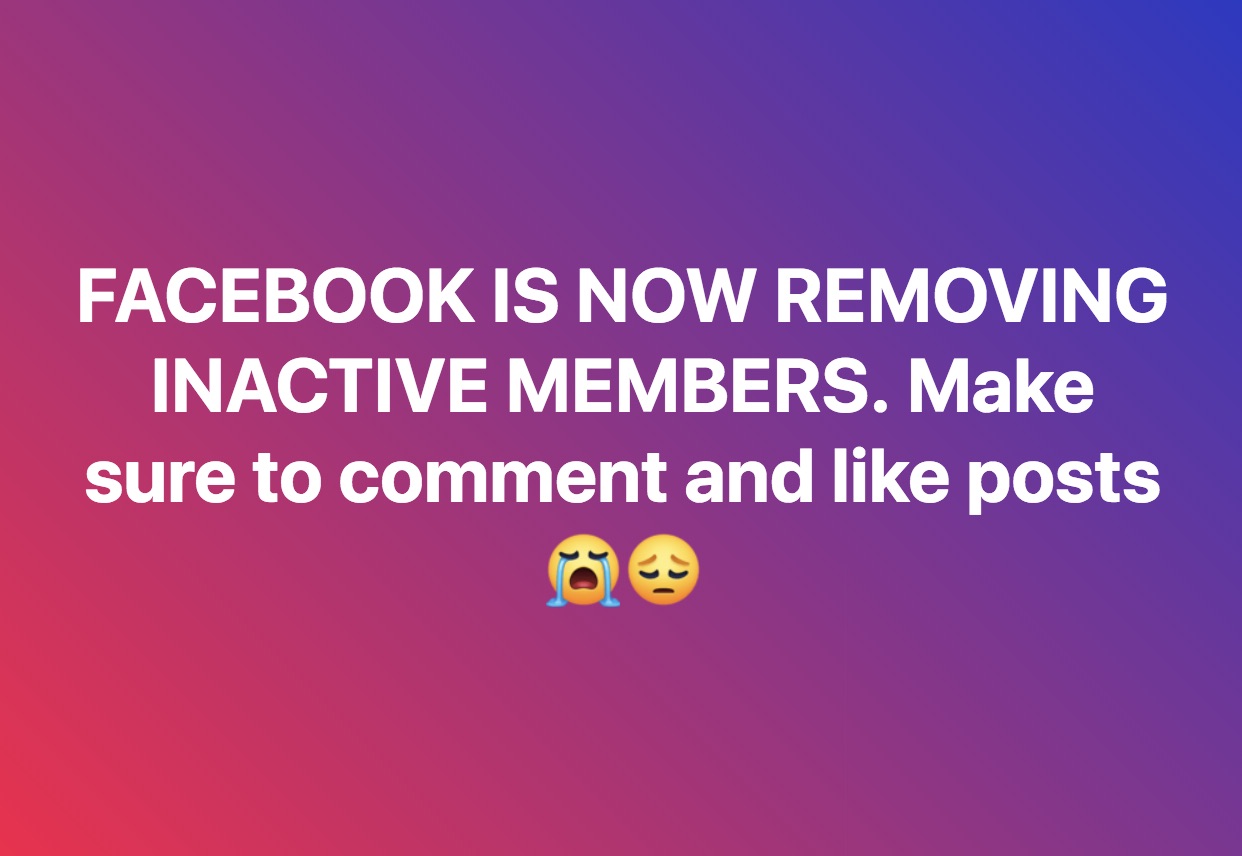 Y'ALL, FB IS DELETING INACTIVE PEOPLE OUT OF GROUPS. IF YOU SEE THIS COMMENT AN EMOJI, PLEASE DO NOT JUST LIKE THE POST. IF YOU HAVE A BUSINESS PARTNER ON THIS PAGE BE SURE TO TAG THEM AS WELL, MY FRIEND JUST LOST 1500 MEMBERS FROM HER GROUP!!!!!!😳😢
Facebook, not us, removed inactive members from the group today. If you want to stay in, PLEASE check the notifications box, write a post, make a comment, LIKE something… do anything that shows you are active. If you are removed and request to join again, we can add you back in, but try to not let it get to that point, ok? Thanks for hanging with us 😘
Although wording varied (sometimes including a deadline of 28 days), the general content of the inactive group users purge warning was fairly consistent. Group administrators claimed that their group or others experienced the removal of inactive members on or around January 18 2019, and that in order to stay in the group, members should interact with the warning post or other posts to confirm that they were indeed actively a part of the group.
On January 18 2019, a five-year-old Facebook Help Community post ("Does Facebook delete members from a group who are inactive?") was bumped up with group administrators and members concerned about those purge rumors. Commenters (as some tend to do) made dire assertions about claims disconnections made on Facebook's end involving groups:
FACEBOOK has deleted hundreds of thousands overnight in tens of thousands of groups NATIONWIDE . If you google it there are to many complaints to read. Just wait until they start charging for the "Service"…
But one user linked to a post published by the debunking site That's Nonsense that same day. According to that site, the rumor was the result of a misconstrued message received by Facebook group administrators about changes to how people were added to groups:
While the messages are in response to a genuine update by Facebook, most are inaccurate or misleading. Facebook is not removing inactive members of Facebook groups, but it is changing how Facebook users are invited to groups, which may result in group admins noticing a drop in their group's member count.

[…]

However the above message is inaccurate. As we stated, Facebook is changing the way people are invited to groups. Previously, Facebook users could automatically invite their friends to be a member of a group, and that member would automatically be added to the group without having to accept the invitation.
Versions of the email from Facebook appeared in status updates and blog posts:
We're making some updates to how members are invited to your group, and we wanted to share these changes with you. To help ensure that people join Facebook Groups that are relevant and meaningful to them, you'll see the following changes:

Updated group invitation: Now, when people are invited to a group, they can accept or decline the invite. Before, people could be added to groups by friends who thought they might be interested in them, and they'd immediately become a member. Some people may have been added to your group, but have never visited it.

Invited section: In the next few weeks, people who've been added to your group – but have never visited it – will appear in the Invited section of your Members list, which only admins and moderators can view. They won't be considered a member until they've accepted their invite. This means they will no longer be included in your group's total member count, so you may see a decrease in your group's total member count.

Reminder notification: As you're an admin, in the next few weeks, you'll be able to send one notification to invited people to remind them to accept or decline the invite to your group.

Thank you for being a community leader.

Thanks,

The Facebook Groups Team
Per the email from Facebook, inactive members were not being removed from groups per se. But functionality which automatically added members to group counts without their explicit permission was changing. Moreover, people who had been invited to but had not yet visited the group would be moved from the member section to a section called "Invited," removing them from the group's member count (of which they were previously a part). Finally, functionality to interact with "Invited" section semi-members of Facebook groups was being added to administrator functionality.
Group member counts would drop due to the changes, which pertained not to "inactive" members, but to users who had been invited or added to the group but had not yet interacted with it. In a sense, those users could be described as inactive, but that descriptor suggested once-active members of groups would be removed — which did not appear to be the case. It is true that groups were likely to experience member count drops due to the change, but it involved only members who were added or invited to a group they had not yet actively opted in to join.