Former New York City mayor Rudy Giuliani's embarrassing November 2020 continued apace after social media users discovered a clip from what could charitably be called a flattering portrayal of him from nearly two decades earlier.
The scene, taken from the 2003 USA Network film Rudy: The Rudy Giuliani Story is legitimate. But it gained newfound attention on November 23 2020 after it was posted to Twitter.
The sequence shows Giuliani — played by James Woods, who like the former New York City mayor is an ardent supporter of and outspoken advocate for outgoing United States President Donald Trump — walking on a beach alongside Donna Hanover (Penelope Ann Miller).
"This romantic moonlit scene in RUDY: THE RUDY GIULIANI STORY absolutely murdered me," she wrote. "I am dead."
While Hanover married Giuliani in 1984, the couple split in 2000; Giuliani infamously announced his divorce from her in May of that year without telling her beforehand.
Bardi's tweet was shared thousands of times on the platform within 24 hours of her post. The clip spread further when journalist Holly Figueroa O'Reilly shared it saying, "I didn't think 2020 had anything left to give us (or take away from us) but I was wrong because here's an unearthed clip of the 2003 movie "Rudy: The Rudy Giuliani Story" starring James Woods as Rudy Giuliani and it is fucking G O L D."
There are a number of other standout moments in the clip, such as when Woods-as-Giuliani says at one point, "New York can be great again." There's little reason to believe that Stanley Weiser, who is credited with writing the movie and adapting it from author Wayne Barrett's autobiography of Giuliani, could foresee its resemblance to Trump's eventual campaign motto, "Make America great again."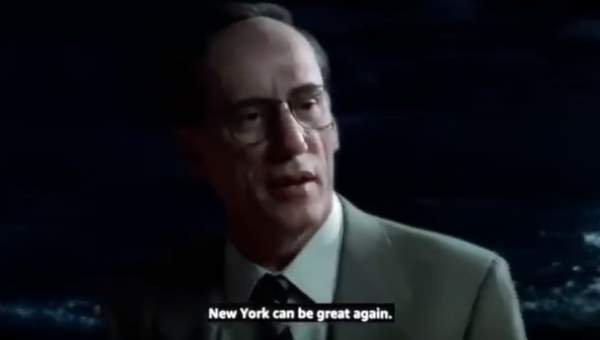 Woods was nominated for the 2003 Emmy Award for Outstanding Lead Actor in a Miniseries or a Movie for his portrayal of Giuliani, who would go on to represent Trump as his personal attorney in a series of failed legal attempts to overturn the 2020 presidential election results. As NBC News reported, Giuliani's actions have drawn criticism from fellow attorneys:
Myrna Pérez, director of the Brennan Center's Voting Rights and Elections Program, said Giuliani's efforts aren't aimed at winning court challenges — they're designed to bolster Trump's attacks on the democratic process.

"I think this is a strategy of trying to dog whistle to his base" by attacking minority voters in Democratic strongholds, she said. "It's to cheapen the process of how we resolve our political differences peacefully, and cast doubt on the outcome of the election in which he's not the winner."

"It's a pernicious, problematic attempt to bedraggle our democratic processes," Pérez said, adding the legal campaign has been full of "unsubstantiated allegations, inadequate evidence and outlandish claims."
Giuliani's legal flailings also came following his attempts to promote a thoroughly debunked conspiracy theory smearing the son of Democratic President-Elect Joe Biden.