Archived Tweets Show Bolivian Interim President Smearing Indigenous 'Satanists'
Claim
Interim Bolivian President Jeanine Añez smeared indigenous communities as "Satanic" in tweets that she later deleted.
Like this fact check?

Reporting
Amid a chaotic upheaval and ouster of Bolivia's first indigenous president, Evo Morales, allegations swirled online around Jeanine Añez — the opposition leader who claims she is next in line for the presidency — and tweets she made literally demonizing Bolivian indigenous communities.
On November 13 2019, Twitter users circulated a tweet originating from Añez's account saying, "I dream of a Bolivia free of satanic indigenous rites. The city is not for the Indian: they should go to the highlands or the Chaco." The latter is a South American stretch of land that cuts across Bolivia, Argentina, and Paraguay. The purported tweet was dated April 14 2013: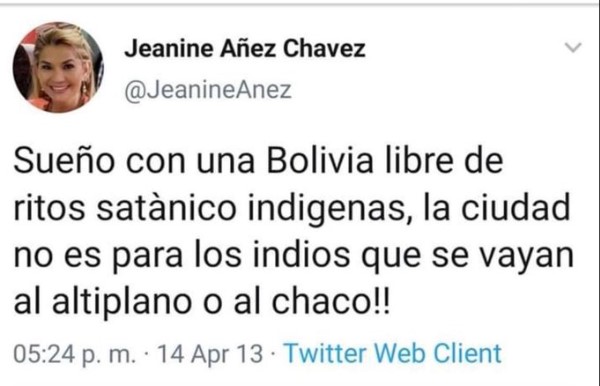 Two Bolivian news outlets, the newspaper Pagina Siete and the fact-checking site Chequea Bolivia, reported that the tweet was fake. However, Chequea Bolivia's actual story said only that the tweet was not visible on her Twitter account. And a Twitter user from what they described as a newly-created account posted a search of Añez's tweets between April 13 and April 15 2013, arguing that they do not share the same anti-indigenous tone.
But by comparison, news outlets in several other countries — Vida Nueva in Spain, La Jornada in Mexico, Chile's La Tercera, and Trome in Perú — reported that the tweet was one of several Añez deleted from her account.
We are as yet unable to find corroborating evidence to our satisfaction that this particular tweet is real. However, we were able to verify other, equally incendiary statements that did originate from her account which she later deleted.
A tweet purportedly dated June 13 2013 insulted the Aymara New Year, a celebration held every June by the Aymara indigenous peoples; in 2009 Morales declared the occasion a national holiday.
"Satanists, nobody replaces God," she wrote.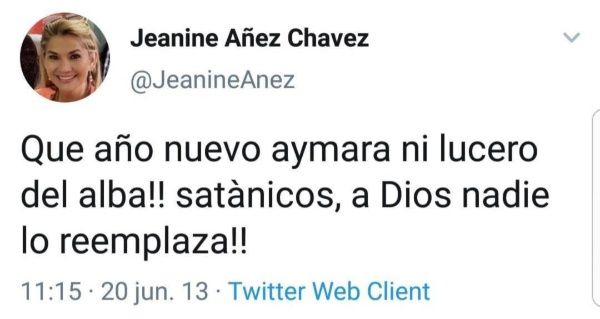 A more recent tweet (posted on October 5 2019) shows a drawing of Morales hanging on to a chair, underneath the phrase "last days."
"The 'poor Indian' clinging to power," she wrote.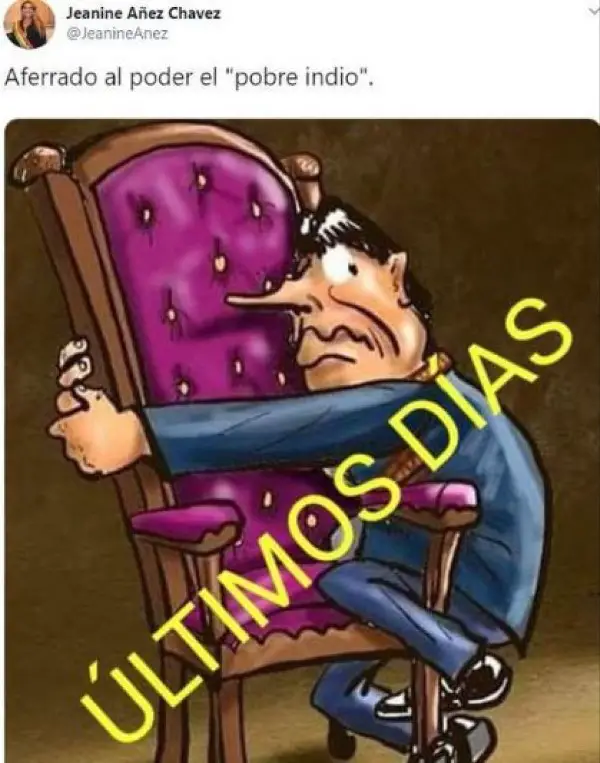 Yet another incendiary post, this one dated October 27 2015, was still active on her account at the time of publication. As the Peruvian newspaper La República reported, she wrote "The devil must never be worshipped" over a photograph of a girl holding a banner. It is unclear whether the slogan on the banner, "The children of God do not participate in Halloween" was added there digitally.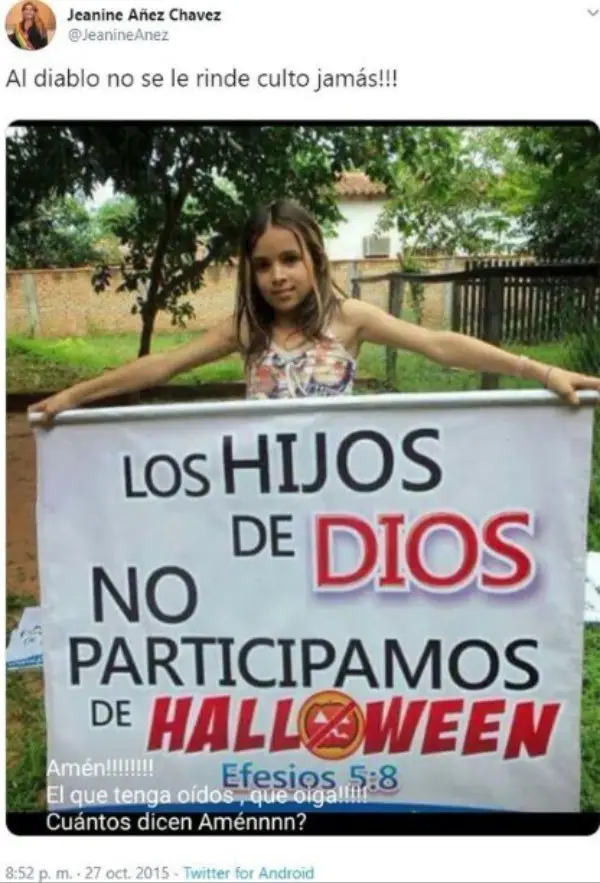 Añez, the vice president of the Bolivian Senate, declared herself interim president two days after Morales resigned amid a flurry of protests against his administration and allegations that his electoral victory in October 2019 was tainted by what the multinational Organization of American States, which is based in the United States, called "serious security flaws" concerning the process. Morales' call for new elections was rejected.
Citing fears for his life, Morales flew into Mexico on the same day Añez took power on a plane provided for him by that country's government.