A pop culture blog grabbed attention in June 2021 with a tweet miscasting part of United States President Joe Biden's American Family Plan.
The post, by an account called @MyMixtapez. said that Biden believes that "12 years of public school education isn't enough, [and is] thinking about extending it to 16 years instead."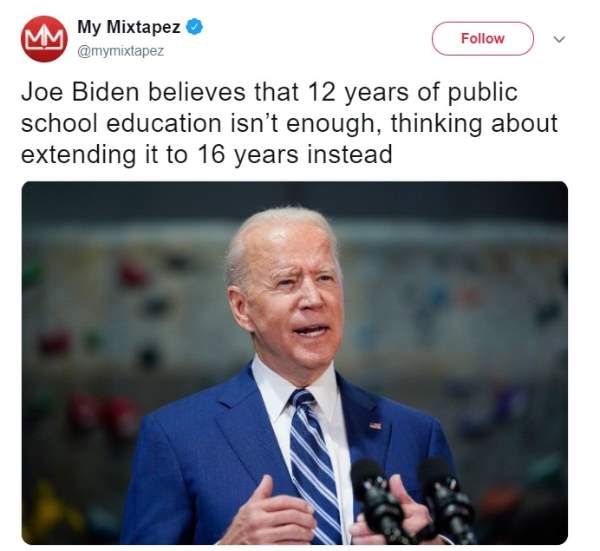 The tweet did not include a link back to any story, though, making the statement look out of context at best and questionable at worst.
However, there is truth to the claim. The administration's plan does not expand public education to sixteen grades, but it calls for $1.8 trillion in funding to cover two years of pre-school education for 3- and 4-year-old children, as well as two years of education at the community college level. The plan would also provide funding for two years of tuition at colleges catering to Black, Native American, and Latinx communities for students whose families earn less than a combined $125,000 per year.
According to the Biden administration, the plan would also expand give workers twelve paid weeks of parental, family, and illness-related leaves from work within ten years of its inception, while also allowing a minimum of three days for bereavement leave from the outset.
In a May 2021 speech at Tidewater Community College in Portsmouth, Virginia, Biden said the plan would be funded by ensuring that "corporate America and the wealthiest 1 percent just pay their fair share." He said:
I come from the corporate capital of the world. More corporations are incorporated in the state of Delaware than all the rest of the nation combined. And I'm not anti-corporate, but it's about time they start paying their fair share.

It's about making a choice. You know, we have out there — this year, you had 50 corporations — make, you know, $40 billion — that didn't pay a single penny in taxes. Not a single penny. I don't want to punish anybody, but everybody should chip in. Everybody should pay something along the road here.
Since its initial post, @MyMixtapez has shared tweets and replies highlighting Biden's speech, which would not happen in the case of an actual disinformation effort.