Will 'Nebulized Hydrogen Peroxide' Help You Avoid Contracting COVID-19?
Claim
A form of therapy involving nebulized hydrogen peroxide can prevent the user from contracting COVID-19.
Like this fact check?

Reporting
A self-proclaimed "health activist" with a history of incurring warnings over his practices from the federal government used Twitter to push another questionable treatment idea involving COVID-19 (also called SARS-CoV-2 or "the coronavirus.")
"Nebulized hydrogen peroxide therapy is an inexpensive and simple way to treat most viral respiratory illnesses," Joseph Mercola wrote on April 9 2020. "All you need is a nebulizer with a face mask that covers your mouth and nose, and common household hydrogen peroxide, available at most grocery stores and pharmacies."
In a separate tweet, he added: "Ideally you would use food grade hydrogen peroxide (12 percent) but then dilute to between .5 percent-3 percent," directing users to a YouTube video he said would explain his claim. But in reality, Mercola conceded in the 30-minute video that there is no evidence to support it, saying:
It appears that nebulized peroxide can act as a topical disinfectant or a biological signalling molecule. But we don't know. The studies haven't been done. And the studies certainly haven't been done — the randomized, placebo-controlled, double-blind trials — to see if this works in coronavirus infections. But you know what? There are no double-blind placebo-controlled randomized trials that are published yet for any intervention in SARS-CoV2, for COVID-19. So considering that nebulized peroxide is a) inexpensive; b) incredibly safe if used in the right concentration — especially if you're using food-grade peroxide — [and it] essentially has no toxicity, it would seem that it would be beyond reasonable to try this as a simple strategy to not only treat but prevent any viral infection like SARS-CoV2.
Dr. Joy Phillips, a research assistant professor of immunology with the Donald P. Shiley BioScience Center at San Diego State University, took issue with Mercola's characterization of peroxide as "incredibly safe."
"I'm not sure what he's talking about with 'food grade,'" she told us. "Twelve percent peroxide is really, really dangerous. I don't know how he can possibly say that it has 'essentially has no toxicity.' I mean, really, if it were non-toxic, why would he even be talking about it? Obviously it's toxic."
Dr. Christopher Labos, a cardiologist and associate with the office for science and society at McGill University in Canada, also questioned Mercola's claim. He told us:
I think it is potentially very dangerous for people to be inhaling hydrogen peroxide. It can be toxic and the possibility for people to accidentally poison themselves is potentially quite high. This is not a good idea at all. There is literally zero evidence that hydrogen peroxide would do anything to treat covid-19.

For people who are afraid of getting covid-19, the best evidence is just stay home. We have seen quite convincingly that physical distancing works.
Phillips also told us that she had seen two studies cited by Mercola in the video touting hydrogen peroxide:
Both papers focus mainly about sterilizing surfaces. Vaporized or nebulized hydrogen peroxide is really great for that, because it nebulizes well and decomposes pretty quickly. However, he's using data from solid surfaces like countertops to talk about the lung. With that logic, he could just as easily propose using undiluted Clorox in the lungs, because Clorox does a great job sterilizing surfaces. The lung is one cell layer between life and death. You can use lots of things on a metal counter or even on your skin that you cannot put in a living lung.
Mercola argues in the video that nebulized peroxide helps beat the disease because "it will act as a topical local disinfectant where the viruses reside," adding, "this is probably one of the reasons why sauna therapy works so effectively." In reality there is no evidence to suggest that "saunas" or high-temperature environments can deter the disease.
The video is currently featured on Mercola's website, which has a long history of promoting conspiracy theories and unproven "cures." As The Ringer reported in 2017:
Mercola says he believes fluoride is a neurological poison foisted upon Americans by a malevolent government. (Fluoride is a community health tool, as studies by the U.S. Public Health Service and Centers for Disease Control and Prevention indicate). Mercola has also recommended following an alternative anticancer routine that includes coffee enemas even though other doctors have warned against the procedure, calling it risky.
He has also run afoul of the federal government on several occasions. In April 2016, he agreed to settle a lawsuit brought against him by the Federal Trade Commission for false advertising by paying up to $5.3 million in refunds to customers after selling them tanning beds that he claimed made users less likely to catch cancer.
"These types of false claims are especially troubling because of the serious health risks posed by indoor tanning," an FTC official, Jessica Rich, told the Chicago Tribune at the time. "The fact is, indoor tanning is not safe because it increases the risk of skin cancer, including melanoma."
Before having to settle that lawsuit, Mercola incurred several warnings from the Food and Drug Administration. The agency contacted him in 2005, 2006, and twice in 2011 over false claims he has attached to various products sold on his website.
"Joseph Mercola is among the top misinformation vectors of our time when it comes to health, medicine, food, parenting, and more. He promotes chemophobia and spreads fear of chemicals, GMOs, and vaccines, all while peddling alternatives to line his pockets," writer and activist Kavin Senapathy told The Ringer. "His promotion of pseudoscience helps fuel a culture that turns its nose up at beneficial technologies and medical treatments."
Shortly before promoting the "nebulized" treatment for COVID-19, Mercola suggested on Twitter that 5G radio waves "could be having an impact on the COVID-19 pandemic," a claim that has been roundly debunked — despite the insistence of social media users, celebrities, and other conspiracy theorists.
A Twitter spokesperson confirmed to us on April 15, 2020 that the platform "took enforcement action" regarding Mercola's posts in keeping with the company's efforts to stop the spread of disinformation. According to a March 2020 blog post, Twitter said it would continue to prioritize removing content when it has a clear call to action that could directly pose a risk to people's health or well-being," adding, "We want to make it clear that we will not be able to take enforcement action on every Tweet that contains incomplete or disputed information about COVID-19."
When we looked at Mercola's Twitter feed, we saw that his original tweet describing the use of nebulized hydrogen peroxide as "an inexpensive and simple way" to treat the disease had been removed, but not the follow-up directing users to watch his claims on YouTube. However, users visiting that link now see a message stating that it was "removed for violating YouTube's Community Guidelines":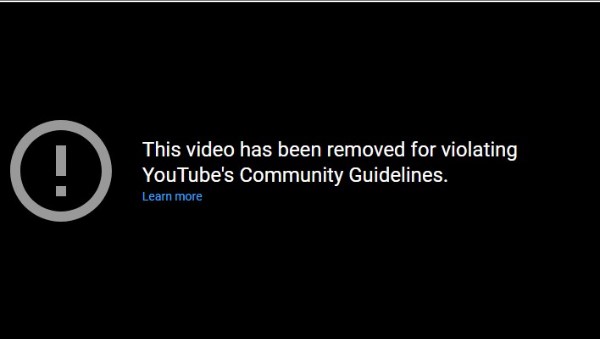 Update, April 15 2020, 7:38 a.m. PST: Updated with comments from Dr. Christopher Labo.
Update, April 15 2020, 3:39 p.m. PST: Updated with note from Twitter regarding enforcement of its terms of service regarding Mercola's tweets, as well as the removal of the video from YouTube.