The Los Angeles County Sheriff's Department's September 2020 attempt to justify the violent arrest of a journalist was clearly exposed as false by video footage of the attack posted by the reporter and other news outlets — and allegations of similar, politically motivated tactics on its part continued years later.
Josie Huang, a reporter for KPCC (Southern California Public Radio) and LAist in Los Angeles, was arrested on September 12 2020 while filming an arrest on her cell phone, and subsequently charged with obstructing a peace officer.
In a statement following the arrest, the department claimed:
After deputies issued a dispersal order for the unlawful assembly of a group of protesters blocking the hospital emergency entrance & exits, a male adult protester refused to comply & cooperate. During his arrest, a struggle ensued at which time a female adult ran towards the deputies, ignored repeated commands to stay back as they struggled with the male and interfered with the arrest. The female adult, who was later identified as a member of the press, did not identify herself as press and later admitted she did not have proper press credentials on her person.
However, video Huang posted after she was released the following day debunked LASD's account of the arrest.
In one clip filmed on her mobile phone, Huang walks toward deputies (refuting another claim from the department that she "ran.") She is taken into custody seconds after someone off-screen says "back up" rapidly several times.
"I saw a commotion ahead of me. Deputies rushed one man and chased another," she wrote. "I was filming an arrest when suddenly deputies shout 'back up.' Within seconds, I was getting shoved around. There was nowhere to back up."
Here's more of the video, the zoom is still on.

I saw a commotion ahead of me. Deputies rushed one man and chased another.

I was filming an arrest when suddenly deputies shout "back up." Within seconds, I was getting shoved around. There was nowhere to back up. pic.twitter.com/Y0amc46NZr

— Josie Huang (@josie_huang) September 13, 2020
A second clip captures Huang clearly identifying herself as a reporter and naming her station multiple times:
Somehow I was able to start a new video right away. You see my phone clatter to the ground and I start shouting "I'm a reporter…I'm with KPCC." I scream for help from the TV reporters I know are around the corner doing their 11 p.m. live hits pic.twitter.com/O9CZNuSrQI

— Josie Huang (@josie_huang) September 13, 2020
According to Huang, her phone kept recording while she was being arrested. She posted video showing two deputies stepping on the phone and kicking it:
After my phone drops, it keeps recording and it captures two deputies damaging my phone by kicking and stepping on it. I can hear myself in the background shouting: "You guys are hurting me" and "Stop it." It feels very out-of-body to play this back. pic.twitter.com/8o1kdjqlA9

— Josie Huang (@josie_huang) September 13, 2020
"I can hear myself in the background shouting: 'You guys are hurting me' and 'Stop it'" Huang wrote after her release. "It feels very out-of-body to play this back."
Huang's account was also corroborated by footage of her arrest taken by KABC-TV, which shows an object matching the description of a press lanyard hanging from her neck while she is being taken into custody: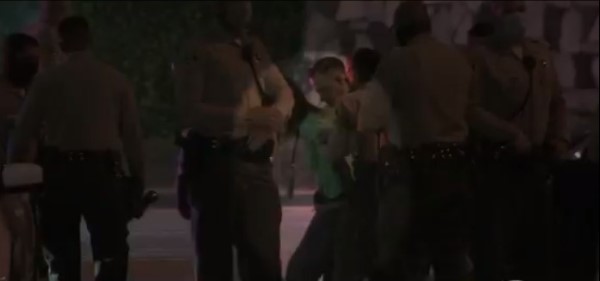 LAist reported that Max Huntsman, the county's inspector general, said he would open an investigation into Huang's arrest. County Supervisor Mark Ridley-Thomas, who represents the area where the incident took place, called for a special meeting of the Citizens Oversight Commission to further investigate.
We contacted the Sheriff's Department seeking comment on the footage Huang's posted but did not hear back. However, a spokesperson had told LAist that she "didn't have proper credentials" and was "interfering with a lawful arrest," two claims that were quickly debunked by the various video clips.
Huang was arrested following a press conference by Los Angeles Sheriff Alex Villanueva concerning the shooting of two deputies who were inside their patrol car. One of the deputies, a 31-year-old woman, is listed in "critical but stable condition." The other, a 24-year-old man, was described by KABC as "alert."
Villanueva blamed Huang for her arrest during a September 14 2020 press conference. He said:
What she had around her neck was not a press credential. I think it said SCPR, that or KPCC. For the average deputy, doesn't mean anything. Unless it had a household name that they recognize, OK that's a reporter. You have two of their colleagues shot in the hospital, you have a crowd of protesters chanting for them to die. I think it's unrealistic to expect them to separate friend from foe and do it in a correct way. If they felt they were justified because she was interfering with a lawful arrest, well then the elements of the crime are met and they took action based on that. Could they have done it better? Everyone could have done better.
Joel Bellman, a board member for the Los Angeles chapter of the Society of Professional Journalists, strongly questioned Villanueva's claim.
"She was in a public space, she was not behind the line. She was not trying to get behind the line," Bellman told KABC. "She was not in a disaster area or a crime scene. She was entirely within her rights from everything we could see."
Associated Press reporter Stefanie Dazio also posted video of Villanueva falsely claiming that Huang's station had published a story the previous month about a private event for "first responders" that defied statewide measures regarding both the bar being open and the use of facial coverings and social distancing to stop the spread of COVID-19.
Last clip: After I asked @LACoSheriff how we can trust his department's statements after an @LASDHQ tweet inaccurately characterized @josie_huang's arrest, the sheriff disparaged @KPCC reporting on a separate + unrelated, story. pic.twitter.com/SnnIKuozvz

— Stefanie Dazio (@steffdaz) September 15, 2020
The Sheriff's Department denied that any of its personnel attended the event. The local police department later confirmed that two officers were present.
KPCC/LAist said in a statement that Huang's arrest was "the latest in a series of troubling interactions" between law enforcement and reporters, such as tear-gassings:
Beatings:
Here's a short clip of the @LAPDHQ officer jabbing me in the stomach with a baton, sending me flying back into a crowd of people. https://t.co/R3qUiBgZ5L pic.twitter.com/IIi9Yf9gOd

— Lexis-Olivier Ray (@ShotOn35mm) May 31, 2020
And attacks with projectile weapons:
"We offer condolences to the two sheriff deputies who were shot Saturday evening," the station said. "These are challenging and stressful times for everyone, but Josie Huang was arrested while doing her job. The charges should be dropped."
Though charges against Huang were dropped later that month, Villanueva refused to apologize for her arrest. Allegations that Villanueva and the department targeted his critics have continued since then, particularly on the issue of alleged gangs within the department.
As NPR reported prior to Huang's arrest, a civilian oversight board had announced an investigation into the matter, which Villanueva had smeared as "political theater."
On September 14 2022, the Los Angeles Times and other news outlets reported that sheriff's deputies executed a warrant against County Supervisor Sheila Kuehl as part of an investigation against Patti Giggans; Giggans is a member of the Sheriff Civilian Oversight Commission, which is leading the probe into the alleged gangs and described the probe against her as an intimidation effort.
"I think the sheriff would have been very happy had I just left, resigned because of the pressure that has been put on me," Giggans told reporter Kate Cagle.
According to the Los Angeles Times, the investigation against Giggans is being conducted by a "public corruption" unit that Los Angeles County District Attorney George Gascón has criticized.
"He's only targeting political enemies," Gascón said of Villanueva in 2021. "It was obvious that was not the kind of work I wanted to engage in, so we declined."
Update 11:15 a.m. PST September 15, 2020: Updated with comments from Los Angeles County Sheriff Alex Villanueva.
Update 3:52 p.m. PST September 14, 2022: Updated to account for charges being dropped against Huang, as well as more allegations that Sheriff Villanueva has targeted opponents. — ag