The Italian football club Juventus spent August 5 2021 apologizing after posting — and then quickly deleting — a photograph featuring an anti-Asian racist taunt.
The club's womens' team tweeted the photo showing defender Cecilia Salvai making the "slanted eyes" gesture. Compounding the issue, the caption was an emoji of the same taunt: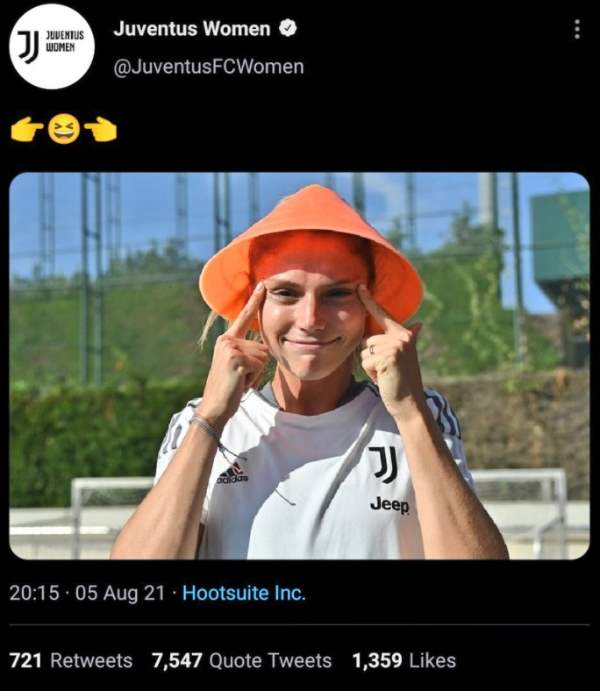 The racist post quickly spread via "quote tweets," likely an indication of how quickly the team came under criticism for its content.
As is often the case, the Juventus social media account quickly deleted the tweet and followed up with a brief statement:
We sincerely apologise that our tweet, which was not meant to cause controversy or have any racial undertones, may have offended anyone. Juventus has always been against racism and discrimination. #DifferencesMakeTheDifference
The team has not explained how a photo with a universally-recognized racist taunt could fail to have "racial undertones."
The post came nearly two months after a Serbian volleyball player, Sanja Djurdjevic, was suspended for two international matches after making the same gesture during a match against Thailand. In April 2021, the Italian satirical news program Striscia la Notizia ("The News Crawls" in English) was criticized after hosts Michelle Hunziker and Gerry Scotti made the "slant-eyes" gesture and mocked "Asian" pronunciations during a segment: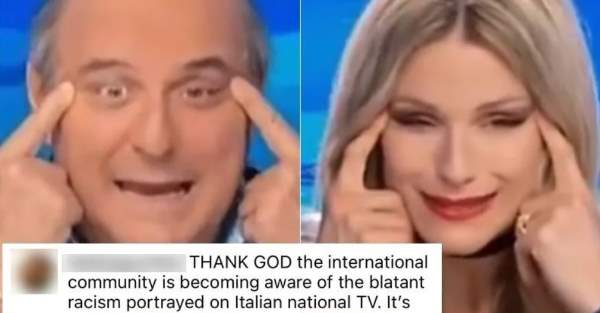 Michelle Hunziker, one of the show's two presenters, subsequently apologized but later claimed to Associated Press that she and co-host Gerry Scotti "received a real wave of hatred."
In December 2019, celebrated Italian chef Gianluca Gorini also came under heavy criticism and also apologized after posting a photo of himself and staff members making the same gesture: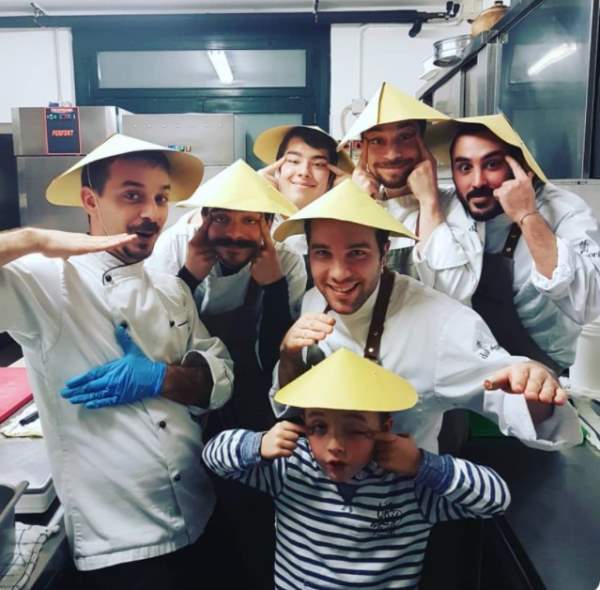 According to NBC News, Gorini's photo came after he took part in an international cooking competition in which he traded recipes with chef Victor Liong of Lee Ho Fook, a "new style Chinese restaurant" in Australia.
Juventus itself is no stranger to controversies involving racism; in April 2019, Moise Kean — a Black striker for the club's mens' team — was hit with racist abuse during a road game against Cagliari. Cagliari was not sanctioned for its fans' actions, and Kean's head coach Massimiliano Allegri insinuated that Kean had "provoked" the taunts.
"He should not have celebrated in that manner," Allegri said at the time. "He is a young man and has to learn, but certain things from the crowd also should not be heard. You need great intelligence to deal with these situations and should not provoke people. That, of course, does not mean the idiots in the crowd and the way they reacted should be justified."