Election Denier Kari Lake Facing Investigation as Arizona GOP Further Embraces Conspiracy Theories
Shortly after a state election that saw her party cohorts double down on conspiracy theories, failed right-wing Arizona gubernatorial candidate Kari Lake faced a possible investigation for wrongfully sharing voter information.
Lake, who lost the November 2022 election to Democrat Katie Hobbs despite her claims to the contrary, posted a photograph containing voter signatures on Twitter, calling it a "BOMBSHELL DISCOVERY":
Today's Senate Testimony CONFIRMS nearly 40,000 ballots illegally counted (10% of the signatures reviewed).

I think all the "Election Deniers" out there deserve an apology.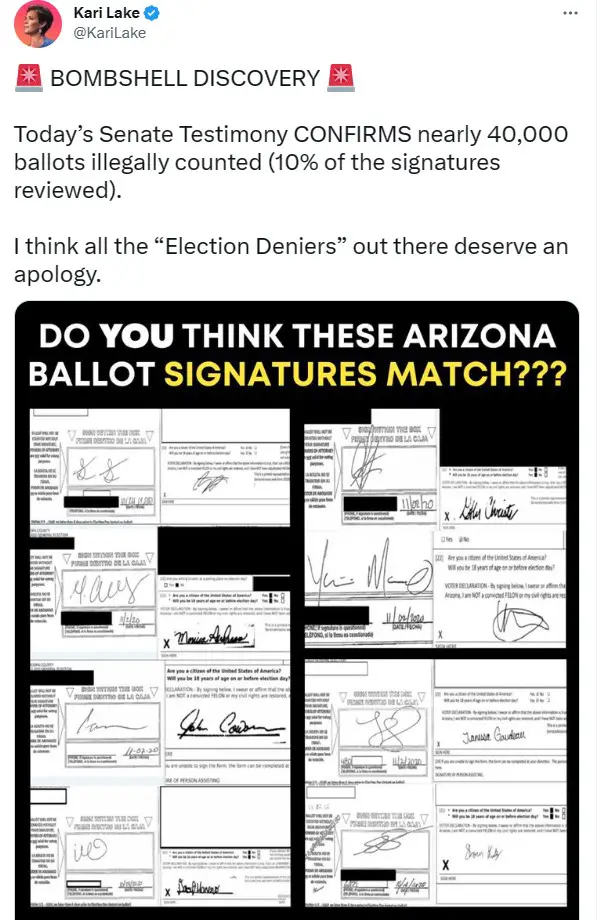 According to the Washington Post, the inclusion of actual voter information in the post prompted Arizona Secretary of State Adrian Fontes to refer the matter to state Attorney General Kris Mayes for possibly violating a state law prohibiting outside parties from reproducing voter signatures.
Lake has yet to acknowledge the request; instead, she has continued to insist that "stolen elections have consequences." The referral by Fontes came days after some Arizona state Republicans — who hold slim majorities in both the state House and Senate — further embraced election denialism. As the newspaper also reported:
With their newfound power, some GOP lawmakers have made clear their intent to double down on challenging recent election outcomes. State Rep. Liz Harris (R), a newcomer to the legislature who has spread election conspiracies, recently called on lawmakers to demand a new 2022 election.

"I will now be withholding my vote on any bills in this session without this new election in protest to what is clearly a potential fraudulent election," she said in a November statement. She has since cast votes and introduced legislation to outlaw early voting.
Meanwhile, state Republicans also elected Jeff DeWit as party chairman on January 28 2023; DeWit promoted himself as a "unity" candidate but also reportedly collected endorsements from not only Ward but former President and pre-eminent election denier Donald Trump.
As KPNX-TV reported, DeWit also appeared on stage with right-wing state Sen. Wendy Rogers (R), who has called for political enemies to be hanged and openly supported white nationalists:
Rogers is a member of the Oath Keepers, labeled by the FBI as an anti-government militia. She promotes the "groyper" movement, a loose network of white nationalists, according to the nonpartisan Institute for Strategic Dialogue.

Rogers spoke at a white nationalist convention last year, and she uses social media to amplify conspiracy theories targeting immigrants, the Jewish community and the U.S. government. After the January 6 insurrection, Rogers blamed Antifa and later blamed the U.S. government and congress.
The state became a target for election-related conspiracy theories prior to the November 2022, with right-wing conspiracists encouraged by former Donald Trump operative Steve Bannon visibly staking out ballot boxes — before being ordered to stop by a federal judge.
In early March 2023, Kari Lake appealed her loss in the Arizona governor's race to the state Supreme Court, two weeks after the state Court of Appeals characterized her claims as "quite simply, sheer speculation."