Police in Los Angeles accused workers at a nearby Target store of tampering with an off-duty officer's drink in June 2020, reigniting debate following other questionable claims by law enforcement agencies — but the object in the drink wasn't what was initially claimed.
According to KTTV-TV, the officer allegedly found what he described as "a tampon" inside the Frappuccino he ordered at a Starbucks located within the Target in Diamond Bar, a small city in Los Angeles County. Reporter Bill Melugin posted a photograph of the alleged tampon on Twitter: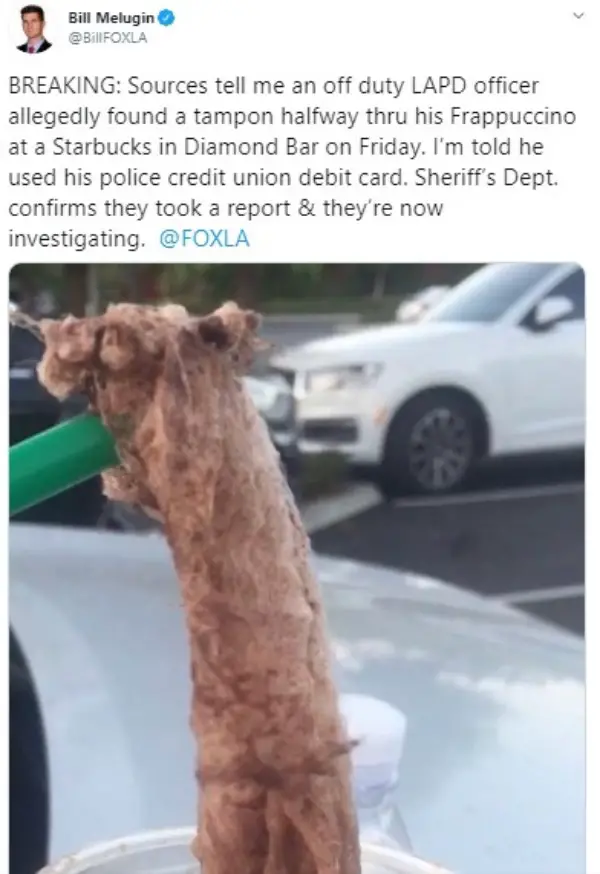 The officer was reportedly not wearing his uniform and paid for the drink with a debit card issued by a police credit union.
We contacted Target seeking comment; the company sent us the same statement it gave to KTTV:
We take this allegation seriously. We have reviewed video footage and have not found any suspicious behavior. We have shared the video with the Los Angeles County Sheriff's Department and look forward to the conclusions of their investigation.
Reached for comment and asked how the officer determined that the alleged object was a tampon, the sheriff's department also shared a statement:
Walnut Station Detectives are investigating an incident of alleged poisoning of food or drink at a local business. The incident was reported to have occurred Friday, June 19, 2020 at approximately 2:30p.m., on the 700 block of Grand Avenue in the city of Diamond Bar. The victim as a male White 36 years-old. This is an ongoing investigation. No further information is available at this time.
The claim was formally debunked in late July 2020, when — according to KTTV — police determined that there was no "attack." The staff member who prepared the drink unwittingly "scooped up a cleaning cloth that had fallen into ice" into the officer's drink.
"The investigation was unable to prove malicious intent on the part of the store employee," Sheriff Alex Villanueva said in a statement.
The Los Angeles Police Protective League, the union representing local officers, initially called the alleged incident a "disgusting assault on a police officer was carried out by someone with hatred in their heart."
But even before the company's statement, the claim of "assault" drew skepticism. Two separate news sites, Jezebel and Vice, conducted their own tests to see whether a tampon dipped into a Frappuccino would come out looking like the object in Melugin's photo. The results of both tests ran counter to police allegations. According to Jezebel's Megan Reynolds:
The substance found in the Frappuccino does not resemble any sort of tampon that I've ever used or seen in the wild. It's long, it's clumpy, and if you look at it quickly, resembles a cat hairball or maybe some paper towels. A tampon doesn't expand lengthwise and if it did, the shape would be uniform and not lumpen and irregular, as this item is. Tampons expand widthwise to accommodate a wide variety of body shapes and types. Everyone's vagina is different, but a tampon that resembled housing insulation or a long clot of cotton batting would be entirely ineffective.
Meanwhile, Vice reported that the object posted in Melugin's photograph measured 4.957 inches, nearly an inch longer than the final length of the tampon the site used to recreate the alleged incident by soaking it in water and then leaving it inside a Frappuccino for two hours.
"Suspicious, but not outside the realm of possibility for a lesser-quality tampon," Vice noted. "Other things to keep in mind is that it appears the very bottom of the tampon is cut off in the photo uploaded to Twitter, and we do not know what zoom the image was taken at."
The intentional poisoning claim from Los Angeles police came less than a month after police union officials in New York City accused workers at a Shake Shack restaurant in Manhattan of doing the same to their own colleagues. As the New York Post reported:
A lieutenant from the Bronx blasted out an email to the unions that six cops "started throwing up after drinking beverages they got from shake shack on 200 Broadway."

It was unclear why the sergeant and lieutenant escalated the situation.

Detectives easily closed the case after interviewing five employees and reviewing surveillance footage showing the shakes were made normally, sources said.

The machine was cleaned before the officers ordered, according to sources, and it still contained residual milkstone remover — a typically acidic solution used to combat buildup in dairy equipment.

But by 10:45 p.m., the Detectives Endowment Association was declaring that Finest had become "ill" after being "intentionally poisoned by one or more workers at the Shake Shack" — as Police Benevolent Association president Pat Lynch made a show of visiting Bellevue while his union declared at 10:47 p.m. that police officers came "under attack" from a "toxic substance, believed to be bleach."
The allegation was debunked only one day later when Chief of Detectives Rodney Harrison posted, "After a thorough investigation by the NYPD's Manhattan South investigators, it has been determined that there was no criminality by shake shack's employees."
In June 2021 the manager of that Shake Shack, Marcus Gilliam, sued the officers involved, as well as Lynch's group and the NYPD, saying that he was unlawfully detained and taunted despite police tests showing "no evidence of any bleach or other toxic substances" in the officers' beverages.
It is worth noting that the "shunned policeman" is a known urban legend — a subtheme of the "shunned serviceman" folklore. The stories generally revolve around either some sort of attempt to poison or harm the aggrieved party via something put in their food or drink, or outright refusal to serve them. Stories of this nature are very rarely (if ever) true.
Update July 29, 2020 9:41 a.m. PST: Updated throughout following determination that the object found in the drink was not a "tampon."
Update June 18, 2021 12:34 p.m. PST: Updated to note a lawsuit against New York police in connection with another debunked accusation of altered beverages.