Questions About Barack Obama's status as a "natural born citizen"
Questions About Barack Obama's status as a "natural born citizen"
Summary of eRumor:
A variety of articles and lawsuits that question whether Barack Obama is eligible to be President of the United States based on his citizenship.
 

The Truth:

Update May 23, 2012: The State of Arizona sent investigators to Honolulu, Hawaii to verify the birth certificate of Barack Obama before the Grand Canyon State would allow his name on the ballot for the November 2012 election.   Special assistant to Hawaii Attorney General David Louie, Joshua Wisch, told the Associated Press that Hawaii has provided the verification that Arizona was looking for and "that the matter was resolved."  This according to a May 23, 2012 article on the Fox News web site.
Arizona Secretary of State Ken Bennett said today that, "he received information from Hawaii that proves President Obama's American birth and satisfies Arizona's requirements for having the president on the upcoming election ballot," according to a May 23, 2012 Fox News article.
Update April 27, 2011:  The White House released what it says is the long-form birth certificate of President Barack Hussein Obama and said it proves that the president was born in the state of Hawaii.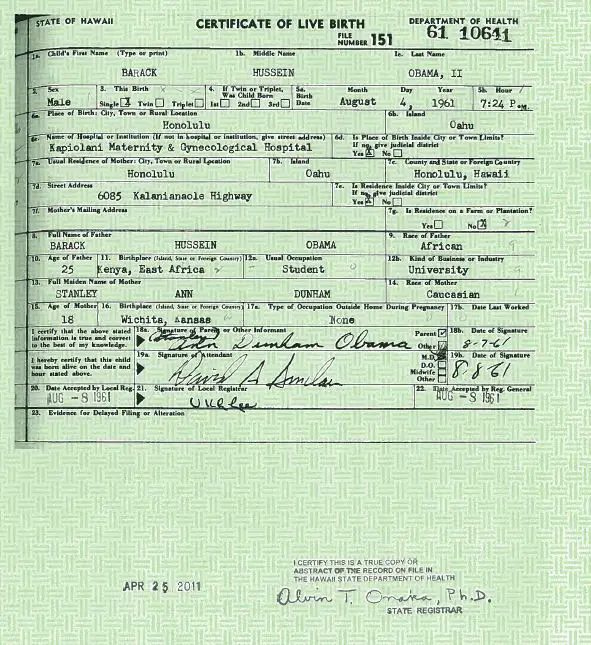 Long Form Birth Certificate of Barack Hussein Obama II posted on White House web site
This development came after a series of television appearances of Donald Trump who is considering a run for the Oval Office and has repeatedly questioned the origins of Obama.
During a press conference at the White House the President said he provided additional information about the site of his birth and added, "I know that there's going to be a segment of people for which, no matter what we put out, this issue will not be put to rest. But I'm speaking to the vast majority of the American people, as well as to the press. We do not have time for this kind of silliness. We've got better stuff to do. I've got better stuff to do. We've got big problems to solve. And I'm confident we can solve them, but we're going to have to focus on them — not on this"
The White House also released the correspondence between Obama's lawyers and the Department of Health for the State of Hawaii:  Click to view


White House video posted on YouTube
Tim Adam and the World Net Daily Exclusive
Update June 10, 2010:
In a
World Net Daily Exclusive
today, Tim Adams, a former Honolulu senior elections clerk, claimed that Barack Obama was not born in Hawaii and "that a long-form, hospital-generated birth certificate for Obama does not even exist in the Aloha State." Adams was employed by the State of Hawaii in 2008 as absentee ballot box manager and his job was to verify voter eligibility. He told World Net Daily, "There is no birth certificate." He added, "It's like an open secret. There isn't one. Everyone in the government there knows this."
Adams said that during the 2008 campaign there were questions of Barack Obama's constitutional eligibility to run for President that the elections office was overwhelmed with requests to verify his birthplace. Adams made some inquiries and was informed by his boss that there was no record of the birth for candidate Obama.
During the 2008 Presidential Campaign there were conflicting reports as to the Honolulu hospital where Obama had been born, Queen's Medical Center or Kapi'olani Medical Center for Women and Children.  Adams said that his office made inquiries with both facilities and was told, "We don't have a birth certificate for him."  Adams also said that "they told my supervisor, either by phone or by e-mail, neither one has a document that a doctor signed off on saying they were present at this man's birth."
Case Filed By Dr. Orly Taitz

 
Update December 21, 2009:   Dr. Orly Taitz is an attorney who filed a lawsuit in Southern California  questioning the authenticity of the birth certificate of President Barack Obama.  The lawsuit was filed on the day Obama was sworn into the office of the President.  Dr. Taitz told TruthOr Fiction.Com that the latest version eRumor involving Supreme Court Justice Scalia is a fabrication.
Taitz filed a case with the US Supreme Court but was told by clerks that the case would have to be heard at a lower levels of our justice system.  Dr. Taitz has a blog posted for those interested in following this case which was originally scheduled to be heard in January 2010.   There have been numerous attempts to hack Taitz's blog site and in October 2009, the Search Engine Google posted a warning about the possibility of spy-ware infection from the site before directing web-surfers to the link at their own risk.  
Update October 29, 2009:
The Associated press reported on October 29, 2009 that U.S. District Court Judge David O. Carter dismissed the case in Santa Ana, California.  In a written statement, Carter said that the court cannot "sweep away the votes of over 68 million Americans with the stroke of a pen, " and "that the U.S. Constitution does not give the court jurisdiction to decide the matter."       Dr. Taitz is currently in the process of filing appeals.    
Click
for Associated Press Story.
 The AP Story About Occidental College Transcripts Release
Update May 5 2009: A new Obama citizenship story story claiming to be from the Associated Press saying that a group called "Americans for Freedom of  Information" released copies of Occidental College transcripts showing that the "Fulbright Foundation" had awarded Barack Obama, under the name of Barry Soetoro, financial aid to attend Occidental College.  This claims to be the "Smoking Gun" to the rumor about his natural born citizen status.   The eRumor began circulating in April 2009 and by the end of the month reached critical mass.  There is no such story by the Associated press and looking at the dateline this appears to be an April Fools joke.
An Occidental College spokesperson told TruthorFiction.com that President Obama's records are still sealed and no such transcripts have been released.   When asked if the future President used the Obama or Soetoro name at the college, the spokesperson said that although he had not seen the sealed transcripts he had seen a 1981 photo book that was handed out to students and faculty at the beginning of the college year with student photos, names and hometown information.  The 1981 photo book had "Barack Obama" under the student's photo and indicated a home state as Hawaii.
There is no "Fulbright Foundation" but there is a Fulbright program that is sponsored by the US Department of State and does award scholarship grants to students working towards higher degrees who already have a Bachelor of Arts degree.  The program was established in 1946 under legislation introduced by late Senator J. William Fulbright of Arkansas and each year awards approximately 7,500 grants.  The grants are for both American students who want to study abroad and foreign students who want to study in the US.  To be eligible certain criteria must be met.   
Click
for Fulbright information.
eRumor History:

The Obama citizenship story began circulating during the 2008 presidential campaign and attracted a lot of interest, but on October 24, 2008, the judge in the case dismissed the lawsuit saying that the man who filed it lack standing and that any harm from an allegedly ineligible candidate was "too vague and its effects too attenuated to confer standing on any and all voters."    Attorney Phillip Berg has announced that he will be appealing the dismissal of his case to the United States Supreme Court.
The
WorldNetDaily
web site has reported that "More than a half-dozen legal challenges have been filed in federal and state courts demanding President-elect Barack Obama's decertification from ballots or seeking to halt elector meetings, claiming he has failed to prove his U.S. citizenship status."
An online petition has been set up by  "Rally Congress",  a non profit group "dedicated to helping people and groups communicate more effectively with elected officials",  they say that they have collected over 108,000 signatures and letters. These numbers have grown considerably since the election.  
Click
for petition.
On November 18, 2008,  the America's Independent Party (AIP) announced that Presidential candidate Alan Keyes and the party have filed a law suit with the California Superior court to keep Secretary of the State of CA, Debra Brown, from certifying the names of the electors to Governor Arnold Schwarzenegger, until proof of Barack Obama's U.S. Citizenship is verified.    
Click
for AIP release.
On November 1, 2008 the Associated Press released a report saying that state officials in Hawaii "have personally verified that the health department holds Obama's original birth certificate."  Hawaiian Health Department Director Dr. Chiyome Fukino and Alvin Onaka, who is the registrar of vital statistics both reviewed the original document.
The suit had been filed by Philip Berg ,  a Pennsylvania attorney who described himself as a lifelong Democrat, the former Democratic Chairman of Montgomery County, Pennsylvania, an 8-year member of the state democratic committee, a former Deputy Attorney General of Pennsylvania, and a past candidate for both governor of Pennsylvania and United States Senator.
Berg filed the suit in federal court on August 21, 2008 claiming that Barack Obama was not eligible to be president of the United States because he was not a "natural born" citizen of the United States, which is required by the Constitution.  He asked that the court demand Obama and the Democratic National Committee to provide documentation proving he was eligible to be president..  He also asked for a temporary restraining order asking that Obama's campaign be halted.
At issue was whether Barack Obama was ever an American citizen by birth, even if he is an American citizen whether he was a "natural born" citizen as the constitution requires for the president, and whether he ever lost his U.S. citizenship and, if so, whether he ever got it back.
An Internet video began circulating based on an interview with Berg.  It was titled October Surprise and outlined Bergs contentions about Obama's birth.
Most of this is has yet to be proven but in his lawsuit, Berg alleges:
That Obama was not born in Hawaii, as he claims, but was actually born in Kenya, his father's homeland.
That Obama's mother was in Kenya in the late stages of her pregnancy and airlines at the time would not let her fly back to Hawaii at such an advanced time of pregnancy.
That Obama's grandmother on his father's side, a half brother, and a half sister all say Obama was born in Kenya.  In October, 2008, Berg announced that he had a recording of the grandmother talking about the birth and that she was in the birth room when it took place.
That Obama was born on August 4, 1961 but his birth was not registered in Hawaii until August 8, 1961 and that the registration and a Honolulu newspaper announcement of the birth were fabricated.
That there is not agreement in Obama's family about what hospital in which he was allegedly born in Hawaii.
That according to Wayne Madison, a journalist with Online Journal, a GOP research team sent to Mombosa, Kenya, found a certificate registering the birth of Barack Obama, Jr. at a maternity hospital indicating his birth to a Kenyan father and a U.S. mother.
That if he was born in Kenya, he cannot be a U.S. citizen because the law stated that his mother would have had to have lived 10-years in the United States, 5 of which were after the age of 14.  Since she was 18 at the time of Obama's birth, she did not meet the residency requirements for passing U.S. citizenship to Obama.
That when Obama's mother married an Indonesian man and took Obama to Indonesia when he was 6-years old, he would have lost his U.S. citizenship and become Indonesian.  Indonesia at the time did not recognize dual citizenship.
That when Obama was registered to attend school in Indonesia, the registration form listed him as "Barry Soetoro" (his stepfather's last name), listed him as Indonesian, and listed is faith as Islam.
That according to the law at the time, Obama's mother would have lost her U.S. citizenship by marrying an Indonesian and living in Indonesia.  Four years later she returned to Hawaii and divorced her Indonesian husband.  Berg said that she could have regained her U.S. citizenship by taking an oath of allegiance to the United States but that there is no record that she did.  Therefore, Obama would not have been able to regain his own citizenship until the age of 18 and himself take an oath of allegiance to the U.S.  Berg said there is no record of that ever happening.  Berg concludes that not only may Obama not be eligible to be president, but that he may be an illegal alien.
That Obama traveled to Pakistan at the age of 20 and traveled using an Indonesian passport.  Had he regained his U.S. citizenship, according to Berg, he would have traveled using a U.S. passport.
In response to questions about his birth, Obama posted a birth certificate on his campaign website, but Berg contends that it is a forgery and that forensic experts have determined that it is a altered version of the birth certificate of Obama's half sister, Maya Kasandra Soetoro, who was born in Indonesia but whose birth record was also forged to make it appear that she was born in Hawaii.
That when Obama registered for the Illinois Bar he lied and said "none" when asked about any former names.
 
Berg said that Obama's lawyers were dragging their feet in providing proof of Obama's birth and citizenship and that means "he's a total fraud, he's a phony, and that means he should be arrested, tried, and deported.
An eRumor got started at the beginning of October 2008, saying that the judge in the Berg case, had issued an order for Obama to produce his original birth certificate, but that was false. An article by Jon Dryer was posted on NewsWithViews.com, which has since been retracted. In it, Dryer claimed that Judge R. Barclay Surrick had made a decision in the case and had ordered Obama to present the court with evidence that he is an American citizen.

The Berg lawsuit was the latest in a series of challenges about the birth of the Democratic nominee for president, which he lists as having taken place in Hawaii on August 4, 1961.
The first was an eRumor that said that Hawaii was not a state when he was born so therefore he is not a "natural born" citizen. That one was Fiction! Hawaii was a state in 1961 and it would not have mattered because prior to that it was a U.S. Territory, which would have still qualified him as "natural born."    
CLICK
for more on that story.
Among the believers in Obama's birth certificate the folks at FactCheck.org. 
CLICK
  for fact check dot org findings
The most detailed forensic investigation was posted on Atlus Shruggs, a conservative website by Pamela Geller.  The investigation was done by a self described forensics expert who goes by the screen name of Techdude,  but he has not been identified nor has his credentials been confirmed.  
Click
here for report.
Jerome Corsi, the controversial conservative author of the book The Obama Nation has said in TV interviews that he believes the birth certificate is phony.  He made a trip to Kenya in 2008 and told WorldNetDaily that he, too, was told that Obama was born in Kenya but when he tried to gain access to official documents about Obama's birth, he was told they had been sealed.
In the latest chapter of this saga of Berg vs Obama, Philip Berg has issued a press release that said "Obama & DNC Admit All Allegations of Federal Court Lawsuit – Obama's 'Not' Qualified to be President Obama Should Immediately Withdraw his Candidacy for President."
According to his website, "Berg stated that he filed Requests for Admissions on September 15, 2008 with a response by way of answer or objection had to be served within thirty [30] days. No response to the Requests for Admissions was served by way of response or objection."
Click
for Berg Press release and up to date progress of the case.
Click
here for updates on Pennsylvania Eastern District Court Filings for Berg vs. Obama
Click
for Illuminate Pictures video
 
Images of documents related to this eRumor:
Fake Generated From an Australian Birth Certificate
Above: The first image is a real certified copy of registration of birth from Australia. The second image appears to be the same document doctored up to look like it came from Kenya.  At the time of Obama's birth Kenya was was still under British possession and it was not until 1963 that it became an independent republic.
 
In a June 14, 2011 article by Jerome Corsi of World Net Daily it was revealed that radical supporters of Barack Obama have finally admitted to the forgery of the above Kenyan birth certificate.
There is now a website where people can generate their own Kenyan birth certificate just like the one that was fabricated for the President.  Click for Kenyan Birth certificate generator.
Other Documents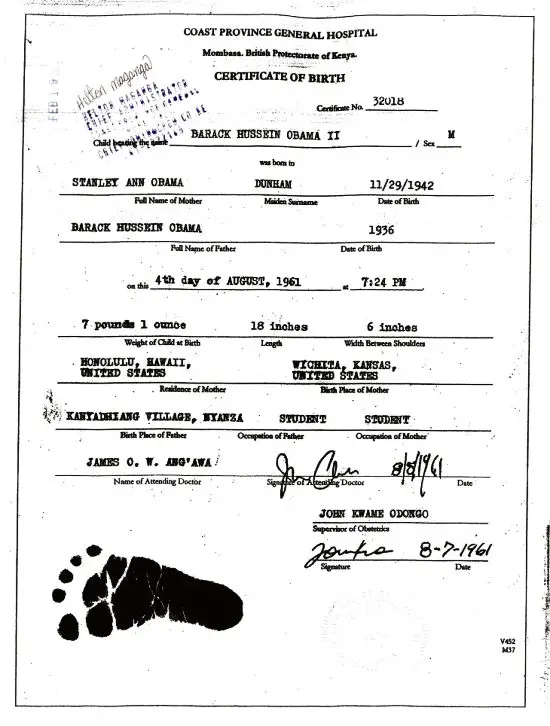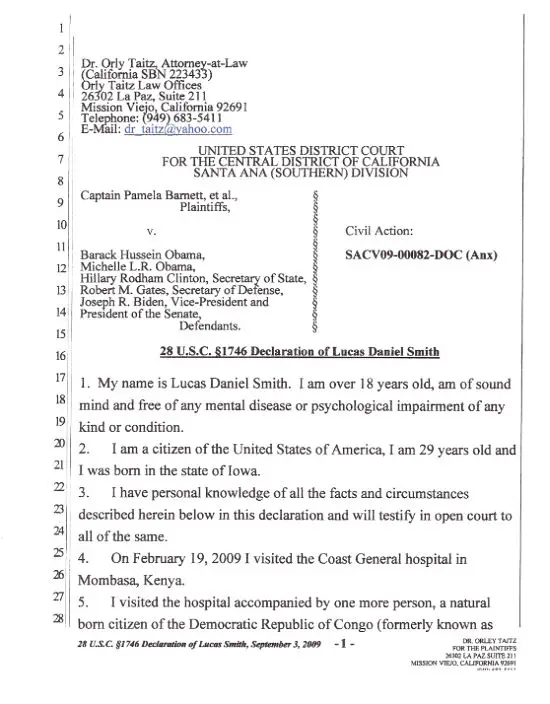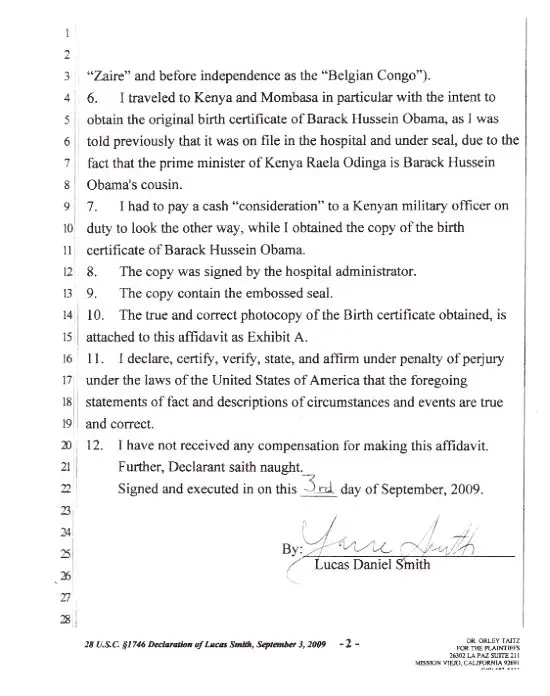 Above: Certificate of Birth from Coast Province General Hospital in Kenya with Lucas Daniel Smith's affidavit
 filed with the U.S. District Court in Southern California by Dr. Orly Taitz
 Obama's Alleged Birth Certificate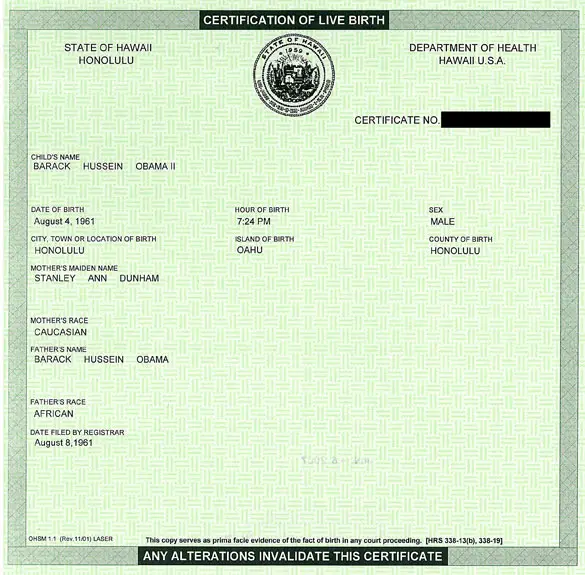 Above: Alleged Certification of Live Birth posted on Obama's Fight the Smears website in 2008.
Fake Video Of Obama Admitting His Kenyan Birth
The Video below has been circulating the Internet making it appear as the President admitted that he was born in Kenya.  This is a digital manipulation with added excerpts from other media to lend it credibility.  The original video is posted on the White House web site of President Obama addressing students in Turkey on April 7, 2009.  Click here for the White House Video
Edited and manipulated video posted on YouTube
Faked Columbia University Student ID
We have determined that an image of a foreign student identification card bearing Barack Obama's name and photograph to be a forgery after the original image was found posted on the website of Thomas Lugert in Germany.  Click for website.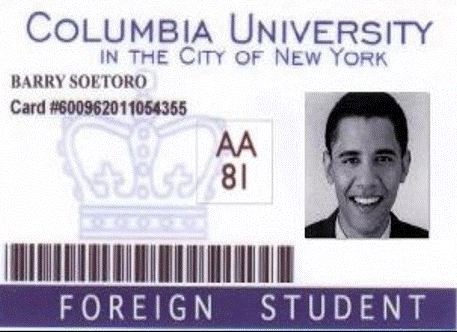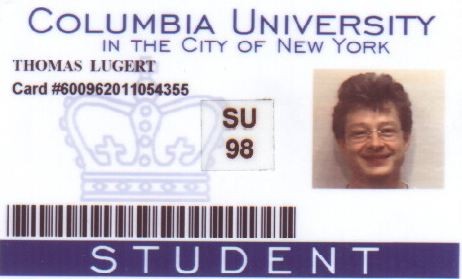 updated 05/22/12