The efforts to push disinformation about United States President Joe Biden's administration began within days of his January 2021 inauguration, with a graphic falsely claiming that the U.S. military faced possible "defunding."
The meme, which was posted to iFunny.co, is made up to look like a report that new Defense Secretary Lloyd Austin — a retired four-star general — was considering "defunding" or "disbanding" the troops. According to the "story":
Retired Gen. Lloyd J. Austin III vowed Tuesday to eradicate extremism in the ranks as one of his first goals if confirmed as the next defense secretary, as well as possibly defunding and maybe even disbanding the U.S. Army. "We have bigger issues to focus on, much bigger issues that are rooted deeply within the military." Austin, who would become the country's first African American Pentagon chief told lawmakers. When asked about how the U.S. would then counter foreign threats, Austin replied "We are looking into having China to rely on regarding national defense."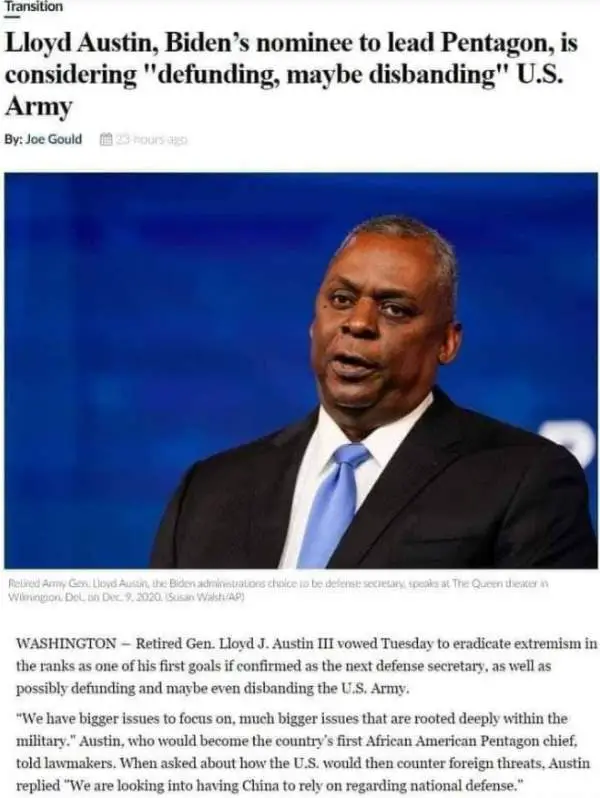 Not only is the post untrue, it is a distortion of a legitimate news report. The meme appears to be based on an actual story published by Defense News on January 19 2021 — to the point that it recreates the site's "transition" heading at the top, while keeping the original byline to make it appear real: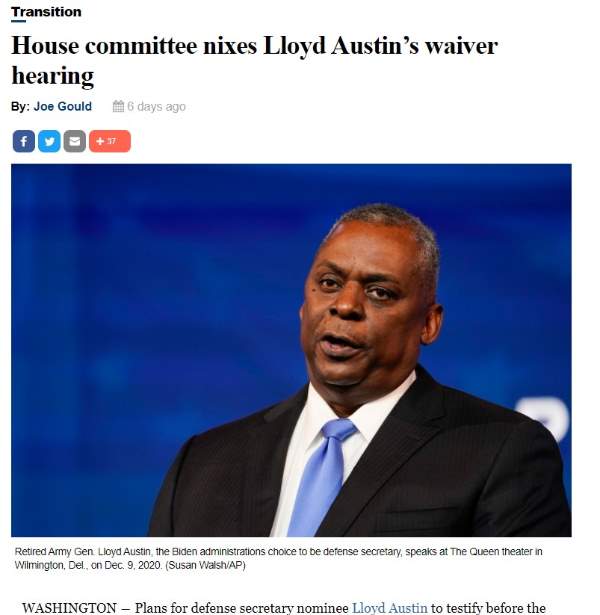 The graphic was further spread by right-wing social media users to further spurious claims that Gen. Lloyd Austin — and, by extension, the rest of the Biden administration — would be "soft" on the Chinese government: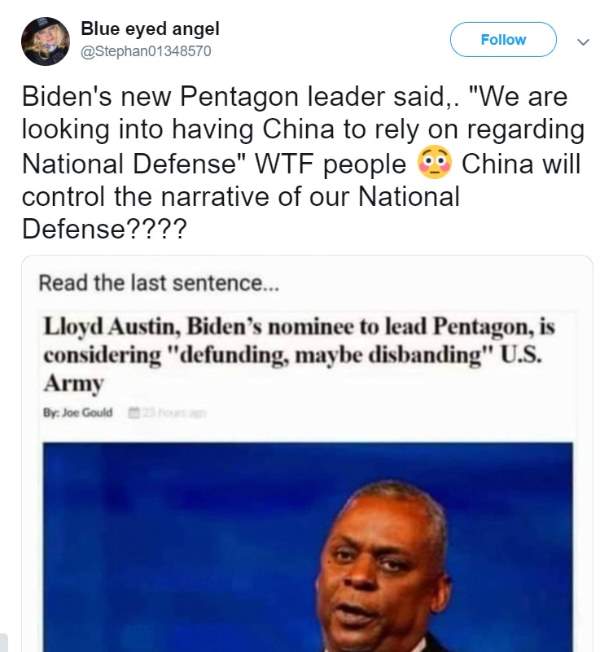 Reporter Joe Gould's actual story reads in part:
WASHINGTON ― Plans for defense secretary nominee Lloyd Austin to testify before the House Armed Services Committee as a prerequisite for his waiver have been replaced by a closed-door meeting, Defense News has learned.

The hearing wasn't feasible because the full committee's membership in the new Congress won't have been named and seated before Thursday's scheduled hearing. House is set to vote Thursday on Austin's waiver, it was subsequently announced.

"The committee cannot formally organize until leadership from both the majority and minority have named the full list of members" said Monica Matoush, a Democratic spokesperson for the committee. "As such, we cannot yet convene our committee organization meeting or formally conduct committee business like a hearing. Once members have been named and the committee has been organized, we will proceed."
A contact form on iFunny.co's website did not work, but we contacted the site on Twitter seeking comment. We also contacted Gould and Defense News alerting them about the graphic distorting their work.
Gould filed his own story on the issue, noting that he received more than sixty emails about the fake and that it did not stop spreading on Facebook — despite being flagged as disinformation — until the platform was directly contacted by Defense News.
Even then, Gould wrote, some accounts still refused to take the post down:
Several users I contracted acknowledged the meme was false but stubbornly left it up because, to them, it showed larger truths about the new Biden administration.

"Not as farfetched as you think," one man replied with regard to Austin. "What do you know of his past? Why was he chosen? Why did Biden already move in Syria? Why did he just make us dependent on foreign oil? Why is he against jets just sold to UAE? Why did he support past funding for Iran? Why did his past administration take out Seal Team Six and not lend aid to Bengahzi? Not farfetched at all. Corruption runs very deep with this guy."
"In the end it was just a slapdash mix of issues on America's political fault lines that might have taken somebody 15 minutes to assemble," Gould wrote. "But that's all it needed to catch fire online."
Gould's executive editor, Mike Gruss, also responded to the fake story.
"Defense News has been among the most trusted outlets for national security news for more than 30 years. We have never published a story with the headline or with the copy that the image implies," Gruss told us.
Updated January 25 2021, 1:56 p.m. PST: Updated with comment from Defense News.