A January 20 2021 image of Bernie Sanders sitting (with mittens) at United States President Joe Biden's inauguration ceremony went instantly viral as a meme, and among responses was a since-deleted tweet — labeled "Still the best picture of # Berniesanders sitting though" and purportedly depicting a young Sanders at a protest for racial justice:
On Facebook, screenshots of the deleted tweet above circulated widely (as seen in a search for images):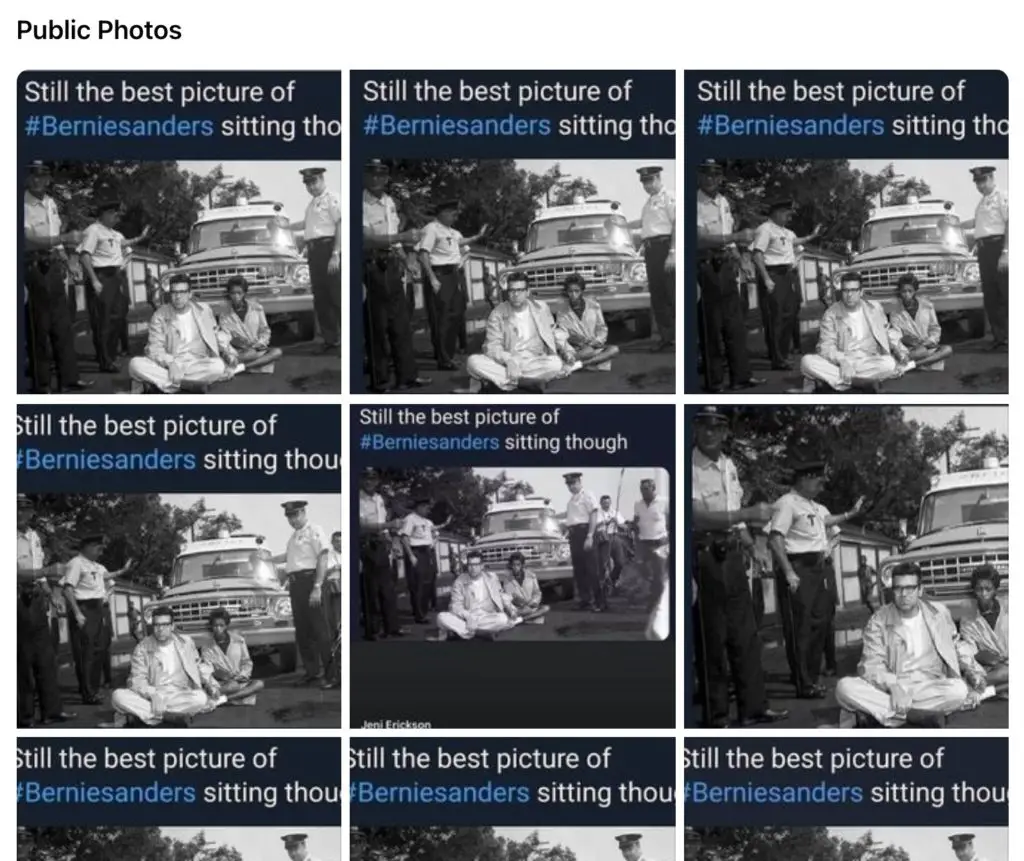 Context: Bernie Sanders, Sitting in a Chair, Wearing Mittens
All of social media was rapidly inundated in variations of Bernie Sanders memes on and after January 20 2021. Internet encyclopedia Know Your Meme explained:
Bernie Sanders Wearing Mittens Sitting in a Chair refers to the numerous jokes and photoshops made from pictures of Vermont Senator Bernie Sanders' attending the Inauguration of Joe Biden in a parka and mittens. In particular, a picture of Sanders sitting bundled up in a chair became an image macro and exploitable series.

At the Inauguration of Joe Biden, Vermont Senator Bernie Sanders attended in a coat and mittens, which stood in stark contrast to other attendees who had more formal wear. That day, Getty photographer Brendan Smialowski published the image of Sanders seated at the inauguration in his parka and mittens.
After the meme was widely shared, Twitter user @FParianen shared the older image seen above, decreeing it "still the best picture of #BernieSanders sitting though."
History: Bernie Sanders, Sit-ins, and the Civil Rights Movement
During Sanders' 2016 presidential campaign, archival photographs of the senator as a young man during human rights protests surfaced and circulated.
Those images were validated by records and Sanders himself:
Footage [in 2016] emerged that appears to show Bernie Sanders being arrested during a civil rights protest in Chicago in 1963.

A documentary company, Kartemquin Films, this week published footage online showing two police officers arresting a young student wearing thick-rimmed glasses, resembling those still worn by the Vermont senator and Democratic presidential candidate.

The Chicago Tribune then unearthed from its archive a photograph and a story that noted "Bernard Sanders, 21" as having been among the people arrested and fined at the protest.

"Bernie identified [the photograph] himself," Tad Devine, a senior Sanders adviser, told the Tribune. "He looked at it, he actually has his student ID from the University of Chicago in his wallet, and he said, 'Yes, that indeed is [me]."
Primarily, a photograph of Sanders getting arrested at a protest in 1963 became emblematic of his unwavering stance on racial justice. That particular image also resurfaced during the 2021 "Bernie sitting in mittens" meme's virality:
A slightly less popular image of Sanders at the same protest recirculated too:
'Still the Best Picture of Bernie Sanders Sitting Though,' and a Primary Source
Both images in the above tweets of Sanders resisting arrest were well validated.
Reverse image search of the "sitting" image, however, led to a curious result. When sorted by "Oldest," nearly all links (to Reddit, Twitter, and Tumblr) led to deleted or otherwise unavailable content — suggesting that for some reason or another (possibly disputed provenance), iterations of the image dating back to 2016 were often later deleted.
One result crawled in 2018 led to RedBubble, where an individual sold it on t-shirts. Incidentally, at least one user edited the 2021 Sanders meme into the "sitting" version on Imgur:
On January 24 2021, a screenshot of the deleted tweet was shared to Imgur, titled "Bernie Sanders has been fighting the good fight longer than may of us have been alive":
Some commenters maintained the image was not in fact Sanders, adding that Sanders was definitely present and photographed at the same August 1963 protest. A paywalled February 22 2016 Chicago Tribune article ("Feb. 19, 2016: Arrest photo of young activist Bernie Sanders emerges from Tribune archives") reported in part:
The subjects of the photographs were not listed on the negatives, but information filed with them indicated that the Tribune arrest photo was taken in August 1963 near South 73rd Street and Lowe Avenue, which is in the Englewood neighborhood.

A January 1964 Tribune story on the court cases of those who had been arrested in August identified a Bernard Sanders. The negatives were scanned and an image was shown to the Sanders campaign Friday. On Saturday, the campaign confirmed that a second photo also shows Sanders.

In the early 1960s, protests over segregation in the Englewood area raged over mobile classrooms dubbed "Willis Wagons," named for then-Chicago Schools Superintendent Benjamin Willis. Critics charged that the trailers kept black children in the area instead of sending them to white schools.

Sanders was arrested Aug. 12, 1963, and charged with resisting arrest. He was found guilty and fined $25, according to a Tribune story about the protests.
The first two images in an attached gallery were the ones of Sanders resisting arrest. The first was captioned:
Chicago police officers carry protester Bernie Sanders, 21, in August 1963 to a police wagon from a civil rights demonstration at West 73rd Street and South Lowe Avenue. He was arrested, charged with resisting arrest, found guilty and fined $25. He was a University of Chicago student at the time. In 1963, controversial Chicago Public Schools Superintendent Benjamin C. Willis decided that placing aluminum trailers in black neighborhoods was the best way to ease overcrowding and keep school segregation intact. The modular units were put in vacant lots and on existing school grounds in neighborhoods such as Englewood, where the African-American school population was soaring in the early 1960s. Picketing, school boycotts and sit-ins ensued as the black community voiced outrage at the discrimination. (Tom Kinahan / Chicago Tribune)
In the second image, Sanders is shown chained to a woman:
Bernie Sanders, fourth from the left, and fellow demonstrators attached chains to their legs at 73rd Street and Lowe Avenue in August 1963, in Chicago as they protested school segregation. (Chicago Tribune historical photo)
A third image was dated August 2 1963; notably, while Sanders was mentioned by name in the first two, the third is simply labeled "a man and a woman." If the Chicago Tribune positively identified Sanders in two other images, it stood to reason the newspaper would have likely labeled Sanders in the third image, too:
A man and woman hold hands as they are surrounded by Chicago police officers during a protest at 74th Street and Lowe Avenue in Chicago on Aug. 2, 1963. The protesters were against mobile classrooms, known derisively as Willis Wagons, being brought to Englewood. (Steve Marino / Chicago Tribune)
Although all images were black and white, Sanders' hair appeared slightly lighter in color than that of the man seen sitting in the viral image; Sanders' hair also appeared to have a wavier texture than the man seen sitting in the "sitting" photograph. In total, the Tribune included 27 images in the gallery, two of which featured Sanders.
It appeared the third image in the gallery was widely (but likely inaccurately) assumed to also show Sanders.
Summary
A viral meme featuring Bernie Sanders sitting in a chair with mittens revived interest in archival photographs of Sanders' arrest at an August 1963 civil rights protest in Chicago. Some images definitively showed Sanders, but the most popular circulating photograph ("Still the best picture of # Berniesanders sitting though") did not appear to show him. The image in question was third in a set of 27 images, the first two of which did depict Sanders. Although it was difficult to say for certain, indicators from the source material as well as a trail of deleted social media posts pointed to a case of mistaken identity (and the deletion of the tweet, which lived on in circulating screenshots).