Was There a 'March to End COVID-19' in Cleveland?
Claim
A "March to End COVID-19" was held in Cleveland, Ohio.
Like this fact check?

Reporting
A social media user playing on real-world ignorance over the COVID-19 pandemic succeeded in making a stir on March 26 2020 with a photograph he claimed at the time was an ill-advised gathering.
The user's post, which has been shared more than 6,000 times on the platform, purportedly showed a "march to end COVID-19 in Cleveland":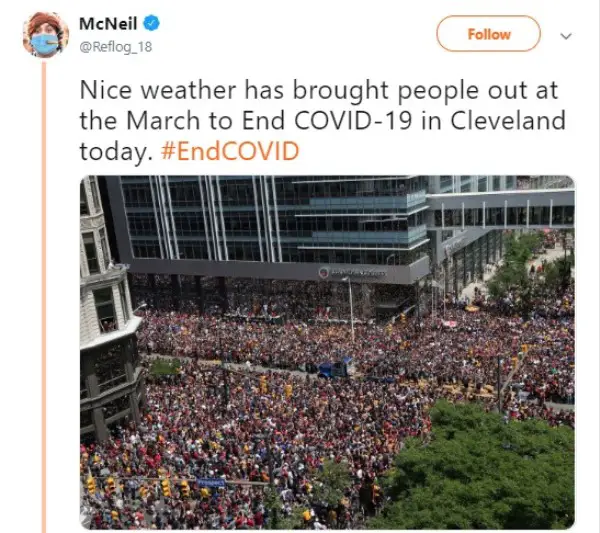 As the tech news site Daily Dot reported, there was no such event in Cleveland — or anywhere, for that matter. The photograph was actually taken on June 22 2016 during a victory parade celebrating the Cleveland Cavaliers' NBA championship win.
The bogus post not only fooled other Twitter users but inspired at least one to post a photo from another "parade" in Chicago.
But one reason the "joke" may have worked is that, as news organizations from cities around the United States have reported, there have been several confirmed examples of people going to parks or other social settings, ignoring orders from their local officials to remain home in an effort to help limit the spread of the disease.
On March 29 2020, United States President Donald Trump said that the U.S. would extend guidelines on social distancing practices through April 30. More than 139,000 cases of COVID-19 (a.k.a. the "coronavirus") have been confirmed in the country and at least 2,425 deaths have been attributed to the disease — with many more expected.