Claim
A photograph shows how markings on a surgical mask show the number "666."
Like this fact check?

Reporting
A Facebook post attempting to falsely link protection against COVID-19 to Satanism continued to spread on the platform in July 2020 — while also providing a look into how disinformation is laundered across social media platforms.
The post by Anayo Emmanuel, which was originally published in April 2020, shows a photograph of a surgical mask with markings they claim represent the number "666," which according to some interpretations of the Bible's Book of Revelations, is "the number of the beast":
Pls my dear brothers and sisters, pls check whatever you buy at the Market most especially this nose mask. Just look at the sign of 666 there. The Antichrist is here and the End time is nigh, pls watch and pray.
I believe the gate of the Underworld shall never prevail over the lives of the Children of God.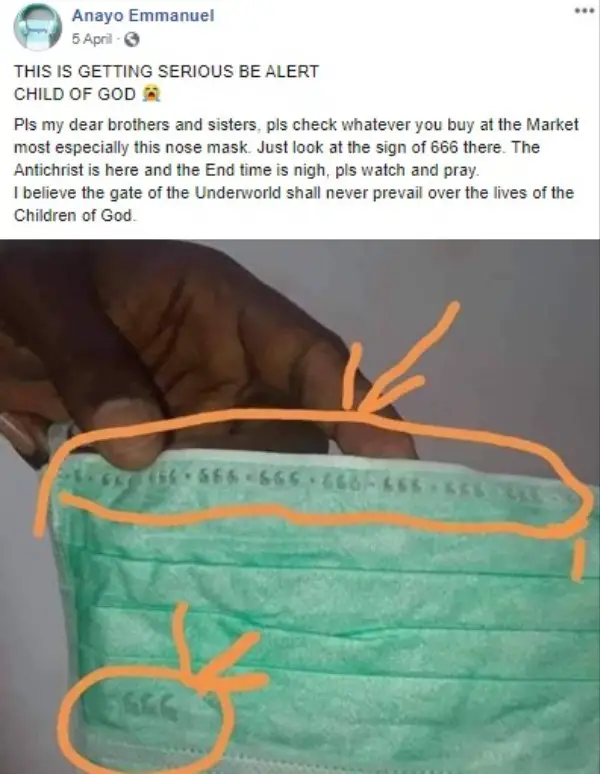 The origin of the photograph is unclear. It is also unclear whether the mask has been altered or made differently than other surgical masks: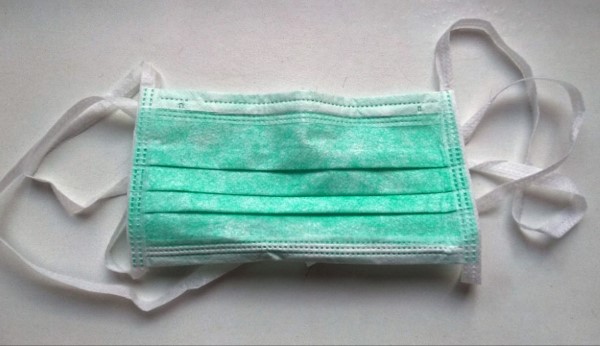 The post has been shared more than 1,000 times on the platform. And as anti-disinformation researcher Joohn Choe reported on July 16 2020, it spread beyond Facebook. Three days after being posted on that platform, Choe found, the photograph of the mask was featured on a blog in Nairobi saying that the photograph showed the "mask of the beast" and treating it as a legitimate story. The site's eponymous bloggers wrote:
I don't know if this is fake or not but what I have to say is that we should be very careful and we should brace ourselves cause we are in the last days.
On April 7 2020, a separate tweet displaying the photograph was shared by a Twitter account a separate search identified as a "bot account."
We checked the account, "@uzoma89155711," using the Botometer research tool, which showed that there was an 83 percent probability that it is completely automated: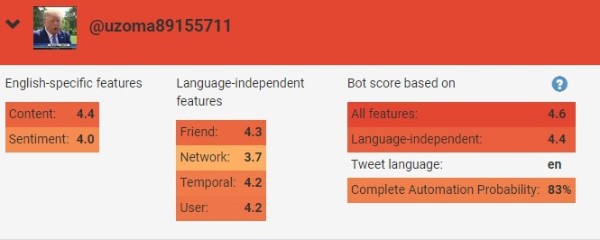 Choe reported that on July 16 2020 the hoax was recirculated on Facebook after a separate user posted it in a group purportedly devoted to supporting U.S. First Lady Melania Trump, and later shared by what he called a "propaganda-posting Facebook account." That account has since been set to private.
"This is part of an ongoing trend in destabilizing the truth, assisted by — in this case — confirmed hostile foreign influences," Choe told us. "This is unstoppable, too; only building a culture resilient against disinformation is going to really do anything at all about this."
The post and its subsequent spread also shows another aspect of how users and accounts spreading disinformation have seized on the use of surgical masks or facial coverings as a means of injecting their own personal conspiracy theories in hopes of ginning up engagement from other users vulnerable to the effects of their hoaxes.