Michael Savage Sabotaged for Covering Hillary Clinton's Health-Truth! & Fiction!
Michael Savage Sabotaged for Covering Hillary Clinton's Health-Truth! & Fiction!
Summary of eRumor:
Michael Savage, host of the right-wing "Savage Nation" radio show, was suddenly taken off air in the middle of a discussion about Hillary Clinton's health.
The Truth:
"Savage Nation" was pre-empted for live coverage of the first presidential debate on WABC, a New York affiliate of Westwood One radio network — but the decision doesn't appear to be connected to his coverage of Hillary Clinton's health.
Rumors that Michael Savage's show had been sabotaged or censored by a left-wing media conspiracy surfaced on the evening of the first presidential debate at Hofstra College on September 26th. Before the debate, Savage tweeted that he had been sabotaged on air to destroy support for Trump: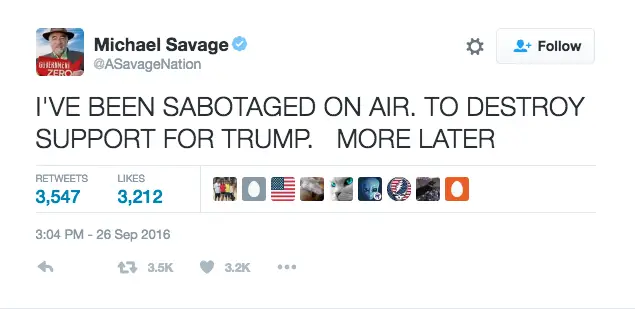 Savage later explained on air that his radio show was censored from its largest market while he was in the middle of a comprehensive review of Clinton health conspiracies and discussions about treatment for Parkinson's disease (we previously investigated and found no evidence that Clinton has Parkinson's disease):
I spent 30 minutes talking about Hillary's health problems; I read you every fact about it. I then read you the pharmacology of Levodopa, which is the main drug for Parkinson's, and right in the middle of that discussion of Levodopa and its side effects, I was cut off across the country.
Pure sabotage. No advance notice from me or my producers. Then 'ISDN problems' during my discussion of the side effects of Levodopa, used for treating Parkinson's. Then the two fill-ins trying to sound informed and clever from WABC who have 40% lower ratings than me, boasting on air during my hours that they conducted a 'coup' by taking Savage off the air.
"Savage Nation" listeners immediately raised the issue with Westwood One, but representatives of the nationwide radio network said it wasn't behind the decision and that WABC had decided to pre-empt "Savage Nation" with debate coverage, not Westwood One:


Westwood One later told Radio Ink that, "Savage's show was being pre-empted on WABC in New York so the station could provide their local audience live pre-debate coverage, which all affiliates obviously have the right to do. Westwood One did not pull Savage's show off the network feed, it was WABC's decision to go live."
And, while its very possible that Savage and his producers weren't given advance notice of WABC's decision to pre-empt his show, the affiliate did make a public announcement about its live coverage of the debate, which proves the decision wasn't made on the fly to silence Savage's discussion of Clinton's health: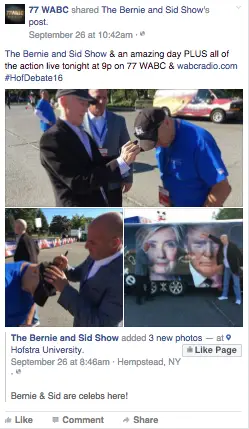 It should also be noted that conspiracy theories about Savage being censored started almost immediately after WABC made the announcement on Facebook at 10:42 a.m. on the morning of the debate, with people commenting "Where's Savage" and "Stop Censoring." It appears the conspiracy theories about censorship had taken off well before Savage tweeted about it nearly six hours later.
And the idea that Westwood One or WABC suddenly decided to silence Savage for talking about Clintons health on September 26th doesn't make a lot sense since he's been talking about it for weeks without being censored. A quick glance at the show's archives shows that he spent extensive time on September 12 on August 22 without interruption.