Footage published in June 2021 brought to light an Oregon lawmaker's role in fomenting an armed attack against his state's capitol nearly seven months earlier.
The video, first reported by the Oregonian newspaper, was captured on December 16 2020. It shows right-wing state Rep. Mike Nearman telling people how to enter the building during a special legislative session five days later:
He does so with a wink and a nod, interspersing the instructions with disclaimers that he's not giving out a real cell phone number (he is and it's his number), that he knows nothing about the planned "Operation Hall Pass" and that nothing like that will actually happen.

In fact, exactly what he described did occur, prosecutors and investigators say. Protesters gathered outside the Capitol's west entrance in obvious protest of the closure, Nearman left the House chambers where lawmakers were gathered doing state business and he walked out a Capitol entrance, leaving the open door hanging long enough for angry citizens to grab it and enter.
The footage was originally posted to a YouTube account calling itself "The Black Conservative Preacher" before being republished on the newspaper's own account on that platform. It spread further on Twitter when researcher John Scott-Railton posted it on his own account:
Nearman was already under investigation for opening the door to the breach, an action that was also caught on video: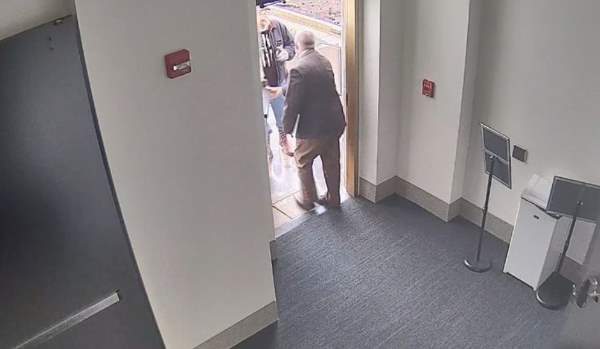 The attack took place during a closed session concerning the proposed dispersal of $800 million in relief funding for residents dealing with not only the COVID-19 pandemic, but also a spate of wildfires and attendant weaponized disinformation exacerbating both issues throughout the state.
According to the Washington Post, the rioters complained about not only pandemic-related safety regulations but their false belief that failed right-wing blogger and former United States President Donald Trump had been re-elected president. (He was not.) The Post reported:
Rioters later tried to bust through the Capitol building's doors, leaving the glass cracked. Video captured outside shows at least one man repeatedly attacking journalists reporting on the protest. Police said at least one man sprayed officers with "bear spray." Many others shoved police and defied orders to stay out of the Capitol building and remain peaceful.

Once they made their way into the Capitol, the intruders chanted, "Enemies of the state," and "Arrest [Gov.] Kate Brown" for nearly an hour before police finally cleared the area, OPB reported. Police arrested five people and charged them with crimes ranging from trespassing to assault.
Nearman was charged with misdemeanor counts of first-degree official misconduct and second-degree criminal trespass in connection with the riot; after the footage of his actions coaching the attackers, he was stripped of his committee and commission assignments and faced calls for his resignation from both Democratic and Republican colleagues in the state House. Oregon Public Broadcasting (OPB) reported that Nearman believed that he would be the first House member ever to be expelled.
"Someday you're gonna be watching 'Jeopardy' and somebody's gonna say, 'Who is Mike Nearman?'" he said in a radio interview. "And that's gonna be the right answer."
Nearman was indeed expelled from the House by a vote of 59-1 on June 10 2021. But not before his party mates reportedly complained after Democratic House Speaker Tina Kotek announced that because of the severity of Nearman's actions, the resolution to boot him would have to go through a special committee made up of members from both parties.
"He knowingly put the physical safety of everyone in the Capitol — lawmakers, staff and law enforcement — in jeopardy," she said.
In response, GOP state Rep. Daniel Bonham claimed that forming a commission "feels hyper-political in what is already a politically charged conversation."
Nearman is one of several Republican lawmakers who has minimized or openly sympathized with armed insurrectionists across the United States. In Michigan, state Senate Majority Leader Mike Shirkey met with right-wing gang members in September 2020, around a month before an investigation revealed a militia-heavy plot to abduct and assassinate Gov. Gretchen Whitmer, a Democrat.
Shirkey has also been accused of concealing his ties to "Unlock Michigan," a right-wing group that pushed to repeal a 1945 law invoked by Democratic Gov. Gretchen Whitmer to implement precautions to mitigate the spread of the COVID-19 pandemic.
Attorney Bob LaBrant — who is credited with writing campaign finance legislation in the state — has accused Shirkey of raising around $2 million for the "Unlock" group by using accounts belonging to two other groups, "Michigan! My Michigan!" and "Michigan Citizens for Fiscal Responsibility."
The Detroit News reported in June 2022 that Michigan Secretary of State Jocelyn Benson's office referred a complaint against the latter two groups to the office of state Attorney General Dana Nessel for "enforcement of any criminal penalties."
In February 2021, Shirkey called the fatal attack against the U.S. Capitol "a hoax" — an easily-debunked lie:
In May 2021, U.S. Senate Republicans blocked efforts to create a commission to investigate that attack.
Updated 6/11/2021, 2:35 p.m. PST: Updated to reflect Rep. Mike Nearman's explusion from the Oregon state House.
Updated 6/7/2022, 12:27 p.m. PST: Updated with notes on Mike Shirkey's alleged ties to the right-wing group "Unlock Michigan." — ag