Is This an Associated Press Photograph of Sen. Mitch McConnell's Hands?
Claim
Senate Majority Leader Mitch McConnell was photographed with discoloration and adhesive bandages on his hands on October 20 2020.
Like this fact check?

Reporting
As he faced criticism for refusing to include relief payments for Americans in COVID-19 relief legislation, Senate Majority Leader and self-described "Grim Reaper" Mitch McConnell drew attention from Twitter users on October 21 2020, after a photograph of him with adhesive bandages on both hands surfaced online.
Annie Shields, an editor at the magazine The Nation, first posted the photograph, saying that senior editor Lizzy Ratner found it through the news service Associated Press:
Uhhhhh look at this picture of Mitch McConnell's hands that @lizzyratner found on AP pic.twitter.com/Y4LJL7mAdh

— Annie Shields (@anastasiakeeley) October 21, 2020
"I suppose I was sort of surprised, although more than anything I was probably concerned that people would be mad at me eventually for being insensitive about a real illness, which I certainly wouldn't want to be," Shields told us.
"So when it first started getting attention I was afraid of that but also I wasn't surprised because it's just so alarming to look at. And in the context of an ongoing global pandemic which has caused outbreaks in the White House and infected other Republican Senators there is an extra level of concern about the health of public officials like McConnell, or at least an interest in their health."
McConnell has yet to discuss the photographs; there have been no reports of the senator himself being diagnosed with the virus. In early October 2020 he did say that he had not been to the White House since August 6.
The image spread even further through a separate tweet from the progressive super PAC MeidasTouch:
This photo of Mitch McConnell's hands from yesterday pic.twitter.com/9x5x2UhxvJ

— MeidasTouch.com (@MeidasTouch) October 21, 2020
The image is real; it was legitimately published by the Associated Press, alongside the caption:
Hands of U.S. Senate Majority Leader Mitch McConnell are seen as he talks to the media after the Republican policy luncheon on Capitol Hill in Washington on October 20, 2020.
The bandages can also be seen in a separate photograph that was published the same day: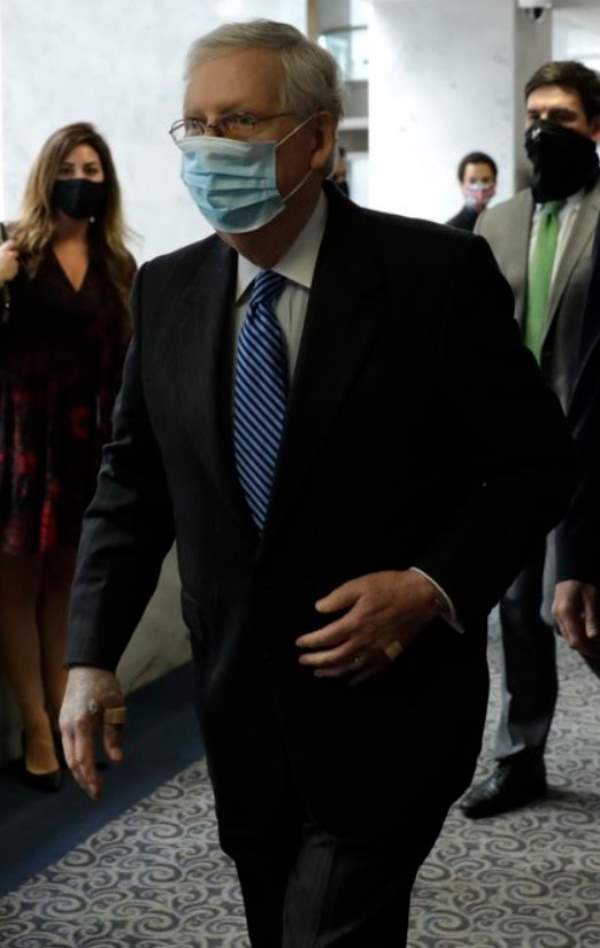 The photographs came to light amid reports that McConnell had told fellow Senate Republicans that he warned United States President Donald Trump's administration not to reach an agreement with Democratic Party House Speaker Nancy Pelosi on another COVID-19 stimulus bill prior to the November 3 2020 election.
According to the Washington Post, Pelosi and Treasury Secretary Steven Mnuchin are negotiating on a $2.2 trillion package that would include a second $1,200 payment for Americans, on top of funding for testing against the virus as well as money to benefit small businesses and provide unemployment benefits. The New York Times further reported:
Mr. McConnell made it clear that he knew his counsel was likely to leak, making reference to the possibility that his remarks could appear in the news media, two of the Republicans said.

A short time later, outside the hearing room where Republicans met privately, Mr. McConnell told reporters the Senate would consider a broad bipartisan stimulus deal if the White House and Democrats struck one. But he would not say if it would hold a vote before Election Day, and members of his leadership team have warned that Republican votes could be hard to come by in the chamber.

"If a presidentially supported bill clears the House, at some point we'll bring it to the floor," he said, without elaborating on the timetable.
In June 2019, Associated Press also reported that the Kentucky Republican was happy to be called the "Grim Reaper" for stonewalling legislation coming out of the Democratic-controlled House.
"I understand my sin is that I've been stopping left wing agenda items coming out of the House," McConnell said at the time. In February 2020, he vowed that 395 bills passed in the House up to that point would not be passed in the Senate.
Update October 21, 2020 3:17 p.m. PST: Updated with comments from Annie Shields.