A political cartoon depicting the Rev. Dr. Martin Luther King Jr. recirculated online in August 2020, as users pointed out the parallels between how his efforts for Black liberation were viewed during his life and skepticism around the Black Lives Matter movement and protests against police brutality.
The cartoon, drawn by Charles Brooks and originally published by the Birmingham News, shows King standing near a burning car and a collapsed building, telling a reporter, "I plan to lead another non-violent march tomorrow":
Brooks, who would go on to serve as president of the Association of American Editorial Cartoonists, died in 2011. We contacted AL.com, the newspaper's parent company, seeking more information about the cartoon but did not hear back. According to the pop culture site Comic Book Resources, Brooks' piece was originally published in 1967.
The image, however, has circulated online for years. One version of the cartoon, which was described as a clipping mailed to King himself, contains an angry handwritten commentary on the margins of the image:
How can you, a minister of the Gospel of Jesus Christ, be such a deceitful hypocrite? You're not fooling anyone but yourself in your nauseating talk about non-violence. You demand a program to overcome poverty and "flow in" untold amounts in your high living and running all over the globe to feed your own egotism.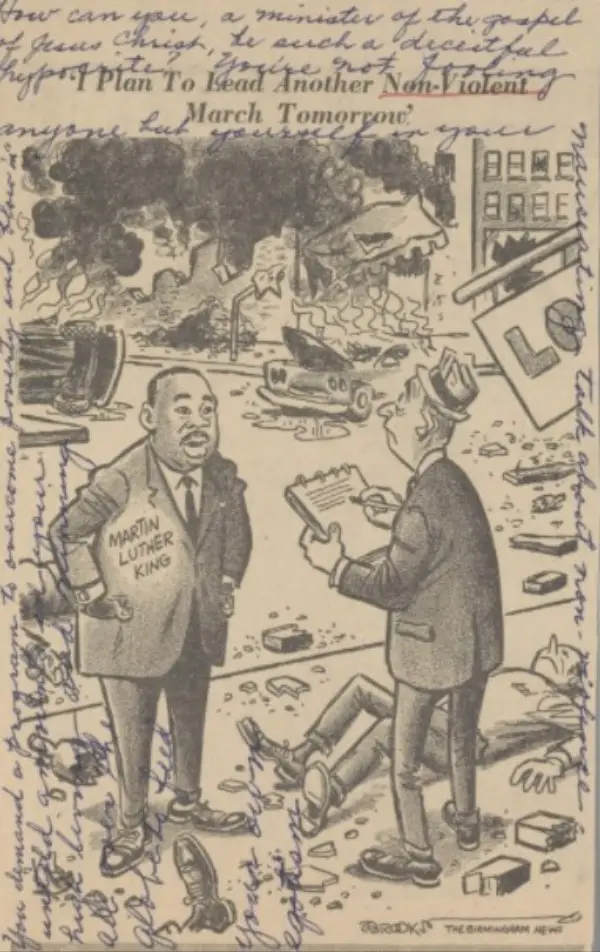 We also contacted the Martin Luther King Jr. Center for Nonviolent Social Change, which hosts archives of the civil rights leader's work, seeking comment on Brooks' piece. The organization did not respond, but an archived page on its website shows the cartoon with the disdainful note to King, described as an "adverse note" to him.
Brooks' cartoon recirculated on Twitter again on August 28 2020, when director Peter Kagan's post displaying the piece was shared more than 87,000 times on the platform.
"This is how MLK was depicted in 1967 to scare white Americans, in case there's any confusion about what the strategy is," he wrote. Two days later King's daughter Bernice King shared a photograph of Brooks' work on her own account:
A cartoon from the 1960s.

Because my father and his nonviolent strategy were so beloved by America and the white power structure before he was assassinated… pic.twitter.com/rYFErWOo1u

— Be A King (@BerniceKing) August 30, 2020
"Because my father and his nonviolent strategy were so beloved by America and the white power structure before he was assassinated…" she added. "Kingian Nonviolence was creating win-win solutions and working to dismantle racism, poverty and militarism. Even it was maligned because white supremacist ideology rails against and disseminates false narratives about opposition. It won't go quietly."
While it was reporting on protests and not taking part in them, the news network CNN and correspondent Omar Jimenez came under similar criticism after he reported on the air from Kenosha, Wisconsin — the site of another series of ongoing protests against extrajudicial police attacks — on August 26 2020, while standing in front of a burning building over a network headline stating, "Fiery But Mostly Peaceful Protests After Police Shooting":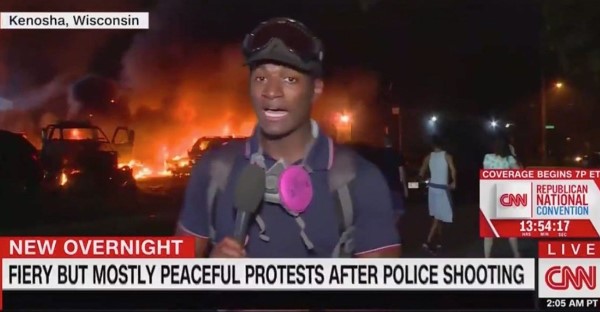 While right-wing blogs and social media users ridiculed Jimenez and CNN for the visual juxtaposition, his actual reporting provided context for the backdrop. He said:
What you are seeing now, these images, came and come in stark contrast to what we saw over the course of the daytime hours in Kenosha and into the early evening, which were largely peaceful demonstrations in the face of law enforcement.

It wasn't until nightfall that things began to get a little bit more contentious. Thing were thrown back and forth; police started using some of those crowd dispersal tactics like tear gas, even playing very loud sounds to push them out. And then, what you're seeing, the common theme that ties all of this together, is an expression of anger and frustration over what people feel like has become an all too familiar story playing out in places from across the country, not just here in Kenosha.
"Multiple nights of protests, shooting that killed two people and injured a third, officers seen handing out water to armed men," Jimenez added on Twitter. "And Kenosha officials take NO questions at their press conference as the world watches, looking for any answers from the leaders in charge."
A report released by the Armed Conflict Location & Event Data Project backed up accounts from Jimenez and other reporters on the scene:
The report added:
While the US has long been home to a vibrant protest environment, demonstrations surged to new levels in 2020. Between 24 May and 22 August, ACLED records more than 10,600 demonstration events across the country. Over 10,100 of these — or nearly 95% — involve peaceful protesters. Fewer than 570 — or approximately 5% — involve demonstrators engaging in violence. Well over 80% of all demonstrations are connected to the Black Lives Matter movement or the COVID-19 pandemic.
While critics of Black Lives Matter and modern efforts for Black liberation have seized on rioting to claim those movements are illegitimate, King's son Martin Luther King III noted in a New York Times interview published in July 2020 that Dr. King "often said that riots are the language of the unheard. He empathized with those who rioted, although he never condoned violence."
When asked about arguments seeking to discredit social justice movements because of looting, the younger King said:
That is the rhetoric of the president, and by and large the Republican playbook line is, "law and order, we've got to do something about these lawless people," and yet not taking any fault for the fact that — and this does not justify, necessarily — but people did not create the condition that caused this to happen.

The institutions created the problem. We have an institutional racism problem in this country, and we've been in denial. We've been living in a fantasy land.
As the polling company Gallup reported in 2006, Dr. King's popularity grew following his death on April 4 1968. According to a special survey the company conducted in 1999, King placed second only to Mother Teresa on a list of people most admired by Americans. But between 1963 and 1968, Gallup said, he only appeared twice on similar lists covering the most admired men in the United States.
"In 1963, King had a 41 percent positive and a 37 percent negative rating; in 1964, it was 43 percent positive and 39 percent negative; in 1965, his rating was 45 percent positive and 45% negative; and in 1966 — the last Gallup measure of King using this scalometer procedure — it was 32 percent positive and 63 percent negative," the company reported. "Gallup did not measure King in 1967 or 1968."