Monica Petersen Dies While Investigating Clinton Human Trafficking in Haiti-Unproven!
Monica Petersen Dies While Investigating Clinton Human Trafficking in Haiti-Unproven!
Summary of eRumor:
Monica Petersen, a woman working on behalf of the Human Trafficking Center, died in Haiti while investigating a possible human trafficking ring tied to the Clinton Foundation.
The Truth:
The Human Trafficking Center announced that Monica Petersen died in Haiti on November 13th; however, no cause of death was reported, and it's not clear that Petersen was actually investigating a human trafficking ring involving the Clinton Foundation.
Those rumors began circulating on social media and Reddit shortly after the Human Trafficking Center announced on Facebook that Petersen had died in Haiti without providing further details about her death: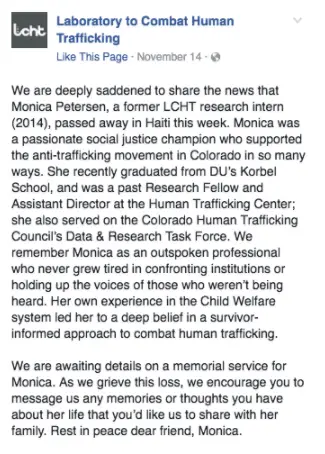 Conspiracy theorists began to fill in the blanks, and people commenting on social media posts who claimed to know Petersen fueled the flames by commenting that they'd heard she'd died of an apparent suicide or had been murdered. When asked to provide more details to settle the speculation, Human Trafficking Center replied that it was best to ignore them:


Speculation about Petersen's death, and the Clinton's alleged involvement, has become the latest chapter in the "Clinton body count" conspiracy theory. The theory goes that Bill and Hillary Clinton have systematically murdered foes, friends and allies that have jeopardized their political fortunes over the decade. Click here for our full investigation of it.
When it comes to Petersen, Reddit users have pointed to a Facebook post in which she appeared to be critical of the Clintons' dealings in Haiti. She lamented the Clintons dismantling Haiti with their "gold looting" after the 2010 earth quake and added, "Ms. Clinton has corrupt & dirty business to finish in Haiti." It should be noted that Petersen was commenting on a blog post that was critical of the Clintons, but she didn't actually write the post. The Reddit thread has falsely attributed the actual blog post to Petersen.
A second Facebook post from Petersen in August 2016 established that she was going to be Haiti for "the next 3 weeks" doing fieldwork on human trafficking. Petersen didn't offer specifics, but she was looking for "sex work organizations" there to help her. Taken together, those posts have been used to establish that Petersen disliked the Clintons, and that she was doing human trafficking fieldwork in Haiti in August.
From there, conspiracy theorists have connected the dots by claiming that Petersen was killed by the Clintons because her work in Haiti had revealed the Clinton Foundation's role in a human trafficking sex ring there — which is quite a jump.
This rumor is unproven because it's not clear how Petersen died, there's no proof that she was actually investigating the Clinton Foundation, and there's no proof that the Clinton Foundation has been involved in human trafficking in Haiti.