'My Blood IS the Vaccine' Tweet
Claim
Amid speculation and stories about Donald Trump's health, he tweeted, "My blood IS the vaccine!!!!!"
Like this fact check?

Reporting
On October 9 2020, as speculation mounted about United States President Donald Trump's health following his COVID-19 diagnosis, a purported tweet circulated in screenshot form:
The alleged tweet, which was dated October 5 2020, said simply, "My blood IS the vaccine!!!!!"
The fact that there only appeared to be one version of the screenshot available raised our suspicions, so we first searched Trump's Twitter timelines at @realDonaldTrump and @POTUS, where we turned up nothing: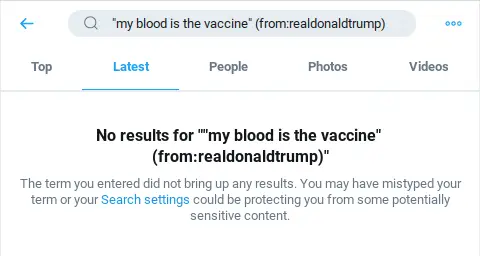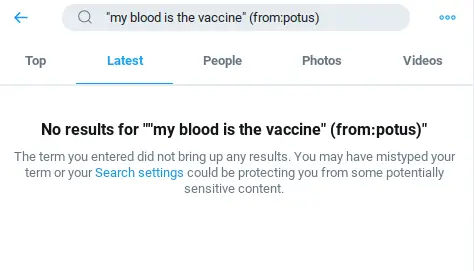 We also noticed a curious lack of online detritus referring to this tweet, despite the fact that Trump's tweets typically attract replies and retweets within seconds of being posted; instead, we saw many references to the same screengrab, which is generally a tell that a statement from a high-profile public personality has been fabricated: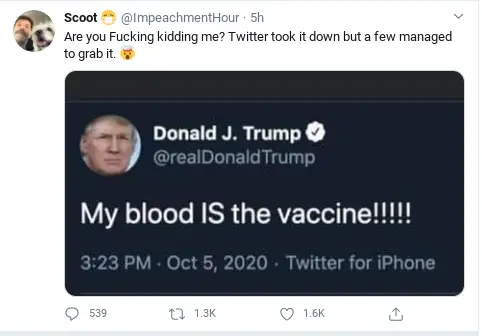 The absence of detritus such as replies or quote tweets appeared to be definitive proof that there was no such tweet. However, we had one more trick to try; the investigative journalists over at ProPublica have maintained a database of Trump's (and other politicians') deleted tweets on a page called Politwoops for several years. It showed that while there were tweets that he deleted on October 5 2020, this was not among them: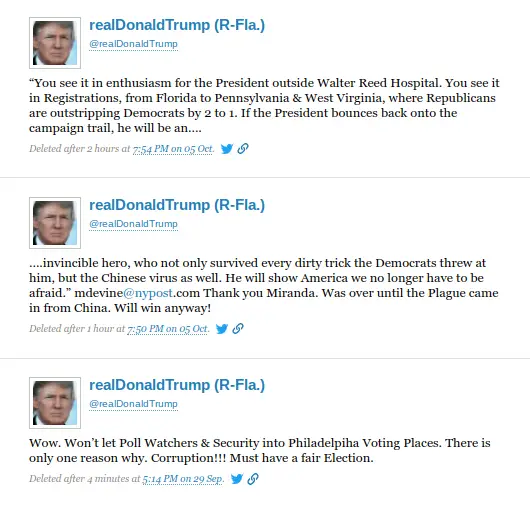 Ditto for the Trump Twitter Archive from October 5 2020:

The absence of references and replies, the lack of presence in the database of deleted tweets, and the fact that there was only one screengrab of the tweet that we were able to find gave us enough proof to definitively say that this — in a week characterized by increasingly bizarre statements, appearances, and actions from the president, the people around him, and politicians associated with him — was not real, and was instead created by one of the myriad "prank" sites that exist specifically to fabricate tweets.