A notorious den of online disinformation sought to gin up a narrative about Democratic lawmakers "in disarray" by posting misleading photographs following the 2018 State of the Union address.
The photographs were meant to make Internet users think that then-House Minority Leader Nancy Pelosi was chastizing fellow California Rep. Linda Sanchez during the address. The caption attached to them read:
Oh, no you will not stand and clap for the president…. Nancy Pelosi scolding a Democrat who dared to stand. Photos taken from live feed of the State of the Union Address.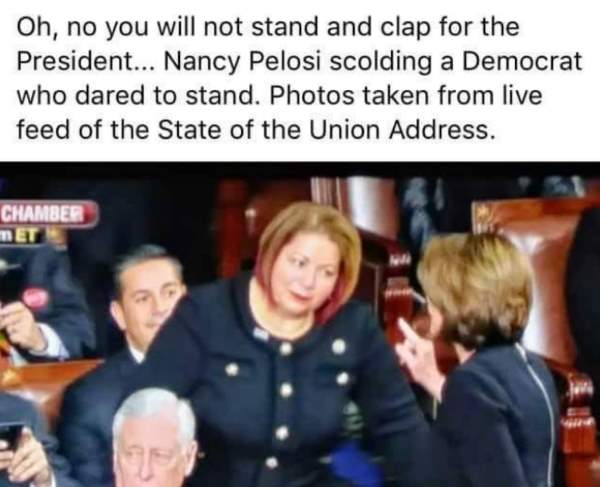 In reality, the photographs were taken before the speech by then-President Donald Trump. The graphic emanated from the infamous 4chan forum "/pol," a haven for right-wing online content, known for spreading conspiracy theories and promoting online harassment campaigns, often against LGBTQ communities.
Pelosi went on to regain the role of House Speaker after the November 2018 midterm elections and oversaw two impeachments against Trump, who was subsequently acquitted both times by the Republican Party-led Senate. Following Trump's loss of the presidency in November 2020 to former Vice President Joe Biden, Pelosi was re-elected to a fourth term as House Speaker in January 2021.
After the November 2022 midterm elections, which saw Republicans retake control of the House, Pelosi was named "Speaker Emerita" by the House Democratic Caucus. She formally stepped down from her leadership role in January 2023.
Her successor as House Speaker, GOP Rep. Kevin McCarthy, lasted only nine months in the role before eight members of his own party maneuvered him into a vote on a "motion to vacate" the position. House Democrats, led by Pelosi's successor as Minority Leader Hakeem Jeffries, voted in support of removing McCarthy on October 3 2023.
"It is now the responsibility of the GOP members to end the House Republican Civil War," Jeffries said.
Update 10/4/2023, 12:48 a.m.: This article has been revamped and updated. You can review the original here. — ag
Article Sources +
Following Buffalo Shooting, 4chan Shows How Some Platforms Are Accountable Only to Themselves