'NASA Just Dropped New Planet Pics'
Claim
July 2022 Facebook posts depicts "new planet pics" NASA "just dropped."
Like this fact check?

Reporting
A July 23 2022 Facebook user's post ("NASA just dropped new planet pics 🔥🔥") spread virally in the next few days, likely inspired by then-popular new images from (and content about) NASA's James Webb Space Telescope (JWST):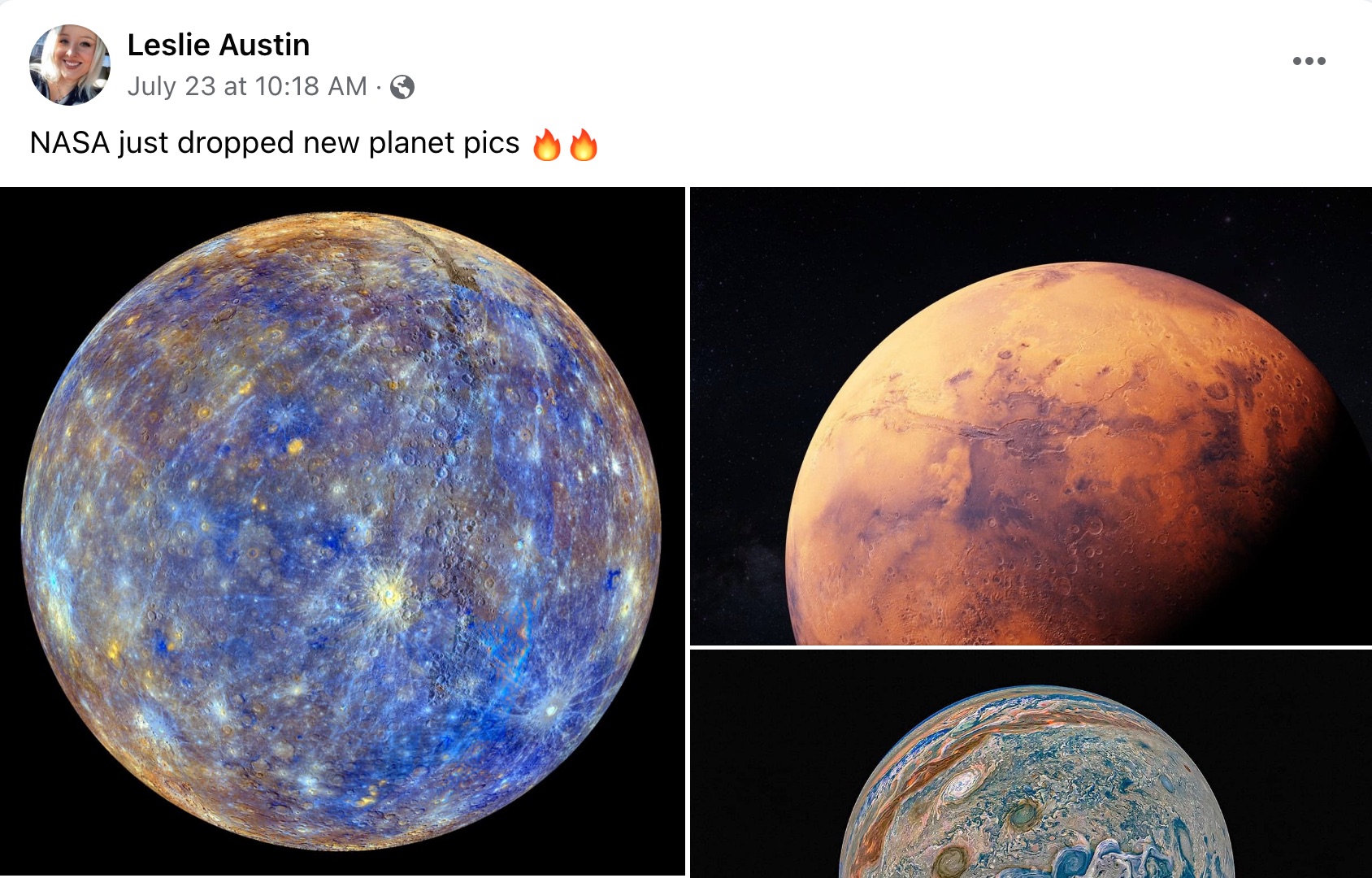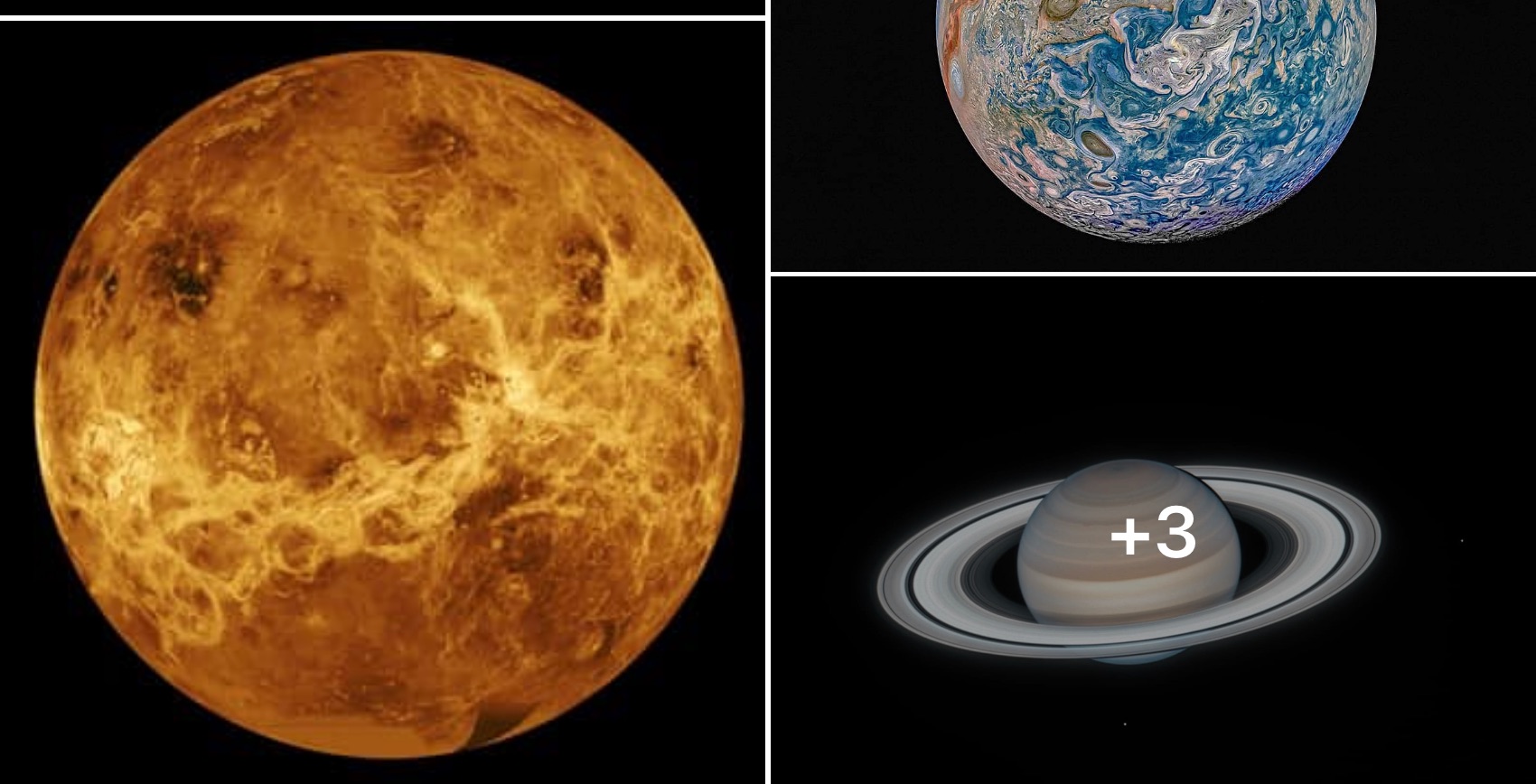 In total, eight images were attached to the post. Individually, the images were labeled as Mercury, Venus, Mars, Jupiter, Saturn, Uranus, and Neptune.
Right off the bat, the images with the Facebook post differed from the very widely shared first images from NASA's JWST. Some of the more popular images were featured in a July 13 2022 tweet from NASA's primary account:
You've seen the pictures. What questions do you have?

Our panel of @NASAWebb experts is ready to answer them in our NASA Science Live, starting 3pm ET (19:00 UTC) on July 13. Tag your Qs with #UnfoldTheUniverse: https://t.co/gXrivVNA1n pic.twitter.com/bQw8wHeMrq

— NASA (@NASA) July 13, 2022
In that tweet, @NASA tagged @NASAWebb, another verified NASA account. The images attached to the Facebook post did not appear among @NASAWebb's recent tweets, and its Twitter bio read:
Launched: Dec. 25, 2021. First images revealed: July 12, 2022. Follow along as the world's most powerful space telescope continues to #UnfoldTheUniverse!
@NASAWebb's most recent tweet as of July 28 2022 was from three days prior, and it looked like this:
Need a new perspective? Here's some Webb-inspired #MondayMotivation: Sometimes, seeing clearly requires looking at things with a fresh set of eyes. When you're able to peer through the dust, that's when you can reveal even more stars. ✨ pic.twitter.com/VwVikbHdlL

— NASA Webb Telescope (@NASAWebb) July 25, 2022
As we recently explained, mislabeled space art and renderings often circulated on social media, more so during periods when NASA was in the news:
Reverse image searches for each individual photograph in the "NASA just dropped new planet pics" post led to an actual source for the images. TinEye results (when sorted by "oldest" for each image) displayed the year in which the images were first "crawled" (or captured) as follows:
NASA did publish the "Saturn" image linked above, as one example. It was shared by the @NASAHubble account on July 23 2020, more than a year before the JSWT even launched:
Here's a brand new look at Saturn! 📸

Like Earth, Saturn is tilted on its axis and has seasons. In this Hubble image, taken earlier this month, it's summertime in the northern hemisphere: https://t.co/uoQ6pJY36o pic.twitter.com/h6ItMUi4ee

— Hubble (@NASAHubble) July 23, 2020
All of the first five images were from 2020 or earlier, and weren't "new" images NASA "dropped" in July 2022. Uranus and Neptune, the final two images in the set, were far older:
A Facebook post with the caption "NASA just dropped new planet pics" was extremely popular in July 2022, as social media users marveled over real images from NASA's James Webb Space Telescope. However, the viral post appeared to be cobbled together by a clout-seeking account which searched for images of planets and labeled them as "new." NASA's JWST launched in December 2021, whereas all of the images were from 2020 or earlier. The final two images from the set originated with NASA, but in the late 1980s.