On May 2 2021, a Reddit user shared an undated screenshot to r/MadeMeSmile, showing a tweet describing how the Navajo Nation donated personal protective equipment, or PPE, to India; the image was shared to Imgur a few hours later:
That tweet was originally shared by New York Times columnist Nicholas Kristof on April 27 2021, and it read:
I just heard that Navajo Nation, which has done a heroic job wrestling the coronavirus to the ground, is now donating extra PPE to India. The Navajo have been a model of resolve in fighting the pandemic, and are now a model in supporting others worldwide who need help.
Kristof did not attach any news items about the Navajo Nation donating PPE to India, and qualified the tweet with "I just heard … " Discussions on all three variations (the original tweet, the Reddit post, and the Imgur version) did not include any supplemental citations.
Background
In June 2020, the BBC reported that the Navajo Nation faced the highest infection rates in the United States at that time:
Since Covid-19 was first reported in the Nation on 15 March [2020], infection rates per capita have become the highest in the country when compared with any individual state.

As of 14 June [2020], 6,611 cases have been confirmed. More than 300 people have died after contracting the virus as well – a toll higher than 15 states.

The Navajo Nation is the largest reservation of its kind, in both size and population. More than 173,000 people live within its borders, in pockets of communities spread across the deserts and canyons of Utah, Arizona and New Mexico. If it were a state, the Nation would be larger than 10 others.
In May 2020, NBC News published an article about indigenous American communities and their difficulties securing federal aid during the Trump administration — including an instance in which a community health care center's request for PPE was met with a large shipment of body bags:
In mid-March [2020], as the Seattle region grappled with a coronavirus outbreak, a community health center caring for the area's Native American population made an urgent request to county, state and federal health agencies: Please send medical supplies.

What it received almost three weeks later left staff members stunned.

"My team turned ghost white," said Esther Lucero, chief executive officer of the Seattle Indian Health Board. "We asked for tests, and they sent us a box of body bags."

The health board's center — serving about 6,000 people a year in Seattle and King County — still has the package, which is filled with zippered white bags and beige tags that read "attach to toe."

Lucero said the body bags were a mistaken — yet nonetheless macabre — delivery from a distributor via King County's Public Health Department.
India's 2021 Crisis
In April 2021, numerous news organizations reported on the dire situation in India, with COVID-19 spreading uncontrollably as cases continued to spike:
This village [Ashapur]'s ordeal is not atypical. Across India, there are shortages of testing kits, hospital beds, medical oxygen and antiviral drugs as a severe second wave of the pandemic crushes the health infrastructure. The country has been breaking world records daily for new cases. On [April 30 2021], India's Health Ministry confirmed 386,453 infections – more than any country on any day since the pandemic began.

Part of the reason for the huge numbers is India's size: a population of nearly 1.4 billion. The rate of known coronavirus infections per capita is still less than the United States endured at its peak. In India, there have been nearly 19 million known infections since the start of the pandemic, or roughly 1.3% of the total population – compared with more than 32 million, or almost 10% of the U.S. population.

But survivors, funeral directors and scientists say the real numbers of infections and deaths in India may be many times more than the reported figures. The sheer number of patients has all but collapsed the health system in a country that invests less on public health — just above 1% of its gross domestic product — than most of its peers. (Brazil spends more than 9% of its GDP on health; in the U.S., the figure is nearly 18%.)
Google's case-counting dashboard demonstrated a sharp spike in infections in India, beginning in late March 2021: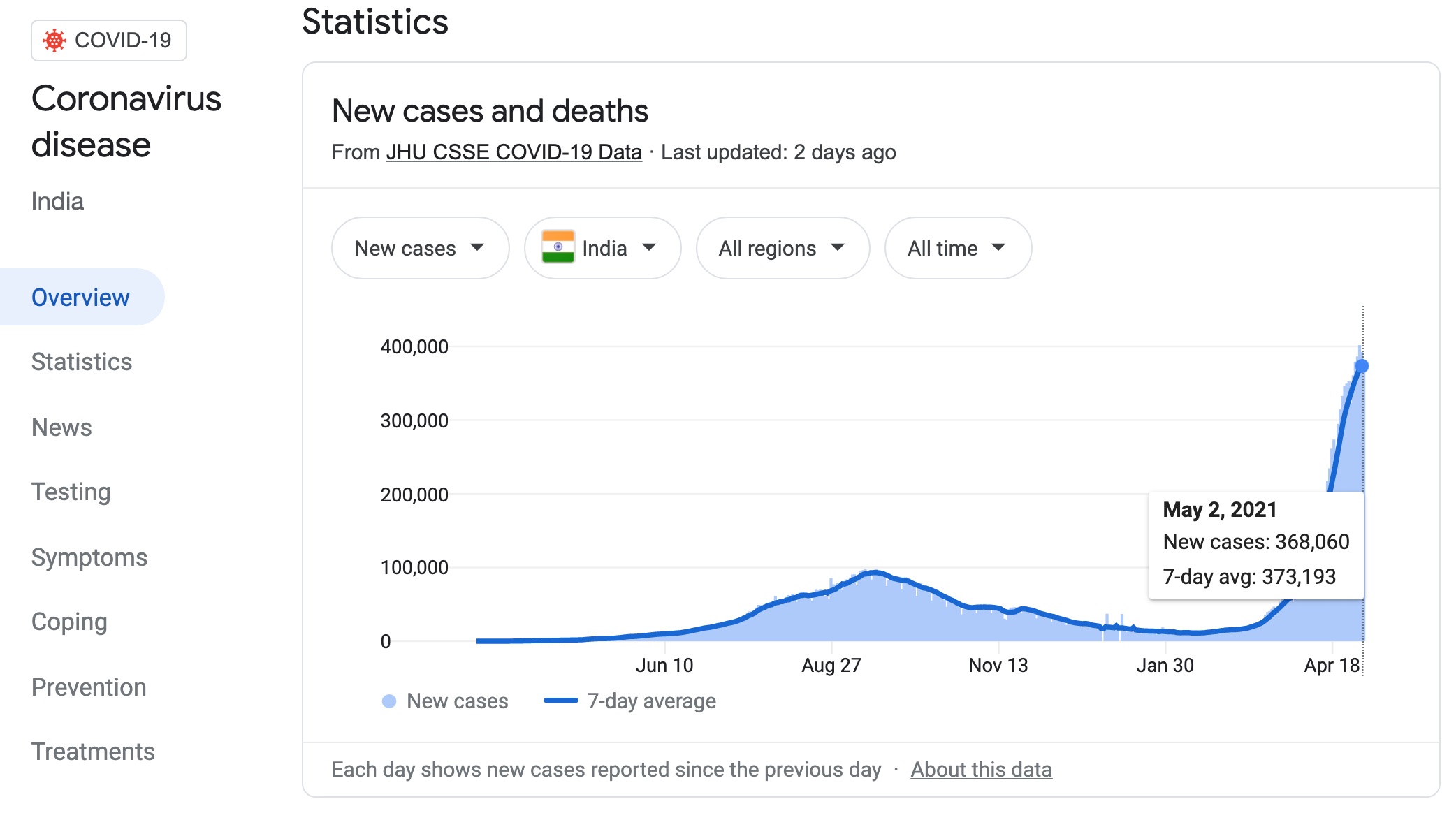 A May 2 2021 BBC News explainer about the second COVID-19 wave in India included several questions about the reasons behind the huge spike in infections:
Why is India's second wave devastating?

Dr Om Srivastava, consultant and visiting professor, infectious diseases, Mumbai, answers: We were very careful in the first wave. The story of the Dharavi slum in Mumbai is a fantastic example of how infections can be contained. It was a model replicated across the world.Over a period of time, from about November of last year [2020], we probably became a little bit complacent, thinking it was out of our lives.

In doing that, we probably did not keep the social distancing we should have. And then there were a number of events after that where social distancing was not possible – election campaigns and the Kumbh Mela.
News About the Navajo Nation Assisting India
Iterations of Kristof's April 27 2021 tweet were easy to find, but corroborating news stories were less common.
On April 29 2021, KSTU's "Navajo Nation sends PPE to help COVID-ravaged India" reported:
The Navajo Nation is sending personal protective equipment to India to help that country as it deals with a massive surge in COVID-19 cases.

In an interview with FOX 13 on [April 29 2021], Navajo Nation President Jonathan Nez said they are sending shipments of masks and other supplies to help. He suggested it was a way to pay it forward, noting that when COVID-19 cases were at a high on the Navajo Nation, they saw people all over the world sending relief.

[…]

The Navajo Nation once recorded some of the highest levels of COVID-19 spread in the United States. Presently, the nation is seeing vaccinations rise and COVID-19 cases decline. The president said they are closer to reaching herd immunity with close to 70% of people within their borders vaccinated.
On April 30 2021, KRQE published "Navajo Nation to send masks to India," and quoted Navajo Nation President Jonathan Nez:
At one point during the pandemic, the Navajo Nation was one of the hardest-hit areas by COVID-19 in the entire country. Now, they're trying to help others in need. India is seeing a surge in coronavirus cases and deaths, so the Navajo Nation is now focusing relief efforts on that part of the world.

[…]

"So what we're doing right now is compiling some of our cloth masks and we are going to be shipping it to the embassy, the Indian embassy in D.C. to deliver to the people in India," said Pres. Nez. The Navajo Nation said they understand the hardship India is going through and they now challenge their citizens and the rest of the nation to step up.
Summary
Nichols Kristof's tweet was popular in screenshots across social media, but variations on the claim the Navajo Nation planned to send excess PPE to India in late April and early May 2021 were not typically accompanied by additional information. On April 28 and 29 2021, local news stations KSTU and KRQE reported the efforts of the Navajo Nation, including its distribution of personal protective equipment — such as cloth masks — to India during its second wave of COVID-19 infections amid a deadly global pandemic.