Observers and fans of author Neil Gaiman and singer Amanda Palmer were abuzz on May 8 2020, after a screengrab surfaced of what was believed to be another public manifestation of their recent split.
The image — posted in at least two different popular tweets — showed a listing under Gaiman's Goodreads account that appeared to indicate that he was reading the book Splitting: Protecting Yourself While Divorcing Someone With Borderline or Narcissistic Personality Disorder: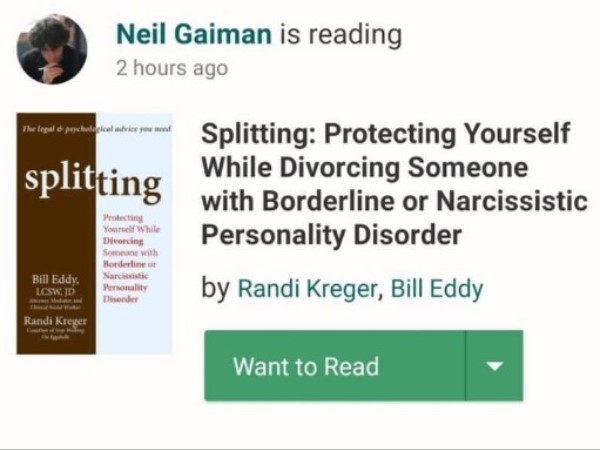 The post was spotted less than a week after Palmer announced on both social media and her own Patreon subscriber site that Gaiman had moved out of their home in New Zealand, where the pair had been living with their four-year-old son, and returning to his native United Kingdom.
"All i can say is that I'm heartbroken, I really am profoundly struggling and I need to call my community to me like never before.‬ I need you," Palmer wrote:
I am so far from home and so alone right now. I do not know what is going to happen. So you all know: this did not happen because of COVID or lockdown, though the timing is comically bad; other things came to light after we got here to New Zealand.
She did not elaborate further. According to the entertainment news site The AV Club and other outlets, Gaiman posted confirmation of the split on his own Twitter account on May 4 2020; that post was subsequently removed.
"I see [Palmer]  has told people that we (like much of the world) are going through rocky times right now. It is true, we are," he wrote. "It's really hard, and I'd like to request privacy (as I'm not going to be talking about it publicly) and kindness, for us and for Ash."
What has been described as the "very online" nature of both the couple and their split fueled the attention behind the listing on Gaiman's Goodreads account. The author confirmed the existence of the post (which was later deleted) on his Goodreads blog, but denied that he was actually reading the self-help book.
"Someone with a dark sense of humour just hacked this account," he wrote. "(I suppose that's what I get for leaving it here and not doing anything for a long time.)"