'Never Forget: Nancy Pelosi Rejected Trump's Offer for Direct Stimulus Checks Two Months Ago'
Claim
"Never forget: Nancy Pelosi rejected Trump's offer for direct stimulus checks two months ago."
Like this fact check?

Reporting
On December 3 2020, a tweet by @thebradfordfile was shared to TheDonald.win, accusing House Speaker Nancy Pelosi of having "rejected Trump's offer for direct stimulus checks two months ago," which placed the purported action in September or October 2020:
Never forget: Nancy Pelosi rejected Trump's offer for direct stimulus checks two months ago.

— thebradfordfile (@thebradfordfile) December 3, 2020
That tweet did not include a link to an article or any information validating the claim Pelosi was responsible for "rejecting" an offer of "direct stimulus" by the President two months previously. It was not immediately clear what (if anything) Pelosi did to prevent a second round of stimulus checks from being disbursed to Americans during the timeframe described.
A Brief History of the Second Stimulus Check
For the second half of 2020, "second stimulus checks" were nearly constant in search engine "trending" lists, appearing daily among other viral topics on any given day.
A search of Google Trends from June 3 to December 3 2020 demonstrated peaks of interest in "second stimulus checks" and related searches throughout that six-month span: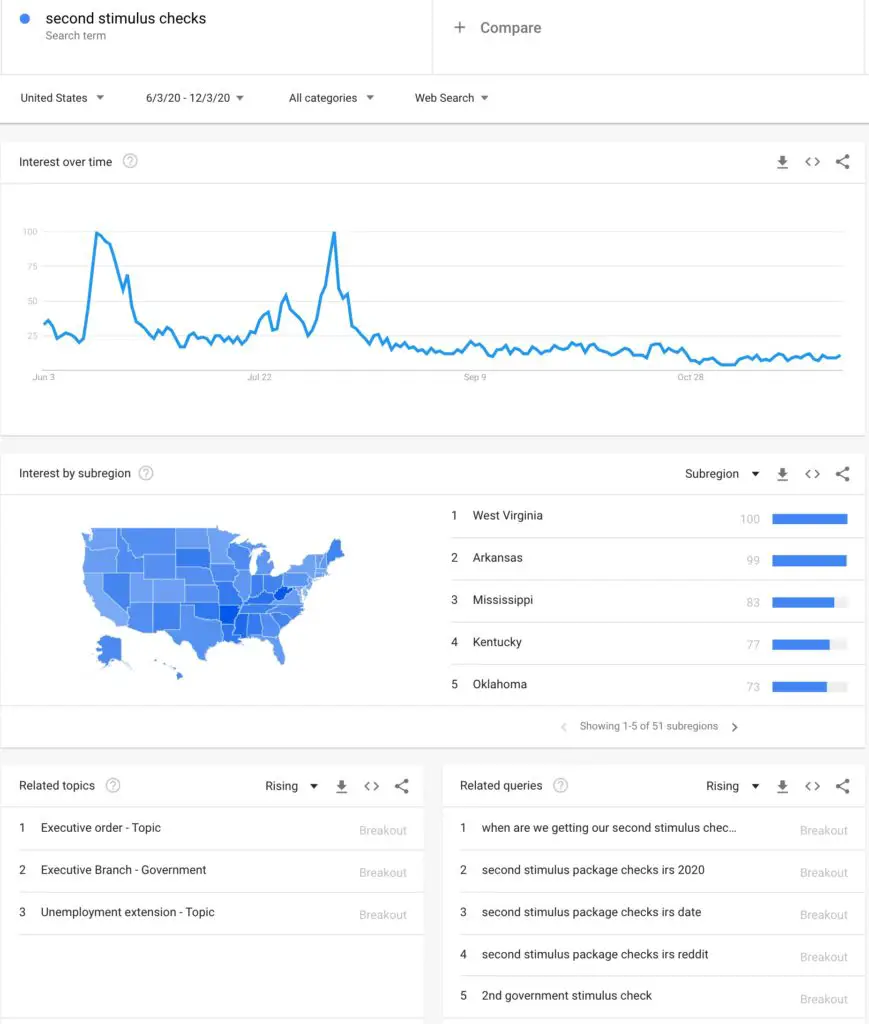 In that period, people also searched for:
"When are we getting our second stimulus checks";
"Second stimulus package checks IRS 2020";
"Second stimulus package checks IRS date";
"Second stimulus package checks IRS Reddit";
"2nd government stimulus check";
"Did they pass the second round of stimulus checks";
"IRS tax second stimulus checks Senate";
"Second stimulus package checks IRS CNN";
"Did the second round of stimulus checks passed the senate";
"Are second stimulus checks being issued";
"When to expect second round of stimulus checks";
"Second stimulus checks executive order";
"Latest on second round of stimulus checks";
"Latest news on second stimulus checks," and;
"Second stimulus checks update today 2020."
It us very clear that Americans had — since at least June 2020 — been eagerly tracking the arrival of a putative second stimulus check; in late November 2020, food banks reported lines as long as twelve hours for struggling citizens:
'This Is a Line For a Food Bank in Dallas, Congress Has Decided to Leave Millions of Americans to Suffer and Die'
Internet publishers and YouTube channel creators frequently covered the topic daily between June and December 2020 despite a lack of substantive indication that a second round of checks would be distributed at all. On December 3 2020 alone (the day the tweet appeared), CNet published articles headlined, "Stimulus package status: Negotiations race with new hope toward Dec. 11 goalpost" and "When your next stimulus check will arrive: 3 key things to know."
Despite the promising tone of the latter headline suggesting an imminent disbursal, the reporting began by stating that no such second stimulus was planned as of December 3 2020, and no checks were likely to arrive that month:
A second stimulus check isn't off the table yet, but it could be delayed, as negotiations to pass a new economic relief bill have seemingly taken a turn away from including a new direct payment for now. Talks to pass a bill that includes the popular, broadly supported stimulus payment will likely resume in 2021.
News was no better in the ensuing paragraphs:
Below, we've mapped out potential timelines for when a second stimulus payment could be sent that show when a coronavirus relief bill would have to pass and when the IRS would need to get the wheels in motion for different groups of people to get another direct payment between now and April [2021]  … Key takeaways to know now include:

Some wouldn't be eligible to get a second stimulus check.
Certain families and individuals could get a smaller sum.
Other households could qualify for a larger second payment total.
If your first payment was delayed, there are steps you can take so your second stimulus check may arrive sooner.
Why Haven't Americans Received a Second Stimulus Check?
As an October 13 2020 CNBC article presented largely in video format noted, the short answer on the absence of second stimulus checks appears to be "partisan bickering":
President Donald Trump and Democrats seem to agree on one thing: They want to give Americans a second $1,200 stimulus check.

The two sides, however, are still hundreds of billions of dollars apart on the total amount of coronavirus relief needed for the country.
However, the short text portion of the piece indicated that the size and scope of a "second stimulus" was a primary cause of dispute, not any one person "rejecting" stimulus checks. A separate CNBC article on October 21 2020 appeared to be relevant to the claims in the initial tweet — its headline was, "Senate Democrats block GOP's $500 billion coronavirus aid bill as Pelosi-Mnuchin talks continue."
Although the title left open the possibility that Pelosi was instrumental specifically in blocking second stimulus checks (and it appeared on first glance to validate the claim), the third of three "Key Points" at the top indicated otherwise:
The Senate GOP bill includes more PPP funds, a $300 per week supplemental unemployment insurance benefit and liability protections for businesses. It does not include another round of direct payments to people.
Per that bullet point, the Republican bill specifically left out second stimulus checks. That was reiterated in the body of the article:
The legislation before the Senate [in October 2020] included funds for a second Paycheck Protection Program loan for struggling small businesses, a $300 per week supplemental unemployment insurance benefit, and liability protections for businesses, among other provisions. It did not include another round of direct payments to people.
Earlier Rumors About Democrats or Pelosi Blocking Stimulus Checks
On September 29 2020 (also in the two months timeframe cited in the tweet), Reuters published "Fact check: Nancy Pelosi did not block stimulus check from Trump on condition that he gave $1 trillion to illegal immigrants."
As was the case with the tweet, Reuters noted that social media posts accusing Pelosi and congressional Democrats of "blocking" second stimulus checks did not specify a source, and said "claims may be conflating [two separate] bills into one, resulting in this misinformation being shared online." Reuters also explained the GOP legislation in question (dubbed a "skinny bill") explicitly excluded direct payments to Americans — in other words, second stimulus checks:
The posts, circulating in September 2020, may be referring to the Republicans' "skinny bill." Killed in the Senate, not the House, by Democratic lawmakers, the $300 billion coronavirus aid bill backed by Republicans did not address a second round of direct payments to households (regardless of immigration status).

[…]

On Sept. 8 [2020] they [Republicans] introduced an updated "skinny" coronavirus aid bill instead, providing "a fraction of the aid offered in the HEALS Act," according to CNBC ( here ). Two days later, Senate Democrats, seeking far more funding, prevented it from advancing[.]

For an estimated cost of $300 billion, the bill would have renewed a federal unemployment benefit and set new protections for businesses against lawsuits during the pandemic[.]

The Republican "skinny" bill blocked by Senate Democrats on Sept. 10 [2020] did not address a second round of direct payments to any U.S. households – citizens or illegal immigrants alike[.]
In September 2020, Republicans attempted to advance the "skinny" relief package, aimed primarily at helping business, not individuals or families. That bill, blocked by Senate Democrats, did not include second stimulus checks — and had it survived, it would not have resulted in any Americans receiving direct aid payments in any case.
A joint statement issued by Pelosi and Senate Democratic Leader Chuck Schumer on September 8 2020 cited the absence of direct payments to Americans as a primary cause for rejecting the bill, which they claimed was "laden with poison pills Republicans know Democrats would never support":
"Instead of helping state and local workers facing layoffs, feeding hungry families, providing adequate funding for testing and treatment to fight the pandemic, helping renters keep the roof over the heads, stopping the dismantling of the U.S. Postal system and making sure Americans can cast their ballots safely in fair elections this November, this emaciated bill is only intended to help vulnerable Republican Senators by giving them a 'check the box' vote to maintain the appearance that they're not held hostage by their extreme right-wing that doesn't want to spend a nickel to help people. Even Leader McConnell has repeatedly stressed that twenty Republican Senators intend to do nothing in the face of this historic crisis. Democrats want to work on bipartisan legislation that will meet the urgent needs of the American people but Republicans continue to move in the wrong direction."
On October 22 2020, CBS News reported:
Senate Democrats on [October 21 2020] blocked a $500 billion coronavirus relief bill proposed by Republicans, while talks continue over a larger package with dimming prospects of passing before the election.

[…]

The Republican proposal included funding for boosted unemployment benefits, $100 billion for reopening schools and money for testing and vaccines. It did not include several Democratic priorities, such as more money for the unemployment benefits, funding for state and local jurisdictions and a second round of direct payments.
In both instances, Republicans put forth a proposal for funding specifically without any provision for second stimulus checks. In both instances, Democrats refused to pass the bills, and Schumer described the October 2020 vote as a "political stunt."
Summary
A December 3 2020 tweet urged users to "Never forget: Nancy Pelosi rejected Trump's offer for direct stimulus checks two months ago." As with earlier rumors, an absence of corroborating links enabled sharers of disinformation to claim that any specific instance was not the one they intended to discuss. Nevertheless, similar claims were debunked by Reuters in September 2020, and Republican legislation blocked by Democrats in September and October 2020 was rejected in large part because Republicans refused to include second stimulus checks in their bills.